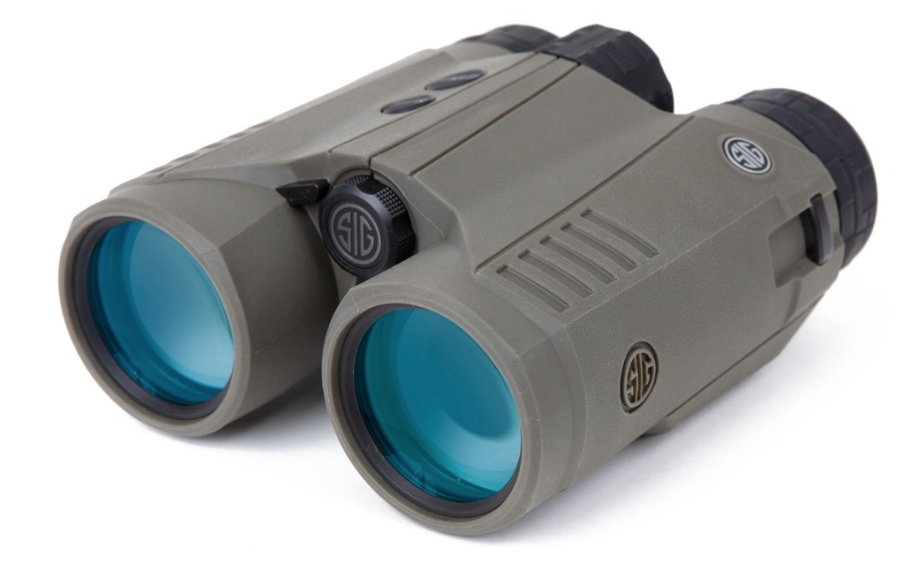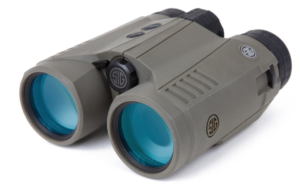 Rangefinders are a vital part of your hunting or sporting gear kit. Recent advancements in tech have been getting major attention from serious hunters recently. These cool gadgets provide the clear, long-distance viewing of binoculars with the laser measuring technology of a rangefinder in one convenient package.
These are the 7 Best Laser Rangefinder Binoculars for the money this year. 
Best Rangefinder Binoculars
They are an invaluable tool in the field and on the shooting range and adding a set to your gear bag is an investment you will not soon regret. While rangefinder binoculars, at least in my experience, have not eliminated the need for a stand-alone rangefinder, especially while hunting, these make a great addition to your hunting kit.
A rangefinder is a device that allows you to measure the distance between you and your target quickly and efficiently. Binoculars, of course, are used to get a close up view of objects that are a long distance away.
When you combine the two, you get rangefinder binoculars. Adding a set of these to your gear bag is an excellent choice for both the field and the shooting range. Who wouldn't want to get a range from your binoculars? They're becoming extremely popular with both range shooters and hunters alike, for good reason.
Zeiss Victory RF
Zeiss has long been a leader in high-performance optics. Known for their quality glass, razor sharp clarity, and large field of view, Zeiss brings these qualities plus lightening fast range measurements to their Victory RF rangefinder binoculars. 
The device is well-balanced and has a profile so thin you'll wonder how they crammed all the cool technology inside. It has an on-board ballistics calculator and connects through Bluetooth to synchronize with the ZEISSHunting App, making it the perfect high-tech device for the modern hunter.
You can personalize settings and preferences for a truly individualized experience, and the device stores up to nine custom ballistic profiles. The Victory RF also has on-board sensors that read distance, temperature, air pressure, and angle. The only thing this gadget doesn't do is field dress and skin your deer!
The Victory RF reads non-reflective targets beyond 2000 yards without even breaking a sweat. It is a bit on the pricey side. However, in the world of hunting gear (as well as most other things), you get what you pay for. If you're looking for cutting edge technology, crystal clear long-range viewing, and highly accurate range calculations, you'll be hard-pressed to find a better set of ranging binos.
SIG Sauer KILO 3000 BDX
If the Zeiss Victory left with sticker shock, you'll absolutely love these laser rangefinding binoculars from SIG Sauer. Despite being half the price of the Zeiss Victory, this little gem offers high-speed range readings, a bright clear image, and Bluetooth connectivity which allows your rangefinder to communicate directly with your rifle scope. 
The SIG Sauer KILO 3000 BDX also has a slightly more powerful laser compared to the Zeiss Victory. While SIG claims this gizmo will effectively range targets out to 3000 yards (hence the 3000 moniker) we found it easily ranged non-reflective targets beyond 2800 yards and reflective targets to approximately 5000. 
This item has earned Editors' Choice for its outstanding quality and performance.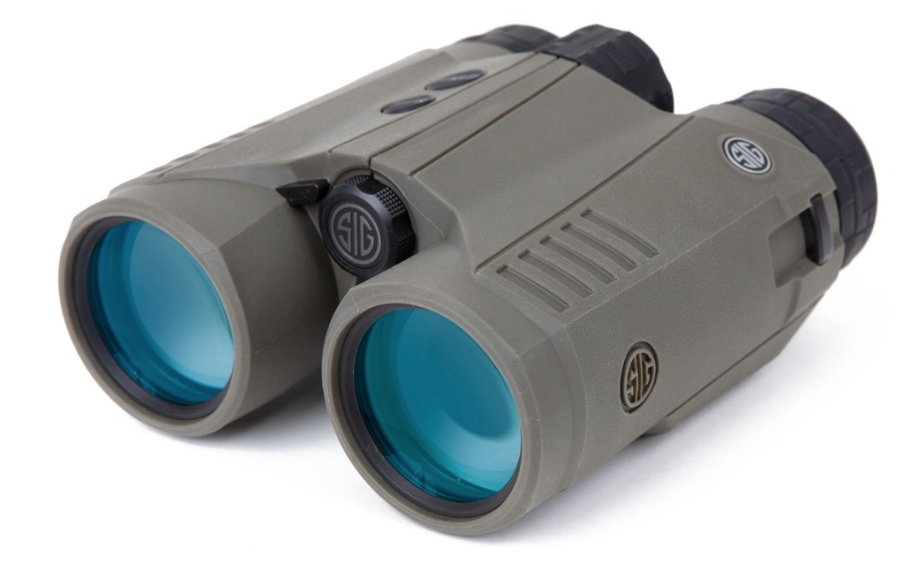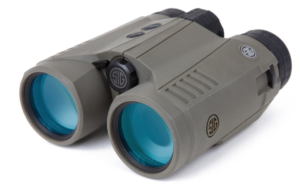 It's no surprise that the new KILO 3000 BDX Rangefinder Binocular from SIG Sauer is one of the most talked about systems on the market in 2023.
The system is a 10×42 MM setup and the reason for the 3000 moniker is that you can effectively range objects out to 3000 yards.  This is one of the top rated long range systems you can get.
For reflective objects, SIG claims that you can actually get a reading out to about 5,000 yards, pretty impressive for a kit like this. Basically, what SIG Sauer has done is combined all of the technology from their stand alone rangefinder system systems and packed them in to a binocular.
One of the best advances in recent shooting technology in recent years was SIG Sauer's BDX system. These binoculars work with the BDX system, making them the perfect addition if you already own a SIG Sauer Riflescope.
What does the BDX System do and why do I need it?
The BDX system was created by SIG to effectively allow their entire optics arsenal talk to each other. It's designed to give laser accurate shooting recommendations simply by creating a ballistics profile inside the SIG Sauer BDX app.
We highly recommend investing in the BDX system if you're a serious outdoorsman. Though completing your entire setup can take time and a significant amount of resources, the BDX system is a serious advantage in the field, and a ton of fun to boot.
Leica Geovid HD-B 3000
Leica is the company responsible for pioneering the world of laser rangefinder binoculars (and we are eternally grateful). The Geovid HD-B 3000 is their latest contribution to the rangefinding scene, and it does not disappoint. 
These ranging binos have the best optical quality of any this list. With high definition ED lenses, phase-corrected Perger Porro prisms, and multi-coated glass that reduces light loss, the clarity and brightness of these optics will leave you floored. 
However, the rangefinder component of the Geovid HD-B has a hard time keeping up. The response time is a tad on the slow side, and while the company claims accurate ranging out to 3000 yards, we found it most accurate on targets under 800. On the plus side, it ranges targets as close as 10 yards. FOr this reason, if bowhunting is your passion, the Geovid HD-B is the best pick.  
Yes, there is a discussion that Leica 10×42 Geovid HD-B is comparatively heavy when the rest of the rangefinder binoculars are taken into account. But that does not mean it is not worth it.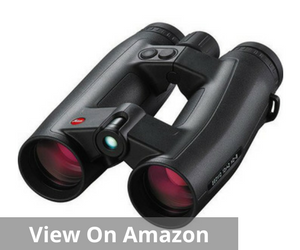 The positives do outweigh the negatives of this rangefinder binocular.
The model is similar to a laser rangefinder, but it is packed with many improved features which make take a look at it with surprise. With a magnification of 10×42, it has a 20 mm eye relief which places your eye at a comfortable distance. It helps in eliminating any chance of damage to the eyes.
Weighing at 34.7 ounces, it is not the lightest of the lot. You might feel a bit fatigued after carrying it for a longer time period. But it has long-range capabilities which outweigh this aspect. The range is estimated to be from 10 to around 2000 yards, which is much more than a mile. The binocular has a micro sd card slot which can be used to feed the ballistic information.
Having a field of view of about 374 feet per 1000 yards, it is one of the biggest you will come across. The range and field of view go hand in hand to deliver you the view of a much larger area through the binocular, something which most of the rangefinding binoculars cannot offer. This will easily make you forget the weight of the device.
The durability has been a cause of concern at times. Being a newcomer it is yet to be tested in all aspects. But as we know Leica is a well-reputed brand, it is sure we do not have to worry much about the gadget.
Pros:
Great range
Custom ballistics options
Water resistant micro sd slot
Comfortable eye relief
Cons:
It is a little too heavy
Durability is a matter of concern
Related: Best Vortex Binoculars For Hunting
Swarovski EL Range
No list of hunting optics would be complete without something from Swarovski. This prestigious brand is synonymous with optic quality, and their EL Range binoculars really deliver. This high-performance ranging binos feature multi-coated glass, fluoride-containing HD lenses, and phase corrected BAK-4 prisms that produce some of the sharpest images you'll ever see through an optic. 
Although the Swarovski EL Range isn't a new arrival on the scene, but this model still outperforms many of the young bucks on this list. It offers highly accurate ranging with only a 0.5 yard range of error. However, the best feature on the EL Range is its ability to match ranging with the ballistics of common hunting calibers. 
Voted as the best binocular of 2016 by Best Binoculars Reviews, the EL range has lived up to it's high accolades. The EL series from Swarovski has been a mainstay for many years with the brand improving up on the models with the latest technologies.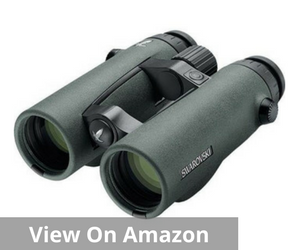 The changes with each version have been small, but the impact it has made on the ease of use and comfort is enormous.
Starting with the design, the cutaway portion delivers a great place to hold the binocular securely.
They have used magnesium alloy to manufacture the chassis, which is far more expensive than the aluminum or polycarbonate plastic frames. But the robustness the magnesium alloy brings to the table is incomparable.
With an eye relief of 20 mm and 8.5×42 magnification, this rangefinder binocular is the perfect fit for those wearing glasses. This is because it offers a lot of places for you to adjust behind the lens while wearing glasses.  These binoculars have ranging capabilities well over 1000 yards.
The focus wheel is placed perfectly where your hands can comfortably handle it. The dioptre adjustment is incorporated with the focusing wheel. This lets you to simply pull back the wheel and turn it to change the dioptre scale.
It comes with water and fog protection. With the cavity completely sealed off, it does not leave any space for moisture to affect the interior. You can take it to any harsh conditions as you please. The external rubberized coating not only protects it from falls but also makes it easy to hold.
Pros:
Tried and trusted model
Comfortable eyepiece
Incorporated focus wheel-dioptre scale
Magnesium alloy coating
Long range capabilities
Cons:
It is an expensive binocular
And it comes in blaze orange with a cool "grippy" waterproof coating. We really like that, too.
Also Read: Best Hunting Binoculars 
Nikon LaserForce
The Nikon LaserForce makes the list because it ranges fast, has an easy-to-understand display, and the glass quality is breathtaking. It easily ranges reflective targets out to 1900 yards and non-reflective targets to 1778 yards. With a minimum ranging distance of just 10 yards, this thing is perfect for bowhunters. 
However, this is a pretty bare bones model, lacking the cool technology of some of its competitors. The LaserForce does have a pretty awesome angle-compensating function (up to 89 degrees!), which just proves this thing is ideal for hunters using broadheads instead of bullets.
The Best, Most Affordable laser Rangefinding Binoculars
In this portion of our review, we're talking about the "other" rangefinder bino systems. These are systems we've used in the past, systems that may not be on the "best of the best" this year.
As we say with every optics system you purchase, buy the top brand you can afford. There is a significant difference in quality from say a Swarovski optics system as compared to a lower end Bushnell. That's not to say the Bushnell system isn't going to get the job done, it absolutely will, but it's no Swarovski in the field.
Bushnell Fusion 1-Mile ARC
Efficiency is the word which can describe this product. Bushnell know for their high end products have come up with a rangefinder binocular which is going to be one of the rangefinders on which the coming generation will be modeled on.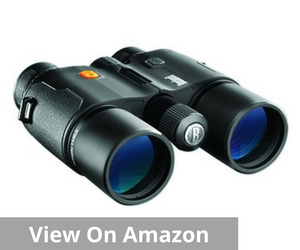 It is a model which blends the quality of binoculars which the capabilities of the laser rangefinder. Starting with the range, it can measure from 10 to 1760 yards. It operates on a push of a button.
The ease of use with this product is unbelievable. It is used for multiple activities such as hunting, outdoor sports, bird and wildlife watching, traveling, and even by the army. It is a multi-purpose rangefinder binocular which is made using high-quality materials.
Fusion 1-Mile uses the latest technology especially when it comes to the glass and lens. It uses the all-new XTR technology to provide the ultimate transmission of light.
This, in turn, delivers great clarity and resolution. It has a waterproof coating which protects it from harsh conditions. The multi-coated casing also gives it protection from falls and other impacts. The quality of lenses and the sturdy construction makes it easy for you to carry it into the woods without worrying about damaging the device.
It has a magnification of 10×42. When combined with the lens quality, it lets you the ability to observe far and give crystal clear images of your target. It has an 18 mm eye relief. It is considered to be one of the highest which it comes to rangefinder binoculars.
It results in your eye being comfortable the whole time you are staring through it. This is the rangefinder binocular you should buy if you are looking for something which is a symbol of perfection.
Pros:
Outstanding performance guaranteed
A range of over one mile
Compact and lightweight
Different ranging modes
Flip-up lens caps
Ballistic functions
Cons:
Hard to operate range button
Over bright display
Hard to reach focus knob
Takes long to display range
No custom ballistics options
Carl Zeiss Optical Inc Victory 10X56
Carl Zeiss Optical Inc Victory is unlike any other laser rangefinder binoculars you have ever seen. The first thing you notice about this device is the clarity it has.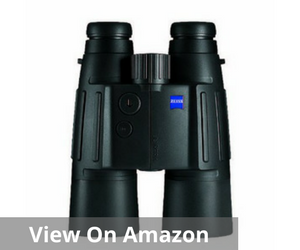 You get the feeling that you are not working on a device, but that you are watching through your own eyes. The optics used in this rangefinder binocular is definitely of premium quality.
It uses special multilayer glasses of fluoride giving a crystal clear view for you. The images are vibrant and colorful due to the LotuTec coating it has on the lenses. It helps you view the target so up front and close to you that you would not have an explanation for missing a shot.
The laser technology used in this rangefinder binocular is spot on as it gives you the range measurements at the greatest speeds ever. Before you even blink an eye, you get the readings on the display.
These are very good at long range distances… like many binoculars on this list.
The technology is way superior and it lets you get accurate measurements even in unfavorable conditions. It can aim at small targets such as rabbits from a distance with ease. With a range of 1300 yards, the T coated lens allows more light transmission giving great clarity. It is waterproof and nitrogen filled to protect it from unfriendly conditions. The sturdy construction of the rangefinder binocular makes it recoil proof to protect it from falls.
It is an ideal piece of a device if you are looking for superior quality optics which can give a clear and high-resolution view of the targets. Click here to see the latest price.
Pros:
Zeiss Victory optics
Waterproof and recoil proof
LotuTec coated lenses
Cons:
The range is comparatively less than a mile
Related: Best Cheap Rangefinders
What are rangefinder binoculars, exactly?
Rangefinder binoculars are exactly that, binoculars that display a range. They eliminate the need to use a rangefinder first, before using your standard binoculars. Of course, if you've already purchased an expensive set of binoculars, you may want a standard rangefinder to pair with.
Most people understand (at least on a basic level) how binoculars work. Magnification lenses and prisms work together to help you view faraway objects as if they were right in front of you. 
Rangefinding binoculars have the added benefit of measuring the distance to those faraway objects. This is accomplished with a high-energy laser beam emitted and then reflected back to the binoculars. Distance to the targeted object is calculated by the time it takes to transmit the beam. The device does all the calculations for you, so you won't have to do any math whatsoever.
The combination of two important pieces of gear has exploded in popularity in recent years, especially at shooting ranges. In fact, there are many who predict that standard binoculars and stand alone rangefinders will disappear in years to come.
In this article, our mission is to find the best rangefinder binoculars in 2023. At the end of this article, we'll discuss some of the most important things to keep in mind when buying rangefinder binoculars.
When it comes to choosing the best optics for your situation, you must first understand exactly what they will be used for. Are you planning a DIY moose hunt? A Colorado Elk Hunt?
The set of optics you choose will likely be different than those of a whitetail deer hunter, or somebody who favors shooting at ranges.
Can rangefinders be used as binoculars?
Yes, you can use a standard rangefinder as a way to get a closer view of the object you're looking at. However, laser rangefinder binoculars were invented to combine the best of both worlds. With rangefinder binoculars you see the object much better than with a standard rangefinder.
Editors Note: we're going to break this list in to two parts. High End laser Rangefinding Binoculars and cheaper, starter rangefinder binoculars. The more expensive kits will be at the top of the article, while the cheaper, more affordable sets will be listed near the bottom.
Rangefinder Binocular Buyers Guide – Things to Look Out For
Buying a rangefinder binocular can be a tricky affair. You might have the right budget and the right rangefinder binocular in mind. But there might still be a kind of doubt in your mind before the purchase. You may still think you might have forgotten to take some of the other aspects into account, leading to postponing the purchase.
So that a situation like that does not arise, we have come up with the perfect rangefinder binocular buying guide for you. We have researched various aspects to note down the most important features of laser rangefinder binoculars and have listed them for you. It will be beneficial to have a look at it so that you do not miss out on any information.
So here are the factors determining the kind of rangefinder binocular you can purchase.
What are Rangefinder Binoculars?
Before you get into the details you should know what a rangefinder is. It is a device used to measure the distance between you and your target. It uses an advanced piece of optics to zoom in on your target to get a better look at it. The difference between a binocular and a rangefinder is that rangefinders display the measure of distance on the display.
When the display of a binocular is integrated with the rangefinder function of measurement, it is called rangefinder binocular. The device came into existence when the military started using it to collect important mission data from a distance. Though, lately, it has become popular commercially among other activities too.
Binocular rangefinders work on the principle of shooting laser on the target and using it to measure the distance between you and the target. But there is more to it.
With developing technologies, rangefinders, in general, have come a long way. Compared to the latest rangefinders, the older versions are nowhere near as accurate. It currently comes with a lot of features which makes the purpose of target range measuring much easier. So now you have a better understanding of what a rangefinder binocular is, let us get into the things you have to consider.
Budget
The first and one of the most important is your budget. If you know your budget or can set your budget prior to your purchase, it will help you research in a much better way. Make sure you set a realistic budget. Because there is no need to spend more than you can or spend way less than you can afford.
The idea is to not make the purchase of rangefinder binocular a burden. Once you have decided on the budget, it is easy for you to eliminate the rangefinder binoculars which are both above or below your affordability. You can then select the best binocular rangefinders from the affordable range and research on them. It makes the choices narrower and suitable to your need.
Your requirement
The other important thing is the features you are expecting from the rangefinder binocular. No matter what others say, it is up to you to choose a particular rangefinder binocular.
One feature which someone else finds useful might not be as useful for you. So, it depends on your perspective and requirement whether it will suit you or not. So, the thing you can do is note down the features you need from the rangefinder binocular.
It will not only depend on your comfort, but also on the place and the occasions you use it for. It calls for a careful study of yourself and your needs. Getting to know your budget and knowing your requirements will get half the work done for you.
Magnification & objective
The magnification and objective of a binocular are always complimentary. The range of a rangefinder binocular also depends on these two aspects. You might have seen the binoculars being denoted by a set of numbers such as 7×20 or 10×42. What it denotes is the magnification and the diameter of the objective lens.
For example, if the binocular is denoted by 7×20 it means that 7x is the magnification and 20 are the diameter of the objective lens.
The magnification requirement depends on the purpose of your purchase. If you have bought it to take it to the movies, the ideal magnification would be anywhere from 3x to 5x. If the purpose something like sports, 7x would fair perfectly. But for hunting the best option would be 10x magnification.
But one thing you have to keep in mind is that the field of view reduces with increase in magnification. The field of view of a 7x rangefinder binocular would be more than that of a binocular with 10x magnification. Also, it will be difficult to hold a rangefinder binocular which 10×42 for a long time as it will be heavy. The help of a tripod stand can be used in such cases.
There are zoom binocular rangefinders which let you use the variable magnification feature. In these, you have the opportunity to change the magnification depending on the range they offer. If the rangefinder binocular is denoted as 7-15×40, you have the ability to adjust the magnification from 7x to 15x.
This can be done by turning a lever or wheel which is placed at the center of the binocular perfectly within reach to your thumb or index finger. This offers great versatility to your rangefinder binoculars magnification. But at the same time, it can hamper the quality of the image if deliver.
Related: Best Halo Rangefinders 
Glass and Prism
The quality of the glass or prism used in the rangefinder binocular makes a great difference in measuring the range. Using a generic glass or prism can dent the quality of the image given by the binocular. A slight bend in the glass or prism would result in making the colors look off and give an odd projection of the target.
Glasses which are low or extra low dispersed glasses are ideal to give you non-distorted image quality. These glasses are also called specialized glasses. It transmits the light without bending it, giving you crystal clear images without any colors looking oddly off. So, do get to know the type of glass or prism which is used by the manufacturers for the rangefinder binocular.
Another thing you have to keep in check is the lens coating. A lens coating is films applied to the lens to reduce reflections and glares which might affect your vision of the target.
It also enhances light transmission and makes the colors look more vibrant. It might look great to put a blue-tinted coating in the lens, but the idea of applying a coating is to make the image look better. So keep in mind that coating is to make things better and not just to make the device look better.
Angle of view vs. field of view
The angle of view and field of view are basically the same. It is the measure of scenery which you can while looking through a rangefinder binocular. The angle of view is expressed in degrees. It can also be expressed in the form of Apparent Angle of View (AAOV).
It can be measured by multiplying the magnification of the binocular with the Angle of view. The magnified field you see while looking through a binocular is the AAOV. So the field of view would be wider with an increase in AAOV. THE AAOV is considered to be wide if the angle is more than 60 to 65 degrees.
Maximum and Minimum Focus Distance
The idea of purchasing a rangefinder binocular is to observe things which are far. So it is ideal to have the maximum range for the rangefinder binocular you purchase.
With the increase in magnification, you get an increase in range. Choose the kind of magnification which would suit you the most.
If the range you want from your rangefinder binocular is less, then you do not have to go for one with higher magnification. Also, in cases such as bird watching, people need rangefinder binoculars which can have great minimum range.
They would be using the binocular for closely watching birds in the nearby tree branches. So the minimum Focus distance has to be less than the distance between the person and the tree.
So, keep both these aspects in mind.
Design and housing
The design of the rangefinder binocular makes a big difference. It has to be compact and lightweight for you to easily handle. The weight defines how easily you can take it with you.
You should have the ability to carry it with you without being fatigued. Also, if it is too compact, there is always a chance of the device falling off from your hands. A balance between compactness and weight would be the ideal match for a good rangefinder binocular.
The housing has to be sturdy and comfortable. It should be able to take a fall without any damage. And being waterproof is always a plus. Also, check if the rangefinder binocular has features such as fog resistance. These are the features you can never complain about.
Wrapping it up
If you don't already own rangefinder binoculars for hunting, you're missing out. A good quality set will help you scout for game, measure distance to your target, and help you compensate for angle and ballistics.
If you're a bowhunter, be sure to choose binos that range shorter distances, like the Nikon LaserForce or the Leica Geovid HD-B 3000. However, if a rifle is your weapon of choice, any on this list will help increase your hunting success.
Be prepared to spend some money on good rangefinding binoculars (The least expensive pair on our list runs well over $1000). The design and the technology aren't cheap, but we think they are well worth the investment.
Take all these aspects into account and you will be able to choose the system for your needs. Get to know your requirements and search according to that, and you should end up with a system that gets the job done.
At the end of the day, rangefinder binoculars can get expensive. If you cannot afford a nice set, and you already own a rangefinder, we recommend taking a look at some of the best monoculars this year. Monoculars, while not similar to rangefinder binoculars, are a smaller version of a spotting scope and perfect for glassing distances beyond standard binoculars.