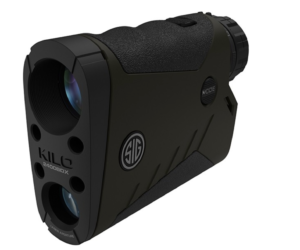 Accuracy and aim are the requirements for a good hunter. Without these two critical pieces, success in the field can be challenging.
One of the biggest things that can help up your success is finding a high quality rangefinder. It helps you better your aim by providing you with the information about the distance between you and the object. Rangefinders have been a mainstay device in the backpack of a hunter for a long time. Over the years it has gone through many changes which have helped improve not just the accuracy, but also the functionality of rangefinders. It has greatly affected the way people hunt.
Many brands have come up over the years to deliver good quality rangefinders. But there are so many companies churning out new models of rangefinder over the years that it becomes a tough task to choose one from the lot. And the equation gets tougher when you are looking for the best hunting rangefinders. A bad buy can result in you either sticking with a useless rangefinder for a long period of time or having to shell out more money on buying another one. So, this makes it better to always buy hunting rangefinder after doing proper research.
In this article, we have come up with some of the best rangefinders for hunting released in the year 2019. After researching through the present market and putting these rangefinders through a number of tests, we have listed out the specification, pros, and cons of each of these rangefinders. So, go ahead and check out our picks on the best hunting rangefinders of 2019.
With that in mind, we've compiled this piece for higher end rangefinders. If you're looking for cheap rangefinders, we've written an article for that as well.
How does a rangefinder work?
Similar to throwing a ball at the wall and having it return, all rangefinders work using a similar concept. The user pushes a button, laser beams hit a desired target and bounce back, providing an accurate distance reading based on the time it took the beams to return.
Rangefinder Reviews: What's the best rangefinder for 2019?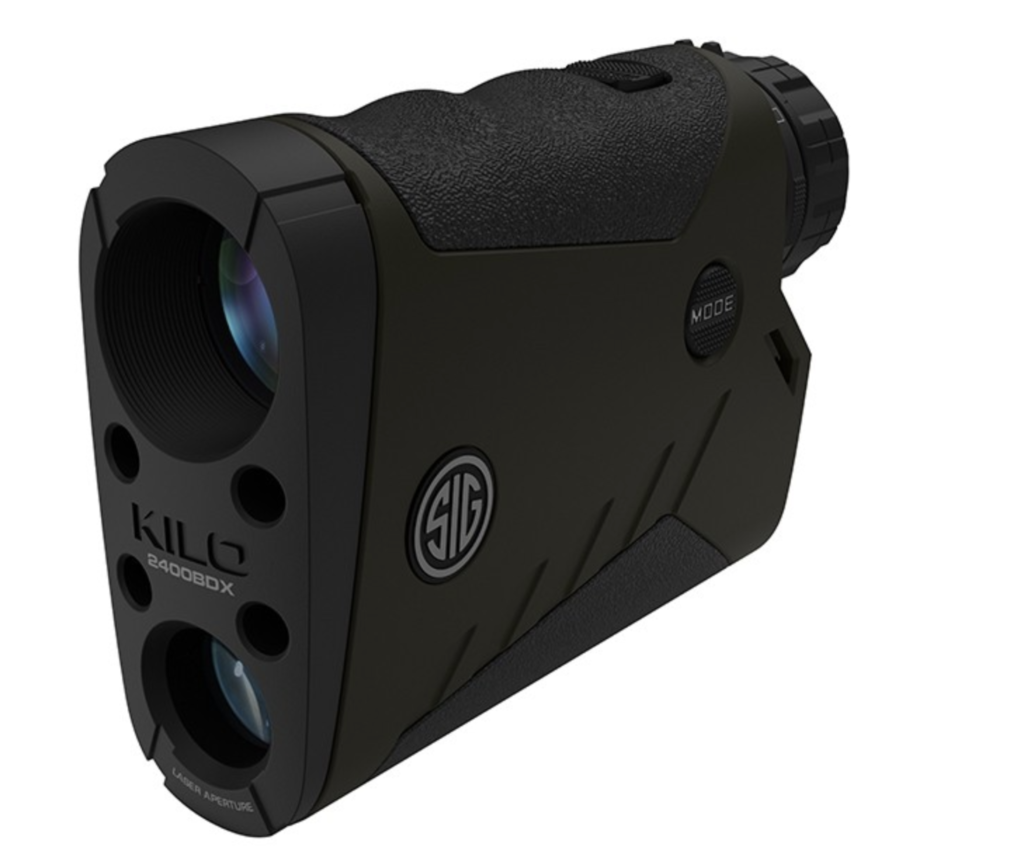 If money were no option, we highly recommend going with the SIG Sauer Kilo 2400 BDX Rangefinder. Simply put, the Kilo 2400 BDX rangefinder is the best on the market. When Sig Sauer originally created this unit, they didn't have it designed for their BDX technology, however, even then it was still the top rangefinder on the market. By adding BDX (ballistic data exchange) tech to the rangefinder, Sig Sauer took a phenomenal product and made it even better.
What does BDX do? This technology allows your Sierra 3 BDX riflescope to display an automated illuminated holdover dot via bluetooth and an app.
It gets better. The Kilo 2400 without their BDX technology was actually more expensive than their new unit. You read that right. Sig Sauer took a great product, made it better, and made it more affordable.
Best features:
It uses BDX tech, communicating with your riflescope (if equipped)
4 range updates per second in scan mode
Angle modified range for tree stand hunters
Automatically calibrates brightness for changing light conditions
Lifetime warranty, hard to argue with that
Upgraded product, cheaper price
Tech specs:
Range: Up to 3400 Reflective / 1400 Deer / 1800 Trees
Battery: CR2
Reticle: Circle + Milling Grid
Length: 4.4 in (110 mm)
Width: 1.3 in (33 mm)
Height: 3 in (76 mm)
Weight: 7.5 oz (215 g)
Field of view: 6.78 degrees
Eye relief: 15 mm
Objective clear aperture: 25 mm
The bottom line: How does Sig Sauer describe the Kilo 2400? As the "worlds most advanced rangefinder". The Kilo 2400 comes with a hefty price tag for some, but with an incredible ranging ability, we say it's well worth the price.
Even further reason to buy, this unit is covered under Sig's INFINITE warranty. Similar to Vortex, if your product breaks they're covering it. No receipt, for life.
At the end of the day, it's tough to argue with a company that stands by their products.
Buy the Sig Sauer Kilo 2400 BDX Rangefinder on Amazon
Buy the Sig Sauer Kilo 2400 BDX Rangefinder on Cabelas
If you aren't in the market for a rangefinder, the Sig Sauer Kilo 3000 Rangefinder Binocular is a rangefinder binocular setup all in one.
Staff Pick: The Best Most Affordable Rangefinder for 2019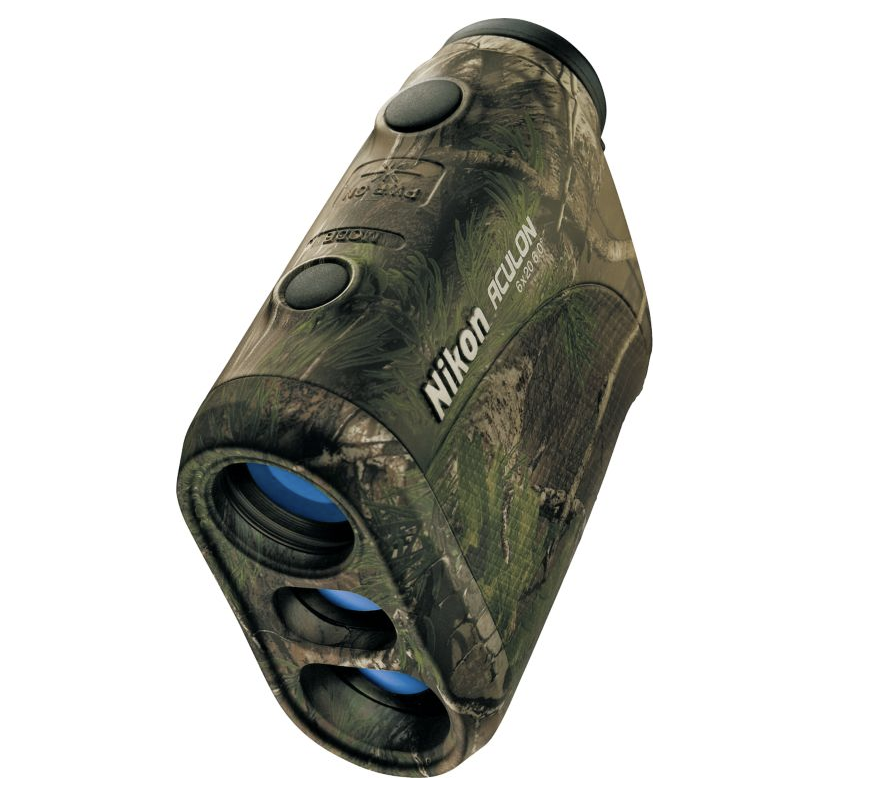 All things considered, there are actually two rangefinders we recommend in the "most affordable rangefinders" category. To make things easier, we categorized the Vortex Ranger 1800 as the best all around. It's a bit more expensive than the Nikon Aculon system, but offers the same incredible warranty as Sig Sauer.
The Nikon Aculon Rangefinder holds out vote for the best, most affordable rangefinder on the market today. This rangefinder comes in two different finishes, Realtree and Dark Green. This rangefinder is something that just about every hunter can afford and it does everything it's asked. The Nikon Aculon is an extremely popular bowhunting rangefinder, for that very reason.
Best features: 
Takes readings out to 550 yards
6X magnification
Measure continuously for up to 20 seconds
The everyday hunter can afford it
Excellent starter rangefinder
Worst features: 
It's a cheaper rangefinder (all things break eventually)
If you can afford it, get the Sig Sauer or the Vortex we listed above and below
Tech specs:
Battery: CR-2 lithium battery
IPX4 water-resistant housing.
Minimum distance: 6 yds.
Eye Relief: 16.7
Color: Dark Green / Camo
Dimensions: 3.6"L x 1.5"W x 2.9"H
Wt: 4.4 oz.
Buy the Nikon Aculon on Amazon
Buy the Nikon Aculon on Cabelas
Staff Pick: Best All Around Rangefinder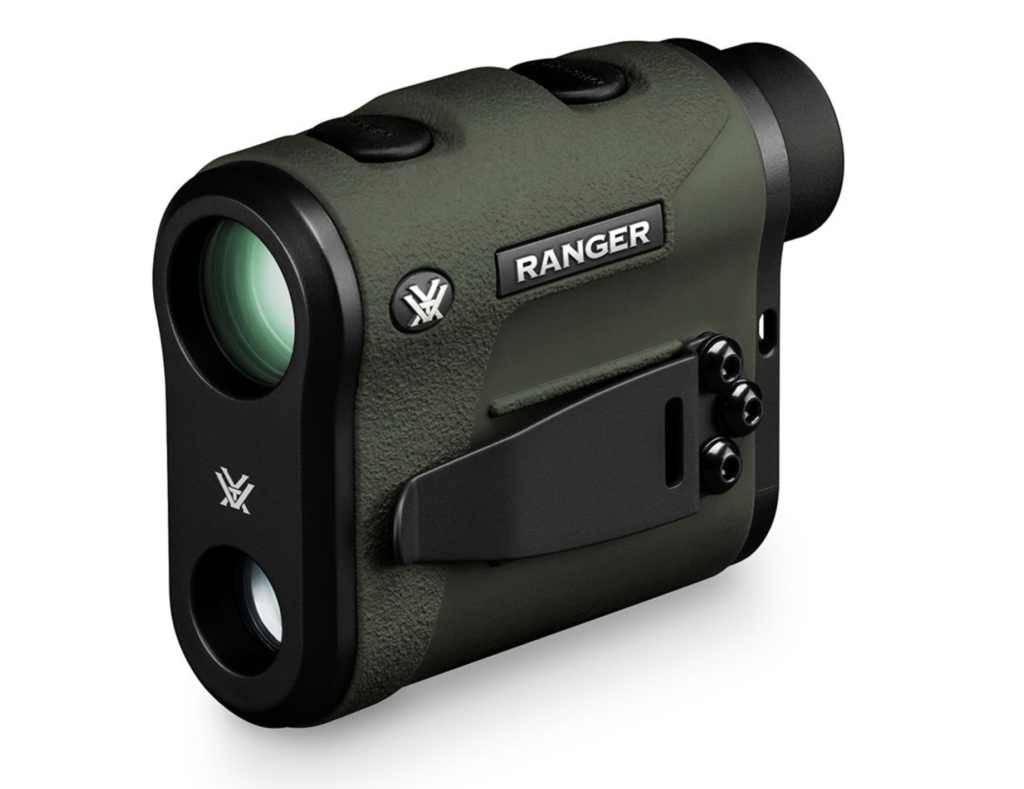 As we mentioned above, the Vortex Ranger 1800 Rangefinder has our vote for the best all around rangefinder. We're huge fans of Vortex optics for two reasons. First and most importantly, they work for just about any hunter (guides included). Second, the warranty on these products make them easy to recommend. If it breaks, send it back. They'll replace it.
Best features:
Industry leading warranty, lifetime
Range deer out to 900 yards, targets out to 1800 yards
Built in angle compensation designed for tree stand hunters (yes!)

Line of Sight (LOS) mode displays actual line of sight range.

Waterproof (huge bonus)
Easy to use menu
Worst features:
Is there a "worst" feature with Vortex products?
Tech Specs:
Range Reflective (yards):

 

10-1800 yards

Range Deer (yards):

 

10-900 yards

Accuracy:

 

+ / – 3 yards @ 1000 yards

Max Angle Reading:

 

+ / – 60 degrees

Magnification:

 

6x

Objective Lens Diameter:

 

22 mm

Linear Field of View:

 

315 feet/1000 yards

Angular Field of View:

 

6 degrees

Eye Relief:

 

17 mm

Length:

 

3.9 inches

Width:

 

3 inches

Weight:

 

7.7 ounces

Battery: CR-2 lithium battery
Buy the Vortex Ranger 1800 on Amazon
Buy the Vortex Ranger 1800 on Cabelas
Meet the field, the rest of the our top recommended rangefinders for hunters everywhere. While they may not be in our top two, the list below dives deep into the specs of each product with pros and cons listed in addition.
This item has earned Editors' Choice for its outstanding quality and performance.
Bushnell G-Force DX ARC is a rangefinder which is fully loaded with features. It is rangefinder which can be used for both rifle hunting and bow hunting too.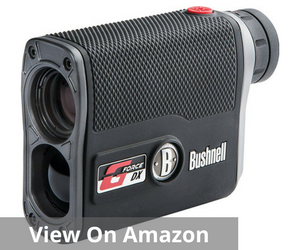 It has blended in new technology with the existing features to deliver a rangefinder which would make your experience totally worth it. It gives angle compensated readings to the user which is ideal to make an accurate shooting. In this model it shows the line of sight reading and just underneath the angle of the shot is displayed for a second and a half. Once it disappears, the information about the angle compensated is displayed there.
This model of Bushnell strays away from the traditional display by the use of the Vivid Display Technology. It has a red display instead of the black which can be adjusted to four different brightness levels. The levels can be changed manually by the click of a button depending on the lighting conditions of the area. The holdover measurements are displayed in inches if you have set the unit in yards and it changes to centimeters when you have set the unit of measurement to meters. It is equipped with the Extreme Speed and Precision (ESP) technology which brings in speed and accuracy while measuring the range. The previous version could give a plus or minus .5 yards accuracy for a range of 125 yards. But in this model, it gives the same accuracy for a range of 199 yards.
It comes in three modes, namely rifle, bow and regular. The rifle and bow mode shows the angle compensated in the display for you to take into account the incline or decline angle. Under ideal circumstances, the rangefinder has a range of 1300 yards. It has a 900-yard range in case of trees and 600 yards if the target is a deer. Weighing at 8 ounces, the rangefinder has a metal casing with a rubber coating to provide grip. It is both lightweight and compact. Click here to see the best price.
Pros
Target priority feature
Adjustable screen brightness
Sturdy construction
Cons
The three modes can be hard to switch back and forth from
Rangefinders vs. Rangefinder Binoculars?
Recently, rangefinder binoculars became a hot ticket item in the field. And for good reason. Combining the two makes perfect sense, as it reduces overall weight and gives readings on the spot, for things further out.
Do rangefinders still have their place? Absolutely. They're phenomenal for things like bowhunting, or in tight whitetail deer hunting, where adding a heavier piece of equipment like binoculars doesn't always make the most sense. The bottom line is, if you're not used to carrying binoculars around, or do not like the idea of adding weight, a simple rangefinder is your best friend.
Check out our article, rangefinders vs rangefinder binoculars (which is better?) for more on that topic.
LEUPOLD has come up with its latest model of rangefinder which has broken another barrier.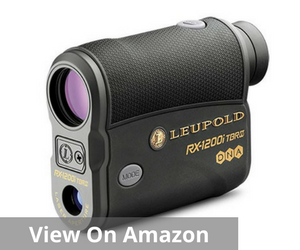 It has the all new technology to take the wind into account while hunting. For this reason alone, we had to add it to the list of the best rangefinder for hunting. But how do its other features fair?
RX-1200i delivers a maximum range of 1200 yards under ideal conditions. It is capable of angle compensated readings and has the digitally enhanced accuracy feature which is a change of processor from its predecessors. The device is made of aluminum housing which can take the blunt of an impact. It has a rubber grip which ensures that there is no possibility of slippage. It is rated as waterproof, which makes it ideal for rainy conditions. The last target priority lets you aim at targets which are in between bushes and trees. As well as the 6x magnification makes it the perfect rifle or bow hunting rangefinder.
The red LED provides crystal clear and uncluttered images for you to scan. This is a major improvement from the older versions. It has a range of 1200 yards for reflective surfaces, 900 yards for trees, and 800 yards for deer under the ideal circumstances. It has two major modes, namely rifle and bow mode. The wind correction calculation lets you judge the shot in a much better way. Click here to see the best price.
Pros
The wind correction features are the highlight of this rangefinder
6x magnification ideal for both bow and rifle hunting
OLED is much clearer than LED
Cons
The functionalities are quite complex
Switching between bow and rifle mode is not that fun
Leica is a trusted brand when it comes to rangefinder manufacturers. They have been manufacturing great models of hunting rangefinders over the years and have come up with a gem in CRF 1000-R 40535.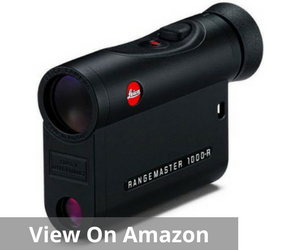 A rangefinder which has the necessary features and at the same time is designed to fit in one's pockets. You cannot ask for more. It features a 7x magnification which is a set more than the usual magnification levels offered by the rest of the rangefinder manufacturing brands.
1000 in the name implies the range in yards, which is a number ideal for any best rangefinder for hunting. It not only has such a great range but also has the ability to deliver a super fast line of sight distance to the target. It also provides the equivalent horizontal range by taking into account the inclination or declination angle. It gives accurate measurement from a distance of 10 to 1000 yards.
The physical dimensions and specifications of CRF 1000-R and its predecessors remains the same. Only the functionalities are different. Also, the new model comes at the same price as the older ones which mean you get extra features for the same price. The objective lens measures 24 mm and it will perfectly complement the 7x magnification. It is waterproof and comes with an AquaDura coating which will help you to use it in rainy weather and also avoid any case of slippage. The power source used by the device is a CR2 battery which has a long lifespan. At 7.8 ounce it is highly portable. Click here to see the best price.
Pros
Great range ideal for bow and rifle hunting
7x magnification with 24 mm objective lens
Compact and lightweight
Cons
CR2 battery used in the device is not easily accessible
Started in 2004, Vortex is relatively new in the rangefinder market. But that does not mean they have not learned the rules of the market.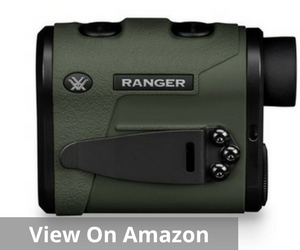 In their 13 years of existence, they have come up with a number of great hunting rangefinder. And one of them is the Optics Ranger 1000. The design is simple and you might find some similarities between the device and Leupold. It weighs and feels the same. The functions are controlled using two buttons which are on top of the rangefinder.
The gadget is coated with rubber which absorbs the impact of a fall gracefully and also keeps out the chances of slippage. You get the ability to focus on targets accurately with the 6x magnification and the 22 mm objective lens. It is rated as waterproof with the O-ring sealed. It is set to withstand any harsh conditions. It has a red LED display with three brightness levels to give you a comfortable look at the readings. The rangefinder has a lengthy range measuring process though. To get the measure, first, you have to press the measure button to switch on the rangefinder. The aiming reticle activates only after you press it for a second time. You have to press it a third time to get the range. This is a lengthy process to get the range which is not the case in most of the other best-hunting rangefinders.
The reflective targets would give a range of over 850 yards and non-reflective targets over 550 yards. It has two modes for you to choose from- Horizontal Component Distance mode and Line of Sight mode. HCD calculates the distance to the target by taking the angle compensation into account. LOS is used for more advanced shooting process using ballistics. Click here to see the best price.
Pros
LED display with three brightness levels
HCD and LOS modes
Compact and waterproof
Cons
Three press operation is tedious
Bushnell is a brand which has come a long way when it comes to rangefinders. Just by taking a look at 202208 Bone Collector, you would realize it is made for hunters.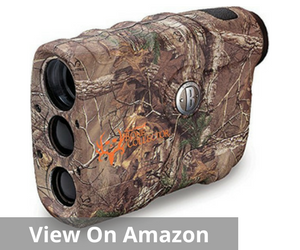 Built sturdy and weighing just 10 ounces, it is the ideal rangefinder that you can carry around in your pocket during a hunting trip. It does not have any flashy colors but has instead gone with camouflage style which is perfect to provide the invisibility you need. It operates on a single button function, which is quite straightforward. The button is located right under your index finger, which makes the whole process lot easier. It uses a 9-Volt battery which is a bit hard to swap as you need a screwdriver to take it off the device.
The LCD display is extremely comfortable to read under low light as it illuminates the readings. The display switches off after 30 seconds of being idle to save power. It shows the targeting reticle, the unit of measure, and the battery life. The gadget has a range from 10 to 600 yards under ideal conditions. The 600-yard mark is reserved for reflective surfaces. For trees, it will drop down to around 400 yards and for targets like deer, it will further go down to 200 yards.
It does not have the ability to measure the range by calculating the slope differences. It comes with the ability to toggle between yards and meters. It is waterproof and can be used in rainy conditions. Click here to see the best price.
Pros
One-button operation
High-quality optics
Auto power saving mode
Cons
Battery hard to swap
Have to switch the device off to toggle the units
Cannot calculate slope differences
Nikon has established themselves as one of the best hunting rangefinder manufacturers by innovating and adding new features to their new models of rangefinders. It is either Bushnell or Nikon which comes up with all the new features for rangefinders.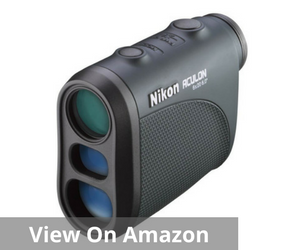 As one of the trusted brands, they have not failed when it comes to Aculon AL11. Nikon had Prostaff 3 to compete with the other rangefinders this year, but they introduced Aculon AL11 with major improvements over the former.
At 5 ounces and a dimension of 3.6″ x 1.5 " x 2.9″, it is one of the smallest rangefinders which is available currently. It is powered by a CR2 lithium battery which has a great lifespan but is not readily available. It is equipped with target priority feature which enables you to get the range of the object which is furthest away from you. It has a maximum range of 550 yards under ideal conditions. The range decreases if the object is not reflective. It has an adjustable +/- 4 dioptre, making it an ideal device for those with viewing issue. Most of the entry level rangefinders leave this feature out, but Aculon has it.
It has a 6x magnification which provides both the ability to track moving targets and also a good field of view to find targets which are close. It has a black LCD display and does not come with the backlight option, which might be an issue under low lighting. It is also not listed as waterproof which can pose a lot of issues. But under the price range, it has all the features you can ask for. Click here to see the best price.
Pros
Lightweight and compact
Adjustable dioptre
6x magnification with a good field of view
Value for money
Cons
Not waterproof
Uses CR2 battery
LCD display does not have a backlight
Things can never go wrong if you are using Simmons' rangefinder. They have been known for manufacturing rangefinders that are durable and have great features. They have kept their reputation intact with the new Volt 600.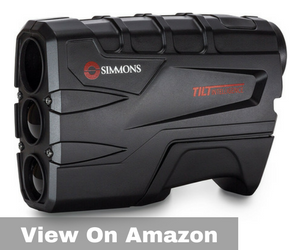 With a vertical layout, it has a unique design which makes it easy for you to carry it with you anywhere. With 4x magnification, it gives a great field of view for you to track targets which are close. When combined with the 20 mm objective lens, it is a match made to help you hunt easily. It works on a single button operation which makes it easy to work around with. The button aligns itself with your index finger and makes all the operations very easy to handle.
The LCD display is exceptionally great for this price range. They have used high-quality optics technology to provide a clear and bright display to make the process of taking measurements easier. Offering a range from 10 to 600 yards, it has a distance accuracy of +/- one yard. The range is obtained under ideal conditions and on reflective surfaces. For objects such as trees or deer, the range will be less.
It has a water resistant housing to protect it from the effects of rain. The housing is also strong and sturdy to help it take a fall or two with just a few scratches and no serious damages. The design gives you a great advantage to carry it with you easily. It is compact and lightweight, making it an ideal companion for you on your hunting trips. The package consists of Volt 600, the instruction manual, and a carry case. Click here to see the best price.
Pros
It features a perfect design
Simple and easy to use
Uses 9-volt battery
Cons
Not so effective in low lit areas
Does not have great range or many features
Buying Guide – Things To Look Out For In a Hunting Rangefinder
Buying a rangefinder is not as difficult as it looks. With proper research and market study, you will be able to find out which hunting rangefinder suits you the most. But if you do not put enough time in finding the right one, there is a great possibility of you ending up with a rangefinder which is not ideal for you. So make sure to take a look at the following points before you make the purchase of a new hunting rangefinder.
And again, if some of these units are out of budget, feel free to take a look at our best cheap rangefinders for 2019 article!
Range
A hunting rangefinder needs a good range. As you are out in the wild, you may never know how far your target is. So it is a requisite to have a longer range to be able to look out for the targets. An ideal hunting rangefinder will have a range of anywhere over 800 yards. Anything less than 800 can hugely hamper your ability to find targets which are not as close as you think.
Design
The design has to be compact, lightweight, and durable. You are carrying the rangefinder around with you anywhere you go. This makes it susceptible to slippage and falls. The rangefinder should be able to take some impact with no damage. A good metal casing or an absorbing rubber casing is ideal for you to take with you for hunting. These will definitely save the core of the rangefinder from damaging if it slips and falls.
Features
A good rangefinder will have features such as a good LCD, powerful optics, great range, angle compensation ability, water resistance, and a sturdy built. These functions make your ability to hunt easy. So you have to choose the rangefinder according to the functions you want in it.
Ease of use
On the other hand, having a number of features can also lead to complications. A single button operation rangefinder would always be a better choice as it lets you take measurements fast and without any complications. Having many modes and different functionalities which you are never going to use will affect the way you work with the rangefinder. So always look for rangefinders which you can be comfortable with. Never go for too many features by compromising the ease of use.
Your need and budget
This is the most important part when it comes to the purchase of a rangefinder. You need to find out what you are expecting from the rangefinder. The features, range, different modes, and everything that you are expecting from a rangefinder should be noted down to make the process easier. Secondly, you should fix on a budget before you start searching for rangefinders. If you are able to fix a budget, you will be able to eliminate whichever rangefinder that comes below and above that price range. You will be able to concentrate on the ones which you are able to afford. Talk about saving time.
Conclusion
There are many great hunting rangefinders released in the year 2019. And these are our top picks. These offer great features, have great construction and design, and most importantly provide value for money.
Were we able to help? We'd love it if you took the time to write a 5 star review.
If not and we could improve, please send us a message!