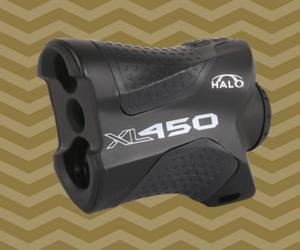 A rangefinder is an instrument used to measure the distance of an object, for the purpose of use with a gun or a camera.
When you are looking for a cheap rangefinder, you would always prefer those which provide the best value for money.
With the stores and online markets having quite a few rangefinders, you might find it hard to select the right one which suits your requirement.
This article is aimed at helping you to deal with the confusions and focus on purchasing the best rangefinder which falls in your budget. While you may believe it might be an impossible search to look for a cheap but good rangefinder, you will find many if you dig in deep.
So, to save you from the time-consuming process, we have come up with some of the best cheap rangefinders you can buy under $100. We have researched and come up with the specifications, the pros, and cons for you to look at to make your search easy.
So, sit back and go through the comprehensive guide to help yourself pick out the best rangefinder under $100. Just a quick note, since we're talking about budget rangefinders in this article, we also created a recommendation list of the best rangefinders for 2023 (if money were no concern).
7 Best Cheap Rangefinders Reviews for 2023
Best Cheap Rangefinders 
The team at Rangefindernow.com takes great pride in helping our readers find the best products to meet their needs. Here are the 7 best cheap rangefinders for 2021.
1. Simmons 801600 Volt 600
This item has earned Editors' Choice for its outstanding quality and performance.
From a brand which is known to deliver with each of their products, this product is no exception for people looking for a rangefinder on a budget.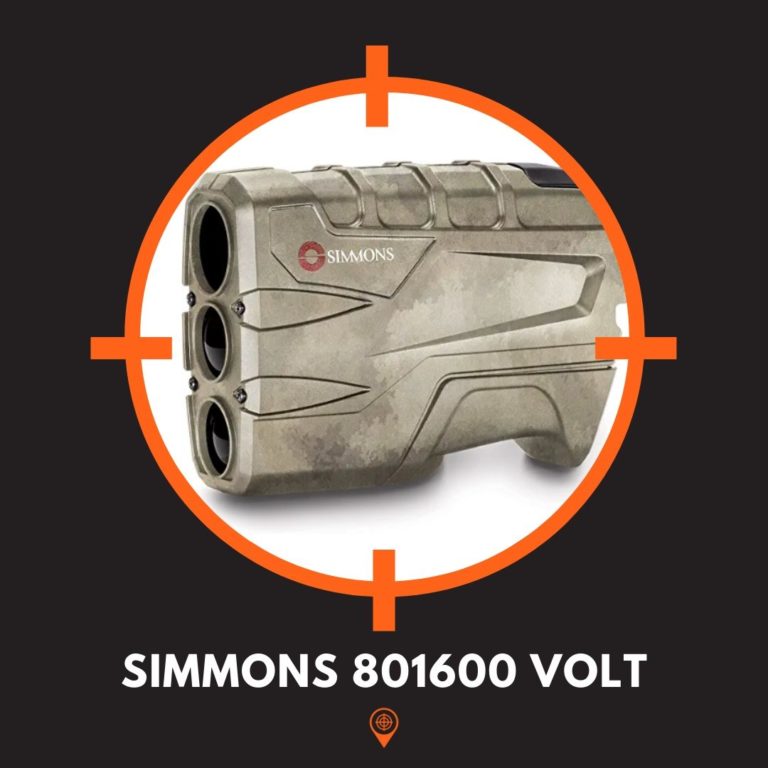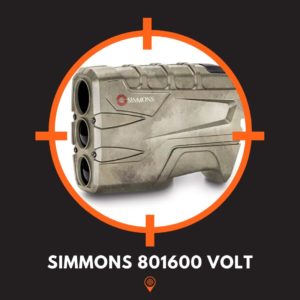 Simmons 801600 Volt 600 Laser Rangefinder is a value-added and accurate entry-level rangefinder.
The lightweight and the portable rangefinder is in no way frail. The well-built instrument gives you the option to zoom up to 4x magnification, which is the perfect specification for any beginner.
The stylishly designed rangefinder has LCD display which is bright and clear. It is built to last through harsh conditions and has the features to stand on its own.
It offers a relatively uncluttered display which is ideal for a budget rangefinder. One of the most important features of the rangefinder is tilt intelligence. The new tilt model comes with angle compensation which gives you the true horizontal distance between you and the object.
It is displayed only for objects closer than 99 yards and is displayed under the line of sight distance number. The angle compensation feature is something which is always left behind in most of the budget rangefinders.
The Simmons 600 Laser Rangefinder uses a 9-volt alkaline battery. This is unlike other rangefinders which use 3-volt batteries.
The battery is not included with the package and will have to be bought separately. The change to the 9-volt alkaline battery is due to its availability. It has the option to show the distance in either yards or meters depending on your preference. The vertical rangefinder is lightweight and compact in comparison to horizontal rangefinders.
Pros:
The tilt intelligence feature.
9-volt alkaline battery
4x magnification which is great for any budget rangefinder
The black LCD display which offers an uncluttered view of the object.
Lightweight and compact
Cons:
Lack of range though it is mentioned to have 600 meters
Lack of features such as modes and options
Simmons 801600 Volt 600 Laser Rangefinder
The Simmons Volt 600 rangefinder has ranging capabilities out to 600 yards and is placed in a metal housing for additional durability.
Check Price on Amazon
Thank you for the support! We may earn a small commission if you purchase through our links (at no additional cost to you).
2. AOFAR 700
The laser rangefinder is ideal if you are looking for hunting and golf rangefinder. The lightweight and compact design make it easy to carry with you on your journey.
With a range of 700 yards, it is one of the best rangefinders on a budget. The presence of flag locking mode makes the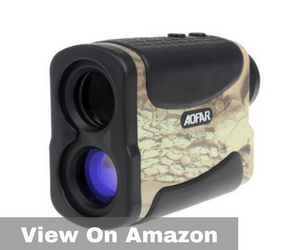 rangefinder a great add for your golfing day. The model also comes with a case and shoulder strap for you to carry it safely.
Unlike any other rangefinder in this range, this model comes with a great addition of a small compass to keep you on track.
With a range of 5-700 meters, the model has a great range when it comes to the price range it belongs to. It has a magnification of 6x which is ideal for long range hunting and also for golf.
The 25mm objective lens gives you a clear view of the object even while magnifying. The display has fog mode, which makes it great to be used in conditions with thick fog.
Weighing just 6.3 ounces and a compact design, you can carry it with you no matter where you go. It also comes with the auto turn off feature.
If you have switched it on for long periods of inactivity, it turns itself off to save battery. But it cannot compensate for elevation.
If you are using it off the ground, the measurement would be slightly off. You will have to calculate on your own and add the difference yourself.
Pros:
The compact and lightweight design let you carry it anywhere.
Addition of compass to keep you on track
Great range of 700 meters
25mm objective lens with 6x magnification
Fog mode to tackle thick fog
Automatic switch off feature to save battery
Cons:
Does not compensate for elevation
AOFAR HX-700N Rangefinder
This rangefinder has 4 different modes and ranging capabilities up to 700 yards.
Check Price on Amazon
Thank you for the support! We may earn a small commission if you purchase through our links (at no additional cost to you).
Related: Best Hunting Rangefinders
3. Halo XRT6 Laser Rangefinder
The power saver features deactivate the rangefinder after 20 seconds of being idle. This saves a lot of power, and you would not have to change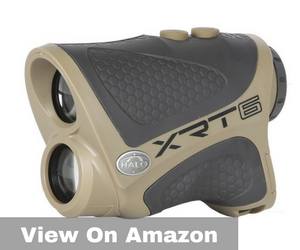 the battery often.
The LCD display had an aiming reticle which would make it easier for you to aim at objects. Halo XRT6 has a lens which can magnify up to 6x of the original size. This makes it a great instrument during hunting or golfing.
The design has incorporated a rubber grip to make it easy for you to hold. It comes with a CR-2 battery which has a lifespan of one year.
It lasts for 2 hours once fully charged. Golfing, target shooting, and hunting are activities which require rangefinder that can accurately measure the distances. The laser rangefinder is the ideal one as it can measure up to 600 meters accurately with plus or minus one yard.
This model from Halo series is one of the best but cheap rangefinder you can get your hands on. The ergonomic design is appealing and makes it easier to carry around with you.
One of the greatest benefits of the rangefinder is its ability to calculate yardage in the fastest time. Before a blink of an eye, you get the yardage displayed on the screen.
It comes with two modes namely, target and scan. A continuous distance measurement can be obtained by putting it on scan mode.
Once you have found the target, you can aim at it using the target mode. The model comes with fog resistance eyepiece, which makes it ideal to be used under the extreme fog. And the water-resistant casing protects it from harsh conditions.
Pros:
Very accurate and easy to use
Handy design, comfortable to hold and carry around
No shutter lag
Precision focusing with 6x magnification
Cons:
LCD screen, not the best. Not ideal during low light conditions
CR-2 batteries do not hold power for long
Does not have an auto-focus feature
Halo XRT6 Laser Rangefinder
Halo has been a top producer of rangefinders for many years now, this is their top option for less than a 100 bucks.
Check Price on Amazon
Thank you for the support! We may earn a small commission if you purchase through our links (at no additional cost to you).
4. Wildgame Innovations Halo XRT
With a standard range of 500 yards, it is an inexpensive rangefinder ideal for you to purchase if you are on a budget. Wildgame Innovations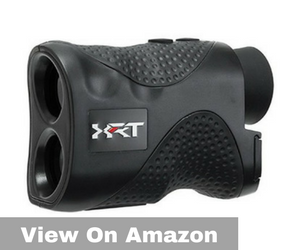 Halo XRT is a rangefinder which has not compromised much to be inexpensive.
Weighing at 11 ounces, the rangefinder is not the lightest but is not heavy enough to be uncomfortable. The non-slip rubber grip avoids the question of slippage during wet conditions.
The built is sturdy unlike most of the rangefinders which come under the same price range. It might pose an inconvenience in the form of the lack of autofocus, forcing you to use both hands at a time to adjust the focus.
The rangefinder gives you the opportunity to measure the range on target selections when it is put in the scan mode. This allows you not to use the laser each time. The LCD display shows the distance, low battery icon, and a reticule for you to focus on the target. The measure of distance can be switched between meters or yards, according to your need.
The anti-fog coating on the lens makes it ideal for foggy conditions, and the optics are decent to provide good focusing. The 6x magnification is perfect for providing the 500-yard range for the price. Like the previous models, it comes with the auto switch off feature after 20 seconds of inactivity.
It uses a CR-2 battery, which has a great lifespan but is not as accessible as the rest. It also does not have illumination for the reticle and range numbers which makes it difficult to see under low light.
Pros:
Quick and accurate readings
Compact and lightweight
The anti-fog feature makes it usable in harsh conditions
Auto switch off feature prevents unwanted battery use
Scan mode to range multiple targets
Cons:
No illumination for reticule and range numbers
Unable to provide slope measurements
CR2 batteries not easily accessible
Halo XR700-8 700 Yard Laser Range Finder
The Halo XR 700-8 is a great rangefinder because of it's ergonomic grip and long distance ranging capabilities (700 yards).
Check Price on Amazon
Thank you for the support! We may earn a small commission if you purchase through our links (at no additional cost to you).
Related: Top Archery Rangefinders  
5. Simmons Venture
This piece of gadget makes your hunting and golfing experience a lot easier. A versatile rangefinder with few compromises made to bring down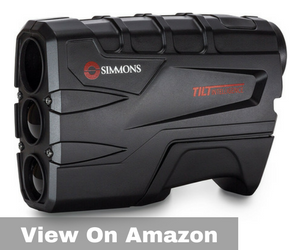 the price range, this cheap rangefinder delivers easy one-button operation and great accuracy to the table.
The vertical design takes up minimum space while offering great efficiency. It comes with a water resistant coating making it withstand rainy conditions with ease. The LCD comes with two modes.
These are Rifle and Bow mode. The rifle mode displays the holdover distance, and the bow mode shows the adjusted distance. The 20mm objective lens offers a 4x magnification. It allows the cheap rangefinder to have a range of 10-600 meters.
The Volt 600 is powered by a 9V battery which is easily accessible. The range varies from the object. If the target is a reflective surface, the range is up to 600 yards.
In the case of a tree, the range would be around 400 yards. And if the target is a deer, the expected range is 200 yards. This range would be susceptible to an accuracy of plus or minus one yard. The vertical design and one button function help you use the rangefinder with a single hand.
At 8 ounces and a dimension of 4.2 x 3.6 x 1.9 inches, it is a lightweight and compact gadget which would not give you any trouble to carry around.
Simmons is a trusted brand which has come up with some great rangefinders. And they have not disappointed anyone with Volt 600. It is a great buy when on a budget.
Pros:
Sturdy construction, lightweight and compact
20mm objective lens with 4x magnification
A range of 600 yards for such a price
Vertical design with one button operation
Bright and clear optics
Cons:
Switching modes can be difficult
6. Wosports Rangefinder
The hunting rangefinder, as the name suggests, is the best of the cheap rangefinders to be used while hunting. The instrument has been specially designed for the purpose that it has only range and speed measuring functions. The high precision gadget has a 25mm objective lens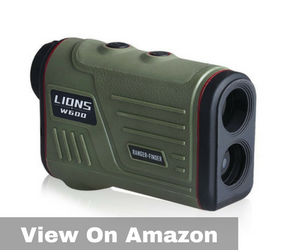 which can provide a 6x magnification. It is ideal for measuring a distance of up to 600 yards. It has a speed measure accuracy of plus or minus 5 km/h and a range accuracy of plus or minus one yard. Courtesy of its compact design and a weight of just 220 grams, the rangefinder is perfect and portable.
It has rubberized armor which makes it slip free and proves to be the reason for its longevity. This armor also makes it dust and water resistant, so feel free to carry this gadget with you everywhere you go.
It is compact and durable. It operates on a CR2 3-volt battery which has a great lifespan. But the downside is that the battery holds a charge for only two hours. The speed range of the rangefinder is between 20 to 300 km/h. And it comes with a magnetic latch storage case and a wrist strap.
Pros:
Accurate range and speed measurements
Water and dust resistant
Specialized for hunting
Cons:
CR2 batteries are not easily accessible
Related: Halo Rangefinders: Best Reviews
7. TecTecTec ProWild
The TecTecTec ProWild Rangefinder is built for those with tight budgets. If you're looking for a cheap rangefinder that's just going to get you into the field, or ranging targets in the yard, this one will do exactly that.
This rangefinder scans up to 500 yards.
What To Look For In An Inexpensive Rangefinder
As said earlier, there are quite a few rangefinders available for purchase. It becomes a tough task if you are looking for a rangefinder under the budget of $100. So there is a need to take into account certain factors to help you succeed in buying the one which suits your needs the most.
It's also important to remember, not every rangefinder is created equal. As with everything you'll use in the field, you do get what you pay for. If you're looking for top of the line rangefinders, we recommend you check out our article on the best hunting rangefinders this year.
Why shouldn't I buy a cheap rangefinder?
If you're just getting in to hunting, buying a budget rangefinder might be one of the best things you do for yourself. Here, we're talking about our favorite rangefinders under $100. However, rangefinders aren't really all that expensive in the first place.
With that being said, should you go for an affordable rangefinder, you might save yourself some money that could be spent on other things, like a high quality bow (which, leads to more ethical hunting, we like ethical hunting). If you just want the top rangefinder for yourself, check out our article linked above.
Price and Quality
It is a fact that you get what you paid for. The more money you put into something, the better results you receive. The same holds true in the case of rangefinders. The quality difference of rangefinders from the least expensive to the most expensive is substantial. But as the price goes up, you will find out that the quality seems to level out.
For example, the quality of a $400 rangefinder would be twice as good as a $200 rangefinder. But the same does not hold true for an $800 and $400 rangefinder. The quality difference will be noticeable, but not that much.
So the best thing to do would be to go for the one you can afford. Fix a budget and research for the best you can get under that price range. Also, do not go for a cheap one when you can afford another from a higher up price range. You are sure to regret it.
Angle Compensation
When hunting, it is rare to be shooting from the ground level. The same applies while using bows. Most of the shots are taken at some or the other angle. The projectile drop is affected heavily due to this angle. While shooting downhill, you will have to adjust the drop as if the projectile is not going to drop as much.
There are mathematical equations which can be used to calculate such angles, but you would not get so much time while hunting. So, it goes without explanation to say that it is better to go with a rangefinder which does these equations for you. It gets so much easier.
Maximum Range
Special attention should be given to the maximum range of the rangefinder. Rifling, using a bow, or golfing, it is always better to go with the one that offers maximum range. Even if you do not use it for the range mentioned, it is fun to work around with it.
Another thing to keep in mind is, the rangefinders deliver the mentioned range only under ideal conditions. A range of 600 yards will be given on a large reflective surface under the perfect climatic conditions.
In real life, the range fluctuates depending on the weather and other conditions. On a deer sized target, the range of a rangefinder will be reduced by almost 25% in most cases. So make sure to take that into account before you make the purchase.
The high-quality rangefinders would be able to deliver the better maximum range compared to the cheap ones. That is another reason for you to invest in a good rangefinder.
Size
The size of the rangefinder does matter when it comes to the portability. The ideal size for a rangefinder would be something that fits into a pocket. But it should not be too small either. If it is too small, there are high chances for you to fumble it.
Too big, you would not find it easy to carry with you while hunting or golfing. So find the ideal size that suits you and makes your purchase accordingly.
Simplicity
No one likes to go through manuals. Let us accept it. It becomes a complex affair if the rangefinder has multiple functions which need you to go through pages of manual to figure out. The ideal rangefinder would be the one which we can switch on with the press of a button and read the yardage.
All you need from your rangefinder is the actual range and the angle compensation. The rest of the reading will clutter up the screen and not let you focus on the task.
Go for a simple rangefinder which has only the necessary readings. It will make things simple and keep you happy.
Features
The features of a rangefinder are important to consider before making the purchase. The magnification power, the lens used, make, and model, additional functions all come into the fray when you are considering to buy a rangefinder.
There are rangefinders which can be operated with just a push of a button. It becomes incredibly easy as you do not have to go through complex working mechanisms.
The vertically designed rangefinders are better when compared to horizontal ones as it is compact and can be handled with a single hand. You can use your free hand to multi-task. The power saving auto switch feature is handy too. Especially if you are using a CR2 battery, you may need the feature to keep your battery run longer.
Some rangefinders come with anti fog and bright LCD screen features which help in conditions that are not favorable. Some of the rangefinders come with a shutter lag, which can hamper your ability to get the right measurement from the target. So look for rangefinders which have nullified shutter lag to give you precision range numbers.
Related: 6 Reasons Why Every Hunter Should Have A Rangefinder
Conclusion
Finding a rangefinder can be an overwhelming experience. But if you have the right resources and a little bit of research, it would not prove to be a difficult task. So here we have featured the best cheap rangefinders for you to choose from if you are on a budget. Go ahead and choose the one that suits your need.
Enjoy hunting and golfing!