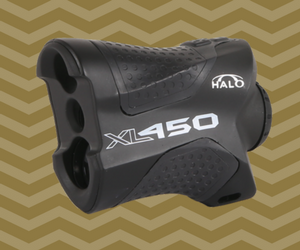 If you have stumbled across this article in the quest of purchasing a rangefinder, you are at the right place. It can be a pain in the butt to try find a high quality rangefinder.
You are required to do a lot of research on the features, designs, and make of the rangefinders before making the purchase. It is a process which is time-consuming and not everyone has time for it. So, this article is aimed at helping you with selecting the right rangefinder for you.
When we talk about rangefinders, one of the names which stand out is Wildgame Innovations. They have many years of experience to back their work and have been a mainstay in the market since their inception. Known for their high-quality products, Wildgame Innovations have gained a reputation for developing some of the best Halo rangefinders. Working on integrating new technology into their models, they have improved the features and functionalities of their rangefinders with each passing year. For their hard work, they have been aptly rewarded over the years by their customers.
So, we have dedicated this article to talk about few of the best rangefinders from the Halo series which is manufactured by Wildgame Innovations. As they have quite a few great products, it was a tough task to choose the best out of the lot.
This item has earned Editors' Choice for its outstanding quality and performance.
The Halo X-Ray Z6X 600 Laser Rangefinder is an all-round package which would make your experience worth every penny you spend on it.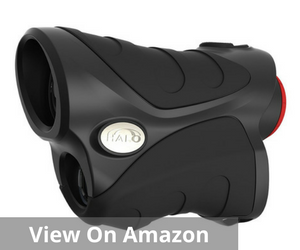 Talking about the features, the Halo rangefinder delivers from 5 to 600 yards. It gets to the 600 yards range with the 6x magnification and the 23 mm objective lens. It is the ideal level of magnification for rifle and bow hunting, with the eyepiece accommodating your eyes in a comfortable way. It has different modes such as scan mode and the AI technology mode.
The scan mode lets you scan multiple targets for a few seconds to figure out the object you are looking for. When you use the AI Technology mode, it takes into account the angle compensation. The incline or decline of the slope is canceled out through this process. It has an accuracy of +/- one-yard.
It has a small, black, square reticle which is comfortable for your eyes and also makes for easy aiming and target identification. Though the rangefinder has a 6x magnification, the visibility of the display during low lighting condition is not up to the mark. The black reticle does not illuminate the readings under low light, making it hard for you to see the display.
It boasts a sporty design which makes it very pleasing to the eyes. But do not worry, it's not just the design that is good. The Halo rangefinder has a silicone armor housing to protect it from any damage from fall or issues of slippage. Rated as waterproof, the rangefinder definitely passes the water resistant tests making it an ideal companion for you to carry on a rainy hunting trip.
It is powered by a CR2 lithium ion battery which does bring better lifespan of about a year. But the issue is that CR2 battery is not readily available at all the convenience stores. It has an auto shut off feature which is integrated to save battery. After a few seconds of being idle, it shuts off by itself. The device also comes with a one year warranty. Click here to see the latest price.
Pros:
AI technology
One year warranty
Auto shut off
Price
Cons:
Use of CR2 battery
The battery is not included with the package
Halo XRT6 is a handy rangefinder you can take with you for hunting or a golf experience. There is absolutely no chance for you to be disappointed with this device.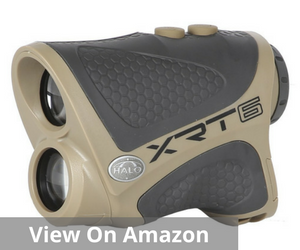 It is packed with great features and comes at an attractive price. Starting from the range, it has the ability to measure up to 600 yards, making it handy especially for bow hunting. Having a +/- one-yard accuracy, it gives little to no chance for you to miss a shot. With a 6x magnification, you will never miss anything out of your eyesight. The LCD display is brand new but does not have brightness control which can cause issues under low light.
It comes with two modes – scan and target. The scan modes let you get a continuous measurement of the distance as you scan across the area. The target mode lets you calculate the distance between you and the object accurately. The device comes with a water resistant casing which protects it from rainy conditions. Bundled with the sturdy construction, it forms a perfect combination to take on moisture and impact of a fall. The eyepiece is fog resistant and gives clear images even when thick clouds of fog is blocking the way. It is powered by a CR2 battery which is not easily accessible. But the CR2 battery has a longer lifespan compared to the rest of the power sources.
One of the major benefits of Halo HRT6 is the ability to process the measurement at lightning speed. Even the distance is very long, the Halo rangefinder can measure it in the blink of an eye. It does not have a flipping reflex mirror which takes off some of the weight making it lighter and compact.  Click to shop halo rangefinders.
Pros:
Does not need manuals due to its ease of use
Lightweight and compact
Accurate and precise readings
Does not have shutter lag
Cons:
The LCD display cannot illuminate the reading under low light
Use of CR2 battery which does not hold power for much time
It does not auto focus
3. Wildgame Innovations Halo XRT Range Finder – Great Value For The Money
Most of the times, the rangefinders which are ranked highly on the affordability list would have compromised on some of the necessary features.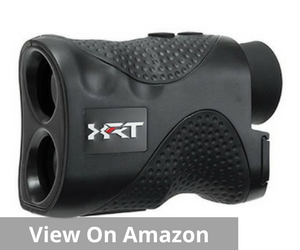 It is not so often you find a rangefinder which has not sacrificed on anything even when it has a low price tag. Halo XRT is exactly that. A rangefinder with great features and comes under the inexpensive list. Starting with the design, it weighs less than 11 ounces, which is not on the lighter side but does not cause any fatigue. Though, it is compact and can be easily carried in your pocket. It has a no slip rubber coating to avoid slippage and it does give you a proper grip to hold on to. Sometimes the cheap rangefinders give a feel of cheap make, but that is not the case of Halo XRT.
It does not come with an auto focus feature, which can be a bit inconvenient. The controls are easy as the buttons align with your index finger. But there is a chance of you accidentally pressing the wrong buttons. So, do pay little attention to not press on the unit change button instead of the measurement button. The range of the rangefinder is said to be 500 yards and can ideally deliver 250 yards range when it comes to deer sized targets. You get the scan and target mode which comes in handy. The scan mode lets you measure the range to multiple targets without activating the laser. The LCD display shows the battery life, the range, and also a reticle for you to aim at the target.
The optics are decent and has anti fog feature allowing it to be used under harsh conditions. With the 6x magnification, it turns out to be a great buy. But the LCD does not perform well under low light as the readings would not be clear. It has the auto switch off feature which would turn the rangefinder off after 20 seconds of being idle. This is a great power saving feature as the rangefinder uses CR2 battery. The battery has a great lifespan but does not hold the charge for longer than 2 hours. Click here to check out the price of the latest halo rangefinders.
Pros:
Affordable
Great design with no slip grip
Quick and accurate
Easy view LCD
Anti fog and water resistant
Auto shut off
Cons:
No slope measurements
Use of CR2 battery
Does not illuminate range numbers under low light
Related: 11 Best Bowhunting Rangefinders
Another lower prices Halo rangefinder to make the list; this is the one which requires no fuzz.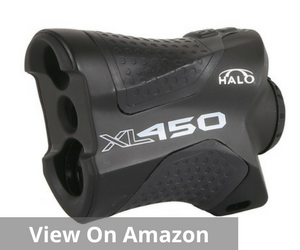 Operated using a single button, it is a rangefinder which is the symbol of simplicity. At 5 ounces, Halo XL450-7 is a lightweight rangefinder which is compact in its design. You can easily carry it with you on your golfing or hunting trip. It has a range of up to 450 yards which is comparatively lesser than most of the rangefinder that is out there in the market. But it does have the ability of slope and elevation compensation making it a great addition for golfing and bow hunting. The range decreases if the surface is not reflective. The range would reduce to around 300 yards.
The rangefinder comes with a CR2 battery and a wrist strap. It does not come with a case with the package. The battery does not hold much charge and without the case, you will have to shop again for something to keep it in. It has 6 x magnification which is ideal for any rangefinder though the fixed magnification does take out a bit of the comfort while staring through the reticle. The LCD display is decent for the price you pay. But it does not have the ability to illuminate the range measurement which can be an issue when used under low light.
This lightweight and compact rangefinder is also water resistant. You can take it to places with high moisture level and not worry about the rangefinder getting damaged. It can be used not only in rainy conditions but also when it is foggy. The rangefinder also has an auto shut off feature which would shut the rangefinder off after 20 seconds of inactivity. This is a great feature to save battery especially when the rangefinder uses CR2 battery. Click here to see the latest price.
Pros:
Lightweight at 5 ounces and compact
Auto shut off features to save battery
Water resistant and anti fog protection
6x fixed magnification
Cons:
Use of CR2 battery
LCD does not illuminate readings
Range of only 450 yards
Also Read: Top Rangefinders For Under $100
5. Halo Z6X2-7 Rangefinder – Sturdy Construction
Wildgame Innovations does have a number of great and affordable rangefinders under their catalog. This put us in a really tough situation while choosing the final rangefinder for the list.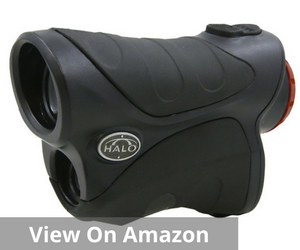 After a lot of debate, we had to go with Halo Z6X2-7 due to its affordability and minimalistic design. At 600 yards range, it is not one of the rangefinders which offer a lot of range but delivers when you take into account the factor called affordability. You get the measurement of range with an accuracy of +/- one- yard which leaves less space for errors. The ergonomic design gives a great feel to the rangefinder and it holds it comfortably. It comes with adjustable eyepiece which lets you focus with precision and ease. It also makes for a comfortable experience staring through the display.
It is extremely compact and might get you worried if you can hold it properly. But the rubberized grip protects it from falling off your hands. The LCD display illuminates the readings making it easy to see the range while in a low lit condition. The same applies under rainy and fog conditions too. The Halo rangefinder delivers well under these conditions. It takes the elevation into account and gives the corrected readings to make the shot accurate. But it is not the ideal rangefinder if you are looking for long range shooting.
It is very easy to use and to switch through different modes as you might not even need the manual. You can switch the angle compensation feature on or off with a click of a button and the same applies while changing the unit from yards to meters. One of the downsides of the rangefinder is the use of a CR2 battery to power itself up. The package does not include a battery and the battery does not hold the charge for more than two hours. But it does have a longer lifespan compared to the rest. Click here to shop the latest halo rangefinders. 
Pros:
Affordable
Sturdy and compact
Water and fog resistant
Cons:
Related: Why Every Hunter Should Have A Rangefinder
Buying Guide – Things To Look For In A Halo Rangefinder
It is not every day that you go out to buy a rangefinder. So when you are buying a rangefinder, you have to make sure it suits your needs perfectly. But with so many rangefinders available at your disposal, it can get a bit tricky to choose one out of the lot. But do not worry. If you spend a few minutes reading this article, you will get to know the things you have to take into consideration before the purchase of a rangefinder. We have researched and developed a buying guide that would give you some insights on things to look for in a rangefinder and what makes a product great for you. Read ahead to know more.
Design
The design of the rangefinder does have a lot to do with your purchase. A rangefinder which is designed to perfectly blend in with the way we hold it is better than a good looking design which you cannot hold properly.
Lightweight
It should be lightweight so that you do not feel fatigued after carrying it around for a long time. Anything less than 9 ounces would be a good weight range for the rangefinder.
Compact
When it comes to compactness, the rangefinder should not be too big or too small. There is a balance between the two, which makes it more comfortable for you to hold it. If it is too big, you would not be able to carry it around. If it is too small, there are chances of you dropping it.
Color – It is always better to choose a color that blends in with the surrounding. Carrying a bright-colored rangefinder for hunting would result in giving your position away to your target.
Related: Best Golf Rangefinders
Measurement of Range
The range is undoubtedly the most important part of a rangefinder. You are buying a rangefinder for the purpose of finding the range and if a rangefinder cannot do that correctly, it is useless. So look for the kind of range you want. For rifle hunting and golfing, you will need a rangefinder with a long range. As well as if you are using it in large fields. But when it comes to bow hunting, you can choose rangefinder which has a lesser range for the obvious fact that a bow travels less distance in comparison with bullets. So the range should be taken into account according to the purpose of your use.
Features
The main feature of a rangefinder is to measure the range and make your life easier. But there are other features and a few additional features which can make your life much easier while using a rangefinder.
Magnification
The magnification provided by the rangefinder will decide on the range. Most of the good hunting rangefinder has a magnification of 6x and it comes with an adjustable eyepiece. However, when it comes to bow hunting, the ideal magnification would be 4x as you need a better field of view. Most of the targets are close by when you are bow hunting. So the magnification is one of the features you should give special attention to.
Display
The display has to be straightforward. It should show the measurements, angle compensation, and the reticle clearly. It should be able to illuminate the readings in places where the lighting is low. An adjustable brightness mode would be ideal.
Angle compensation
The angle and slope compensation modes make your life better. Though it cannot be used in golf tournaments, you can use it while hunting to get corrected range readings. Doing the math while hunting would not bode well because, by the time you calculate it, your target would have vanished.
Modes
Different modes such as target and scan can come in handy when you are out hunting. The target mode helps you focus on your target and get the range. Once you have put the rangefinder in the scan mode, it allows you to scan through multiple targets for a few seconds. It is one great additional feature which a rangefinder can have.
Water & fog resistance
If you are a hunter, there must have been certain times where you had to hunt in rainy, cloudy, or a condition filled with moisture. So water and fog resistance are two great features a rangefinder can have. It will make your trip much easier. There are possibilities of the rangefinder taking some damage due to the moisture it takes from the atmosphere. Water resistance property can change this. A rubberized casing will prevent moisture from entering and also will make it easy to grip.
Your needs and budget
Finally, it comes down to your needs and the budget. You have to decide what you need according to the features you are looking for. And find the rangefinder which comes under your budget.
Related: Rangefinder Binoculars: Best Reviews
Conclusion
Now that you the best Halo rangefinders available in the market, it is up to you to decide on the one that suits you and make the purchase. Before you do, just know that you will never regret buying it.