Predators are smart; that's how they got to the top of the food chain. So, when you are talking about hunting a predator in North America, that means coyotes. There are cases of bobcats and cougars putting in the occasional appearance, but they are not generally regarded in the same light as the pesky coy dog.
Predator Calls: The Best Calls for Every Situation
Coyotes have the almost magical ability to disappear the minute a rifle is brought out. If you need to outsmart these wily animals during a hunt, it's best done using an electronic predator call.
Additionally, using a good hunting rangefinder is another tool to aid you in your predator hunting venture, more information about these can be found on this website.
Although it is possible to make the noises yourself to lure the coyote closer, an electronic predator call never gets tired of producing a sound that resembles a rabbit in distress exactly. They will definitely come running when they hear the sound of an easy meal.
Predator hunting is one of the more exciting forms of hunting that can be found in North America, and getting started is relatively affordable and inexpensive. For under a couple hundred bucks, you can get yourself a calling system and a starter coyote hunting rifle. Many times, farmers and landowners want these predators eradicated, so gaining access to new hunting ground is easy.
With all that being said, here is a list of the ten best electronic coyote predator calls available this year.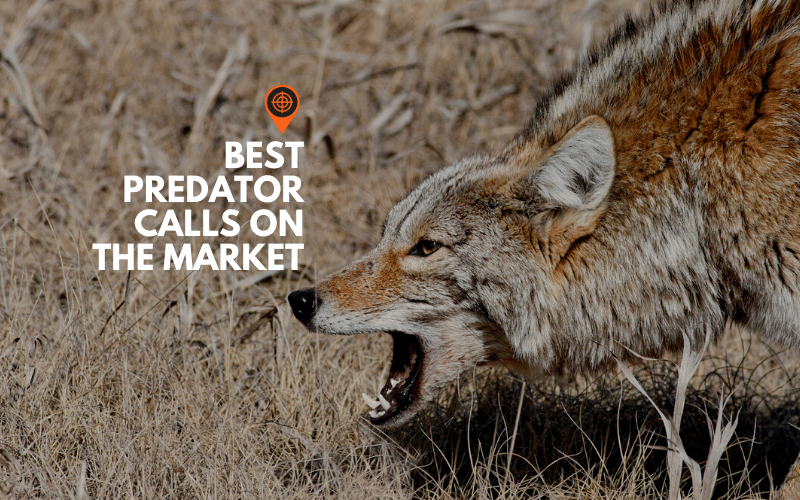 Best Budget Predator Call: ICOTEC-GEN2-GC300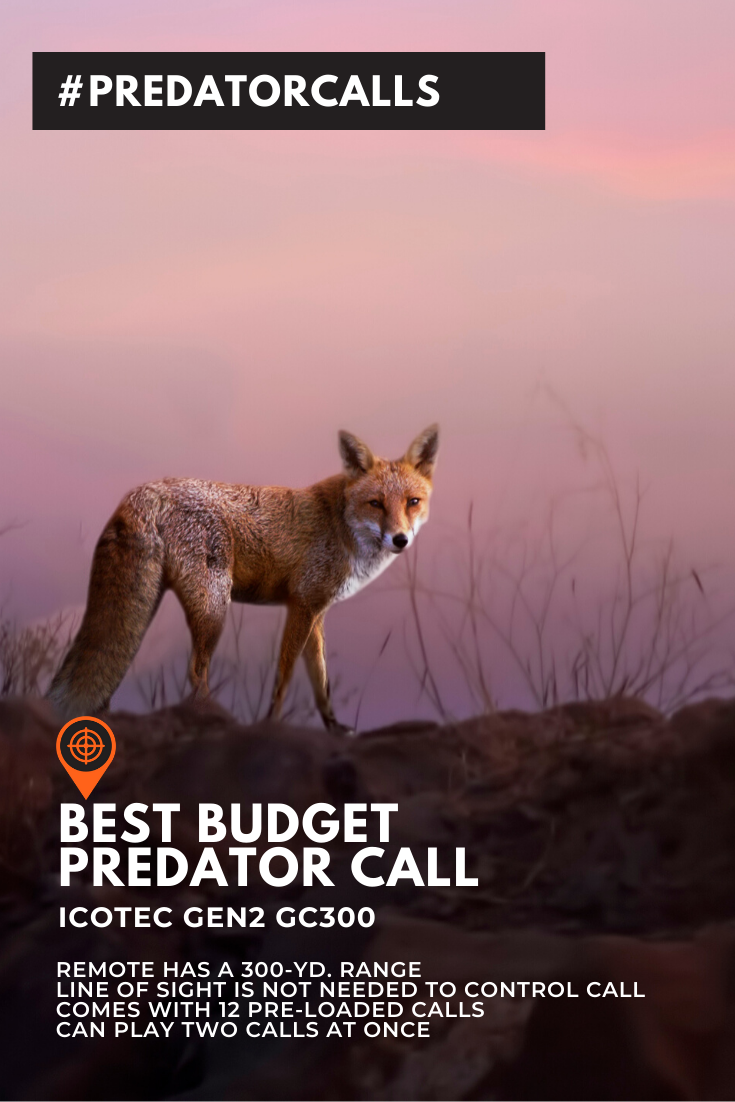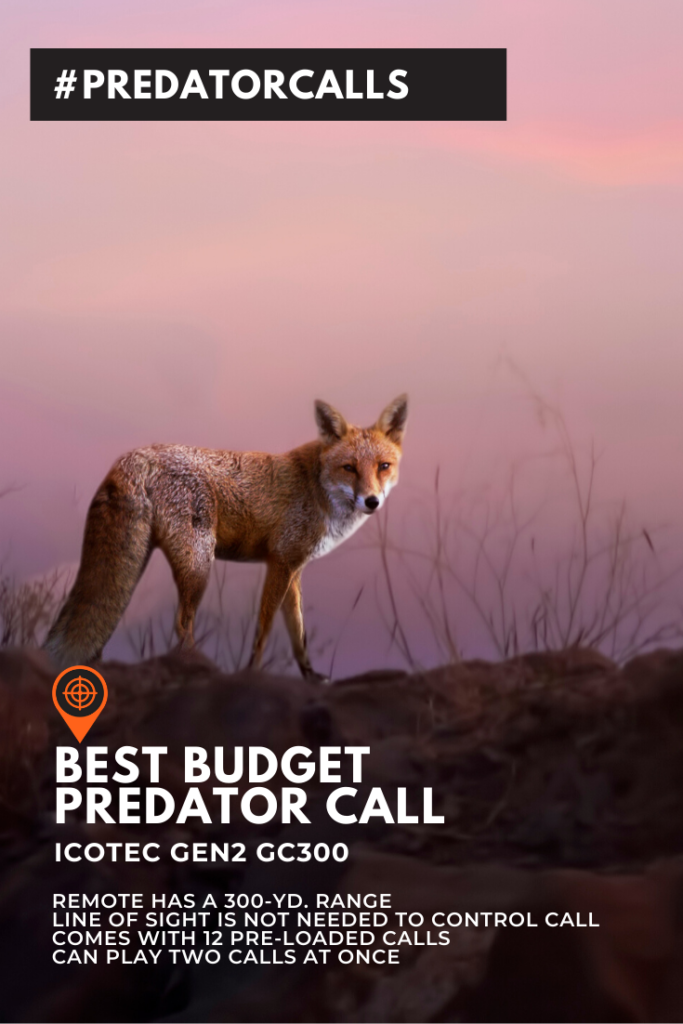 The ICOTEC-GEN2-GC300 is a great entry-level electronic predator call for hunters on a tight budget. However, it is more than enough to be considered a handy piece of equipment for hunters at any skill level.
One of the best things about this call is the cost. The ICOtec Gen 2 is one of the most affordable predator calls for this year.
If the call offers any downsides, it's that it is not programmable. Of course, for under $100, we can hardly complain as the call should service hunters in a variety of predator hunting situations.
 Features:
12 sounds included

Not programable

300 yard / 275m range

4 x AA + 1 x A23 batteries

Backlit buttons

Tripod mount
The 12 sounds this electronic call offers range from distressed rabbit squeal to coyote packs fighting. You don't have to fiddle around a lot to get this started; just press the button and the call box does the rest.
Buy the ICOTEC GC300 on Amazon
Shop the ICOTEC GC300 at Cabelas.com
Best Predator Call for the Price: Primos Dogg-Catcher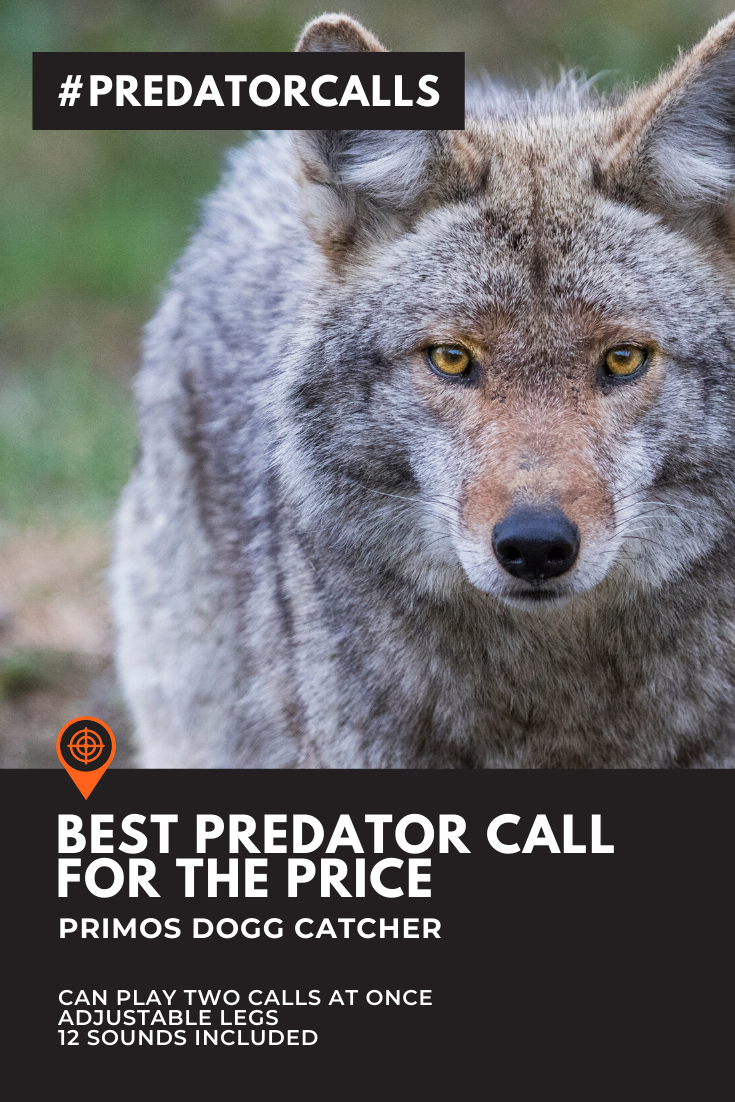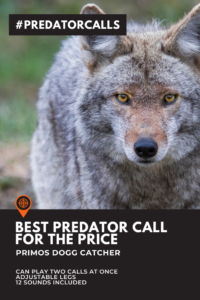 Primos is a highly respected name in hunting circles. The Dogg-Catcher is a simple piece of predator call equipment, formulated to include foxes, and bobcats as well as coyotes.
The 12 calls have a designated button, and all you have to do afield is activate the one you need.
Again, as with the first call we talked about in our guide, this call is not programable – however, it makes up for this downside by being able to play two calls at once.
The Primos Dogg Catcher is one of the best predator calls under $100. If you're looking to take things a step further, The Alpha Dogg from Primos is only a few bucks more, and we won't tell your wife..
Key Features:
12 sounds included

Not programable

150 yard /135m range

5 x AA batteries

Adjustable legs

Can play 2 calls at once
The Dogg-Catcher caller design sets it up on adjustable legs which makes it great for uneven terrains. The beige color blends into most backgrounds, and the antennas fold down for easy storage and transport. It's also really easy to operate in the field and turn on. A good electronic call for small properties.
Buy the Primos Dogg-Catcher on Amazon
Best Cheap Predator Call: ICOTEC-GC101XL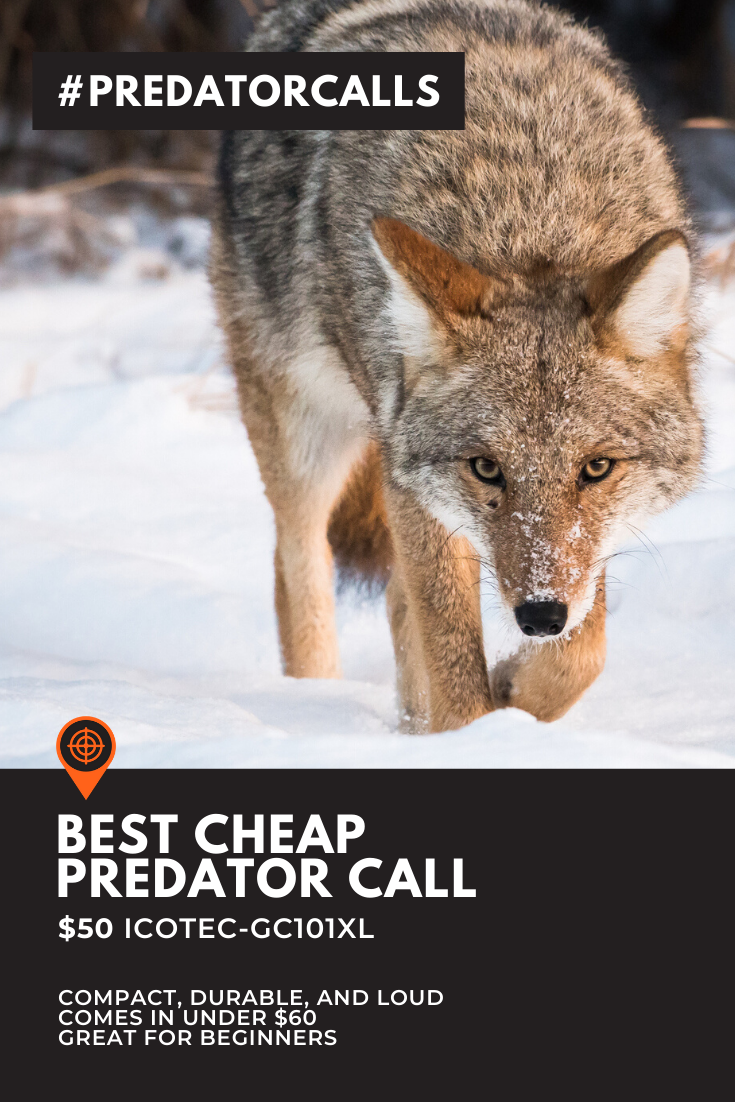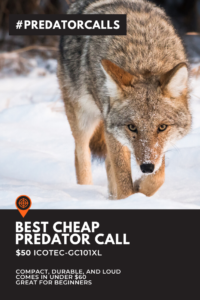 The ICOtec range produces some of the best electronic predator calls for hunters on a budget. The ICOTEC-GC101XL is the smallest and lightest model in the range. 
This call comes in at just under $55 and for the price, it's one of the cheapest predator calls on the market today. The ICOtec GC101XL has been available for purchase for well over 5 years, making it one of those predator calls that really does stand the test of time.
For that reason, it's also one of the best predator calls for beginners. The call is currently available on Amazon, however, it comes in and out of stock at major retailers such as Cabela's.
Key Features:
12 sounds included

Not programable

100 yards / 90m range

4 x AA 1 x A23 batteries

Compact folding
The calls programmed into this device were provided by Wildlife Technologies. They can attract other predators and carrion birds as well. It can also double up as a good device to scare away nuisance birds in the garden at home. The model has a small, lightweight, and compact design that can fit on a belt.
Buy the ICOtec GC101 XL on Amazon
Buy the ICOtec GC101 XL at Cabelas.com
Best Predator Call for the Money: ICOTEC-GEN2-GC320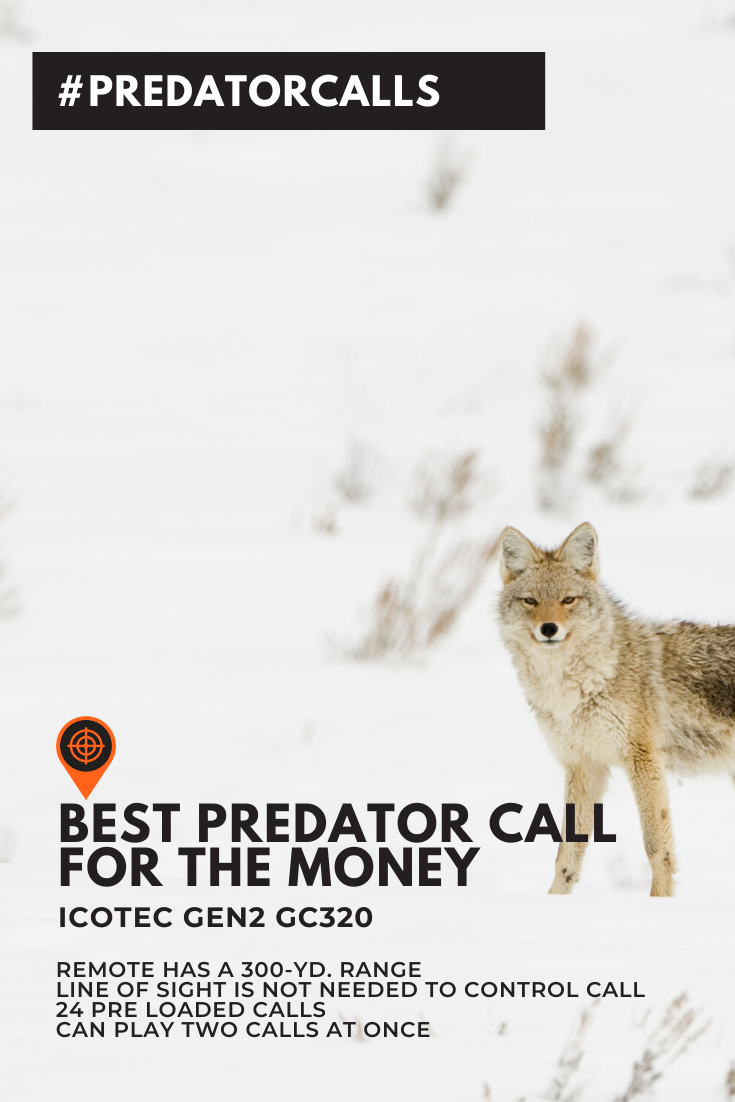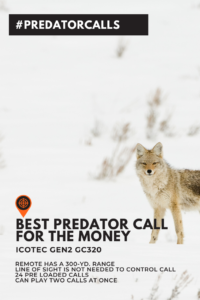 Predators are very quick to treat some electronic call sounds with caution.
The ICOtec-GEN2-GC320 is an electronic call and decoy combination. The decoy lure has two different toppers to match the sound of the call your device is creating.
The buttons are backlit so you can keep hunting at night. The call comes pre programed with 24 different sounds and two prey toppers for decoy. 
This call is designed to entice predators with motion, something that sets it apart from the lower end ICOtec predator calls. For a bit more budget, if you can afford it we highly recommend the ICOtec Gen2 GC 320.
Key Features:
Not programable

300 yards / 275m range

8 x AA 1 x A23 batteries

24 preprogrammed sounds
Two prey toppers for decoy
Play two sounds at the same time
This device is an excellent "step up" starter unit, and more than suitable for attracting the big dogs.
Buy on the ICOtec Gen2 GC320 on Amazon
Shop for the ICOtec Gen2 GC320 at Cabelas.com
Best Camo Predator Call: Primos-3755-Turbo Dogg
This is where the prices begin to rise as our list starts to feature electronic predator calls with more advance features.
Key Features:
36 sounds included

Programable

Over 150 yard / 275m range

11 x AA battery

Audio out port

Color LCD

Rotating speaker
The Primos-3755-Turbo Dogg is a programable electronic caller and includes 36 sounds separated into species. You can download additional sounds as well as the ones that come with the purchase. It you want a call with a wider frequency range and natural-sounding output, this is the device for you.
Buy the Primos 3755 Turbo Dogg on Amazon
Shop at Cabelas.com for the 3755 Turbo Dogg
Best Predator Call with Remote: FOXPRO-DEADBONE
FOXPRO produce high-end electronics, and the Deadbone model is their entry-level design.
Key Features:
15 sounds included

Not programable

200 yards / 185m range

4 x AA 1 x 9v batteries
The 15 sounds are all you have access to as you can't download more. The sounds that are produced are realistic and clear, but the speaker is not the loudest on the market. The model is compact and lightweight, and the calls it makes will have you looking over your shoulder for the injured rabbit. On the downside, the FOXPRO antenna on this model is kind of flimsy. The remote is handy for mobility and instant sound changes.
Buy the Foxpro Deadbone on Amazon
Shop the Foxpro Deadbone at Cabelas.com
Best Big Budget Predator Call: FOXPRO-SHOCKWAVE
FOXPRO really unleashed a beast when they manufactured the Shockwave. It is a premium quality item with the price tag to go with it.
Key Features:
100 sounds included

Programable

100 yards / 90m sound range capacity

10 x AA batteries

4 speakers

Atmospheric sensors
This excellent model includes FOXDATA that records information that it gathers from the sensors: temperature, location, moon phase, etc. It also contains a host of other FOXPRO features – such as FOX Fusion, Motion, and Pitch – and these allow you to customize your sounds at will. It has very high-quality sound and unmatched imitation.
Buy the Foxpro Shockwave at Amazon
Buy the Foxpro Shockwave at Cabelas.com
Best Predator Call + Decoy: FOXPRO-HAMMERJACK
If you are in the market for a predator call that has all the bells and whistles you could want, the FOXPRO-HAMMERJACK is for you. As FOXPRO is the last word when it comes to best predator call features – with the prices elevated to indicate this – you can expect the Hammerjack caller plus decoy to have everything a coyote hunter needs in the field to attract a predator.
Key Features:
211 sounds included

Programable

200 yards / 175m range

11 x AA batteries

FOXJACK decoy

FOXBANG

FOXCAST

3 x jacks

USB port
This high-end caller has programable calls with 211 different sounds. It is this variety that will outsmart a predator into believing the sounds are emanating from a real, live source. The 3 x audio jacks, handy charging port, decoy lure, and expandable capabilities make the Hammerjack a well-recommended hunting companion.
Buy the Foxpro Hammerjack at Cabelas.com 
Buy the Foxpro Hammerjack at Amazon
Best Predator Call Overall: Primos-3756-Alpha-Dogg
The Primos-3756 comes out the top of the pack in this list. It has excellent sound coverage, call variety, and overall quality.
Key Features:
75 sounds included

Programable

Can hold a maximum of 1,000 sounds overall

200 yards / 175m range

11 x AA batteries

Audio-in and audio-out ports

Folding out speakers

USB port
This model caller allows you to plug in your MP3 player and play whatever you have downloaded on there as well. It has 3 x built-in speakers and the central speaker provides outstanding range and quality. You can also fold away the side speaker to match the coverage you need afield. When they are unfolded, 180∞ of sound emanates into the surrounding landscape. The remote comes with an LCD color screen, which means it can be used from distances of 200 yards/175m away. The model comes with long legs for use in any terrain, negating the need to add a tripod to your gear.
Buy The Primos Alpha Dogg at Cabelas.com 
Shop the Primos Alpha Dogg at Amazon
Improve your chances of success while predator hunting
They're near the top of the food chain in their respective regions for a reason, predators are elusive, finicky, and all around challenging to hunt. With that being said, here are a few tips you can use to improve your chances of success in the field.
Invest in a quality spotting scope
Get used to hunting both during daylight and night time hours, changing your pattern can mean the difference between seeing predators and not
Break up your pattern and get on the ground in hunting areas with minimal cover
Understand WHEN you need a blind, here are some of the best ground blinds
Change up your sounds – predators are quick to pick up the same sounds, especially in areas that face a considerable amount of hunting pressure
Use rangefinder binoculars to accurately range predators, ensuring a clean and ethical shot
Honorable Mention: FOXPRO-BANSHEE-SKULL-Camo
With Remote Control and 100-custom sounds.
Hunters have used different animal calls to attract predators since prehistoric times. As much fun it is to learn how to do this in person, if you are setting up for a full day (and night) of coyote hunting, it's best to include a caller in your gear.
As predators are exceptionally cautious when they sense people around, by placing an electronic predator call device separate from where you setup means it does the job of attracting the coyote remotely. The predators you are targeting hear the life-like animal sounds, and head on over to investigate.
This leaves you with the chance for a clear shot and a productive hunting trip.
Buy the Foxpro Banshee on Amazon
Buy the Foxpro Banshee over at Cabelas.com
Enjoy this article? It would mean the world to us if you left a 5 star review. 
[ratings]