Each year, it seems like compound bow technology takes a major leap forward, and 2020 is no exception. This year, the industry saw major improvements in vibration and noise control (a major perk for deer hunters) and a push toward greater affordability (a refreshing change for hunters on a budget). 
There is little measurable difference between models these days, especially when it comes to performance. Each bow in our list, when placed in confident hands, is more than capable of bringing down a whitetail buck. Therefore, finding the best compound bow for deer hunting has become largely a matter of preference. 
These are the best compound bows for deer hunting this year.
Mathews V3
Hoyt REDWRX Carbon RX-3
Bowtech Realm SR6
PSE Carbon Air Stealth EC
Bear Perception
A good compound bow will feel comfortable in your hands and work like an extension of your body. The best way to figure out which one meets these criteria is to shoot several models. So, before you invest a ton of money in a hunting rig, test drive a few at your local dealer. The models we list below are a great place to start. These models offer some of the best hunting performance on the market, so make sure you give each of these a shot (or several) before making your final decision.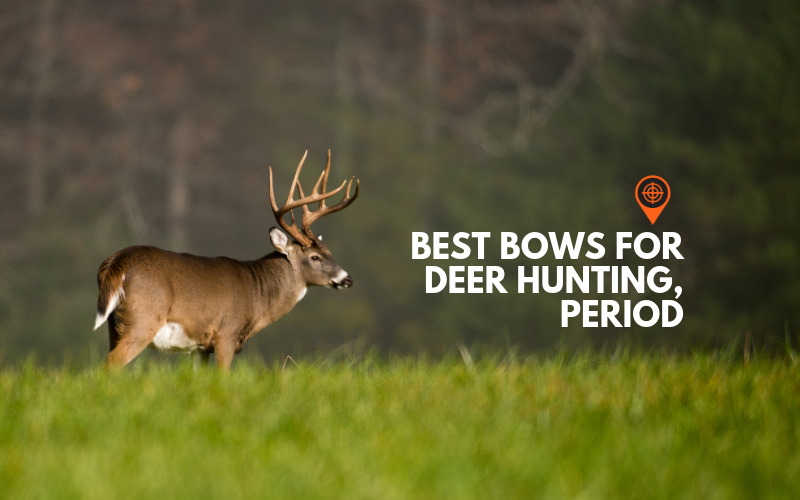 The Best Compound Bows for Deer Hunting 2021
Each year, technology seems to push archery as a whole into new dimensions. It's hard to imagine what life were like with a recurve bow, as these days, companies like Mathews and Hoyt pushing each other to do better have created a true weapon system that delivers pinpoint accuracy and ethical results. So, without further ado, let's jump into the best bows for deer hunting this year.
Mathews Vertix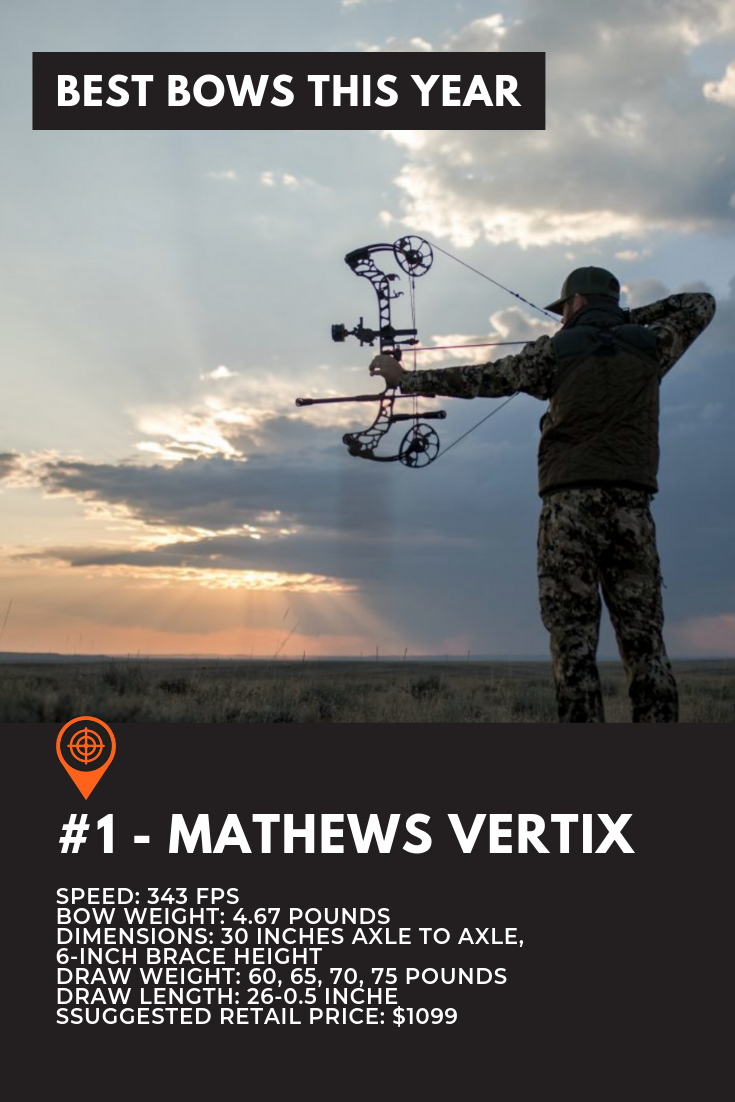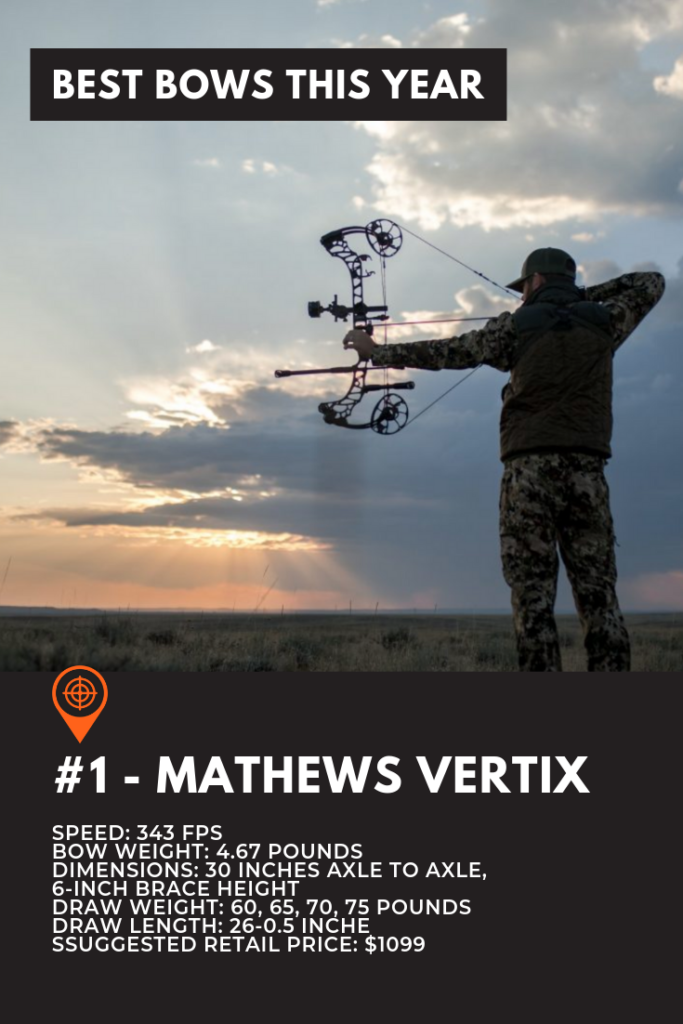 Mathews is famous for churning out high-performance hunting bows, and their new flagship model, their flagship bow for this year the Vertix, is easily one of the best Mathews has ever released. 
Unlike most of the Mathews line of large compounds, this one sits comfortably in the "compact" category, measuring 30-inches axle-to-axle and 6-inches in brace height. This thing maneuvers like a dream in close-quarter hunting blinds and tree stands. 
It weighs just over 4 ½ pounds, which could be a deal breaker for backcountry bowhunters. However, the weight actually helps hamper hand shock, vibration, and noise. This is definitely one of the quietest compound bows to ever hit the woods!
Maybe the best feature on the Vertix, is the Switchweight modular cam system. This innovative system allows you to easily adjust peak draw length and weight by simply swapping a module. This allows you to customize your draw without negatively affecting the bow's efficiency. 
The Specs:
Speed: 343 fps

Bow weight: 4.67 pounds

Dimensions: 30 inches axle to axle, 6-inch brace height

Draw Weight: 60, 65, 70, 75 pounds

Draw length: 26-0.5 inches

Suggested Retail Price:

$1099
Hoyt REDWRX Carbon RX-3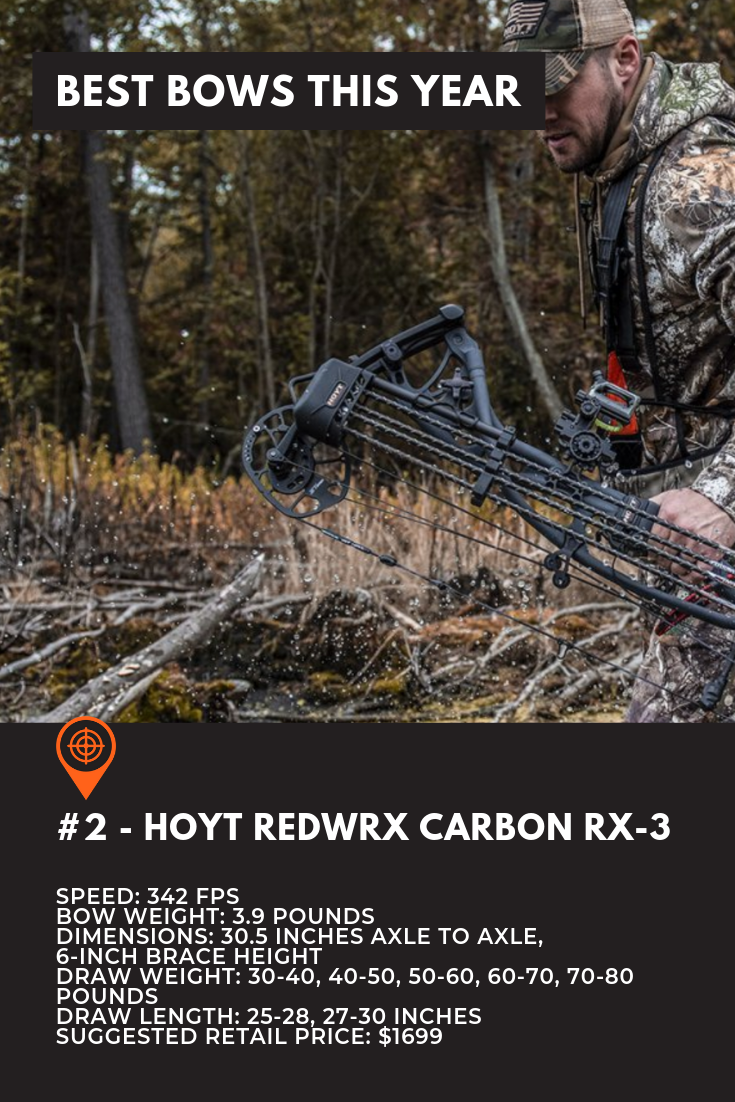 A more compact version of the RX-1, Hoyt's REDWRX Carbon RX-3 is ultra quiet, both when you're shooting and when you're moving through the woods. 
While some archers prefer the stability of a longer bow, the newest designs on the market capitalize on the maneuverability of a shorter axle-to-axle length. Perfect for deer hunting, the RX-3 measures only 30.5 inches from axle to axle and weighs just under 4 pounds. It's lightweight compact design makes it easy to shoot from a tree stand AND painless to transport to and from the truck. 
This spitfire of a bow comes in draw lengths from 25 to 32 inches and draw weights from 30 to 80 pounds, making it accessible to every archer, young or old, tall or short. 
Hoyt's compound bows are well-known for their forgiveness and ease of shooting. This bow is no exception and is perfect for inexperienced bowhunters, especially under high-pressure shooting conditions.
Note: For those big guys who like a longer bow, this model comes in a 34-inch Ultra version and a 31-inch Turbo model.
The Specs:
Speed: 342 fps

Bow weight: 3.9 pounds

Dimensions: 30.5 inches axle to axle, 6-inch brace height

Draw Weight: 30-40, 40-50, 50-60, 60-70, 70-80 pounds

Draw length: 25-28, 27-30 inches

Suggested Retail Price:

$1699
Related: Best Hoyt Bows Released 
Bowtech Realm SR6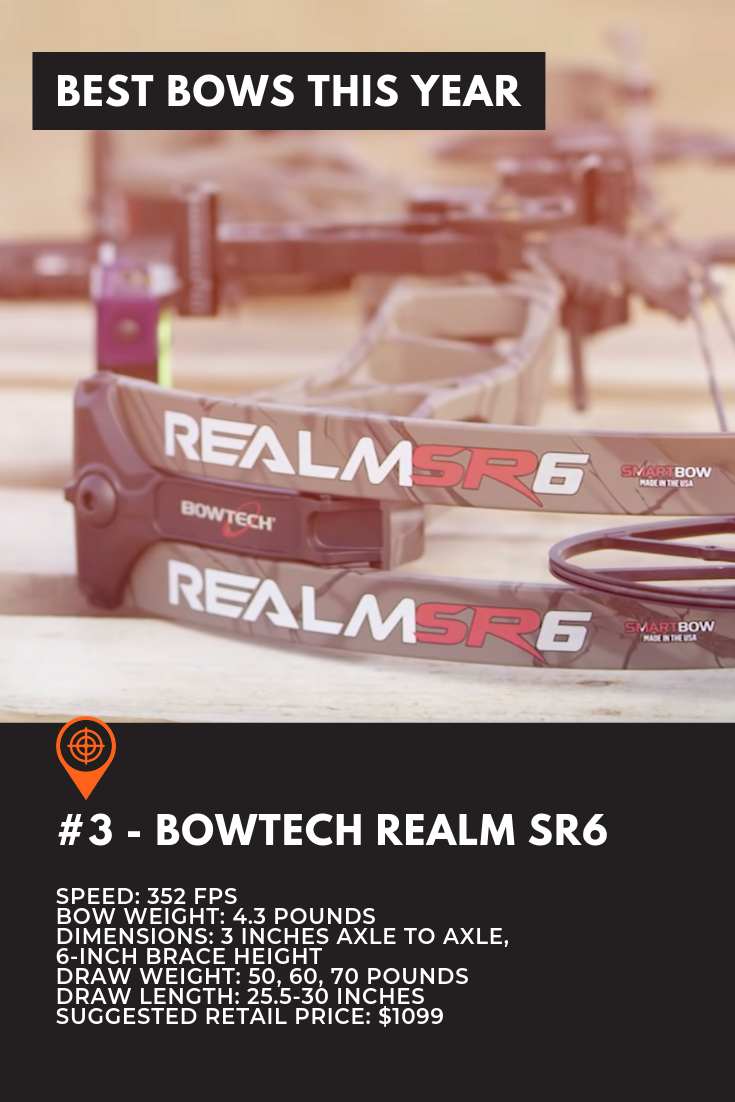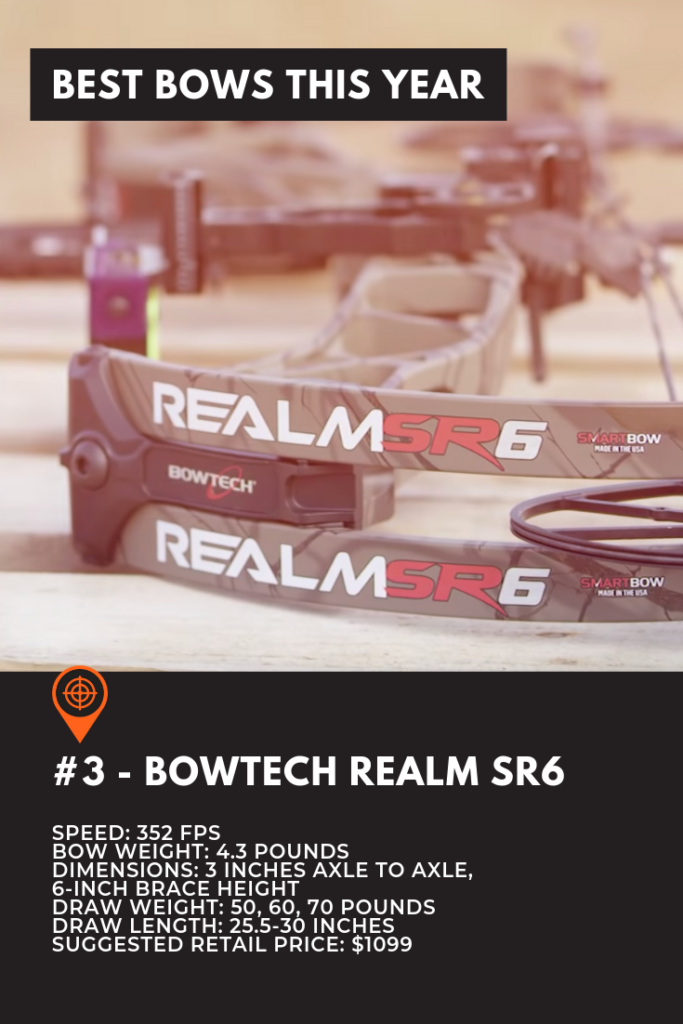 It might just be a rumor, but we've heard the "SR" stands for "Speed Redefined." It makes sense to us, since the Realm SR6 is hands down the fastest bow on our list, clocking in at a super speedy 352 fps. Weighted overdrive binary cams and a front-heavy draw cycle work together to produce this blistering arrow speed. 
Every model in the Realm line features Bowtech's Powershift Technology, which allows shooters to select a Performance setting for optimized speed or a Comfort setting for a smoother draw cycle. The draw cycle in the Performance setting is slightly more demanding, rapidly building to peak weight. However, this bow still draws like silk from start to finish, even in Performance mode. 
The Realm SR6 does produce a bit of noise and vibration upon release. However, as fast as this thing slings arrows, the deer won't have a chance to flinch before your broadhead hits its mark. 
Another important note, the Realm SR6 was voted as editors choice by Outdoor Life this year.
The Specs:
Speed: 352 fps

Bow weight: 4.3 pounds

Dimensions: 3 inches axle to axle, 6-inch brace height

Draw Weight: 50, 60, 70 pounds

Draw length: 25.5-30 inches

Suggested Retail Price:

$1099
PSE Carbon Air Stealth EC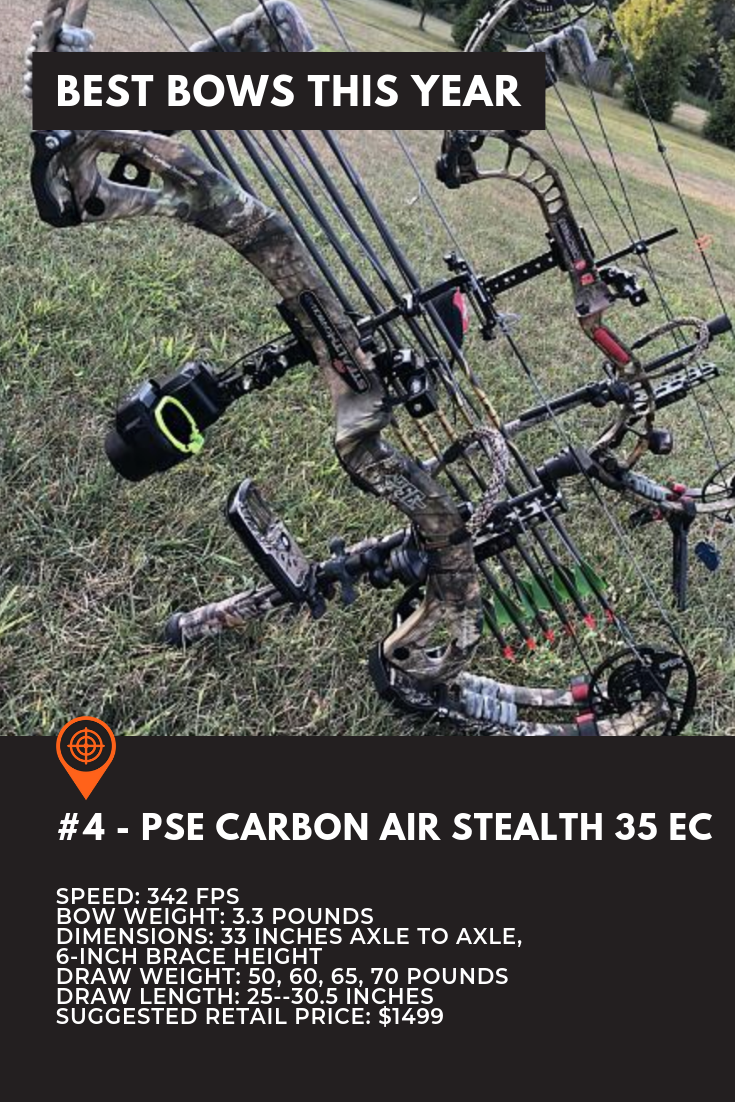 Although the PSE Carbon Air Stealth EC is one of the largest compound bows on our list (a whopping 33 inches from axle to axle), the hand-laid carbon-fiber riser and S-RAC technology core make it the lightest. Weighing in at 3.3 pounds, the Air Stealth EC is so light, you might actually forget it's in your hands. 
What makes this compound bow really shine is the Evolve cam system. The Evolve is adjustable up to 90 percent let-off, making this bow so easy to draw, it's almost freaky!
There is a little hand shock on the release, which should be expected from a bow this light. However, the easy balance, smooth draw, and the way this thing holds target more than make up for the tiny tremor you feel at the release.
The Specs:
Speed: 342 fps

Bow weight: 3.3 pounds

Dimensions: 33 inches axle to axle, 6-inch brace height

Draw Weight: 50, 60, 65, 70 pounds

Draw length: 25–30.5 inches

Suggested Retail Price:

$1499
Bear Perception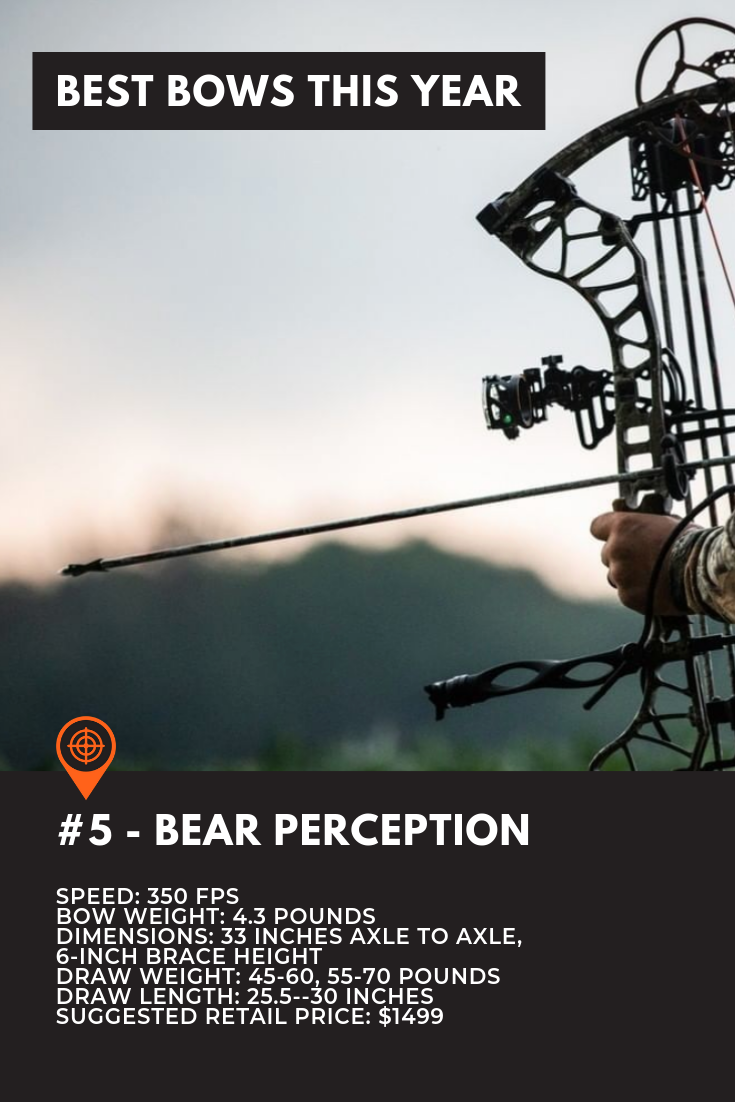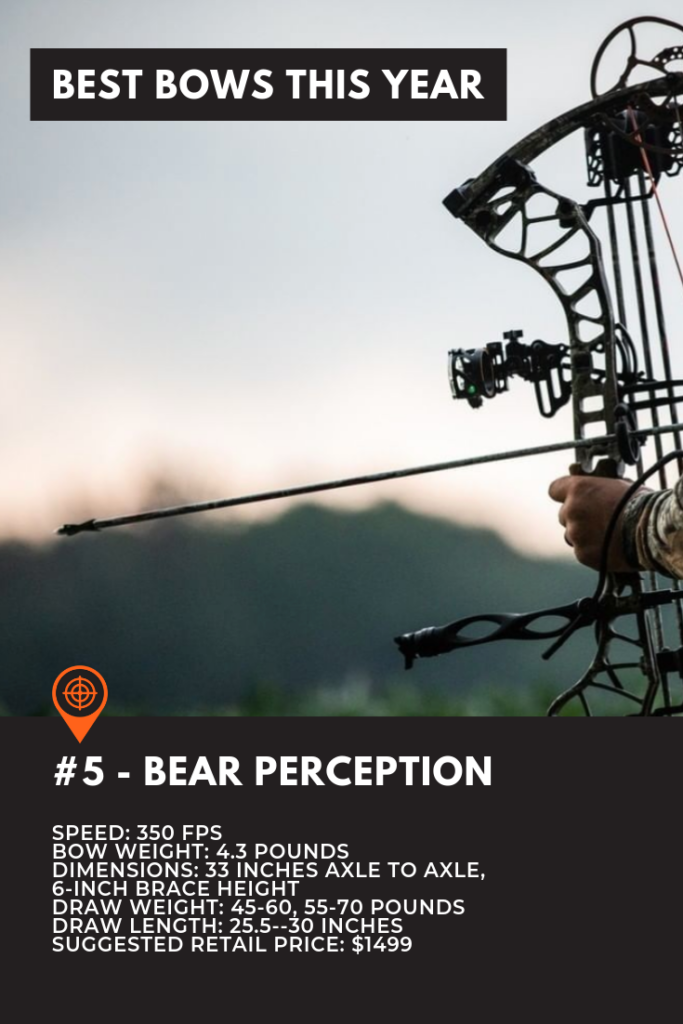 Last, but CERTAINLY not least, the Bear Perception. We ranked this bow at #5, but quite honestly it could be right there at the top.
Bear is constantly pushing the archery envelope, and their limited edition Perception Compound Bow features some serious design innovation. A unique, shoot-through riser sets the arrow smack dab in the center of the bow. This design reduces cam lean and cable torque, and smooths out common shooting inconsistencies that lead to a loss of accuracy. It's also completely ambidextrous.  
This thing is a dream to shoot with reduced friction on the draw, even weight distribution across the shot, and minimal vibration on the release. The back wall is a little spongy, which could be problematic when waiting for that perfect broadside shot. You'll want to practice holding full draw to build both muscle strength and muscle memory.
At 4.3 pounds with a 33-inch axle-to-axle length, this bow may seem a little hefty. However, it balances well, is fairly forgiving, and shoots arrows at screaming fast speeds.
The Specs:
Speed: 350 fps

Bow weight: 4.3 pounds

Dimensions: 33 inches axle to axle, 6-inch brace height

Draw Weight: 45-60, 55-70 pounds

Draw length: 25.5–30 inches

Suggested Retail Price:

$1499
Related: Best Mathews Bows Ever 
Final Thoughts
The compound bows in this list are the best of the new 220 models and represent the cutting-edge of bow hunting technology. As you would expect, the price tags reflect the quality and innovation of their designs and construction. Consider these the fancy, late model sports cars of the bowhunting world. If you're looking for more archery gear, like the best bow hunting rangefinder or the best rangefinder binoculars, keep reading! 
Many bowhunters might balk at the price tags on these new releases. However, the old adage is true: You get what you pay for. A good compound bow is a big ticket purchase, and the solid performance, easy shoot-ability, and lightning fast arrow speeds these top-notch rigs deliver, makes them well worth the investment. 
Like this article? 
We'd LOVE a 5 star review.