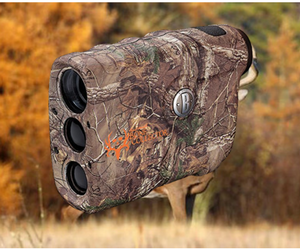 Finding the best bow hunting range finder is an issue which every bow hunter goes through. With so many good, bad, and average archery rangefinders available in the market, the process gets tricky.
There are a number of factors which you have to keep in mind before making the purchase. The measurement distance range, durability, features, battery life, modes, and more. It is a process which requires a lot of research. And most of you might find it to be a tedious affair.
Here are the top 11 bow hunting rangefinders this year.
Accurately judging range is a huge part of successful bowhunting. Unlike the relatively flat trajectories produced by rifle bullets, an arrow has an arching flight path (even when shot from fast modern compounds).
Misjudging distance can cause your arrow to hit outside the "kill zone" resulting in a complete miss, or an injured animal. 
Laser rangefinders have been standard-issue gear for bowhunters for some time now. These high-tech gadgets use a laser beam to measure distance to an object, allowing you to adjust your sights accordingly.
Most modern rangefinders use a narrow beam laser pulse that bounces off the object being ranged. Distance to the object is determined by how long it takes the pulse to return to the rangefinder. 
Rangefinder technology is constantly improving. Today, even the cheapest rangefinders are more advanced than the top models of just a few years ago. This is really good news for bowhunters because even a low-end rangefinder can be beneficial. 
However, not all rangefinders are created equal. If you want to fill tags this bow season, you need a fast, accurate, compact rangefinder capable of ranging typical archery distances. 
With so many archery rangefinders, you might end up in confusion not knowing which one to purchase. So in this article, we have listed some of the best bow rangefinders you can buy. We have put in the research and used these archery rangefinders to give you the most unbiased opinion on each of our picks.
Top Rated Archery Rangefinders for 2023
Let's get this list started!
Nikon Monarch 2000
We love the Nikon Monarch 2000 because it's a budget friendly package that includes everything a bowhunter needs in a rangefinder. Perfect for ranging from a treestand, the Monarch 2000 features advanced incline/decline technology that measures distance even at extreme shooting angles. 
The advanced laser technology has an 8-2000 yard measurement range and has a small margin of error (½ yard on average). This wide range means you can use the Monarch 2000 all season long, whether you're hunting with a bow or a rifle. 
With a rugged and durable design, the Monarch 2000 is ready for rough hunting and wet weather conditions. It is O-ring sealed to prevent moisture from damaging internal electronics. This awesome rangefinder is also purged using nitrogen gas, making it resistant to thermal shock and internal fogging, even when outdoor temperatures turn frosty. 
Sig Sauer Kilo 2000
Capable of pulling double duty for archery and rifle season, the Kilo 2000 is another one of our top picks. This rangefinder offers powerful magnification for scouting and Nikon Monarch 2000, yet accurately ranges short distances (down to 5 yards!) required during bow season. 
Sig Sauer doesn't make a lot of gear for bowhunters, but this rangefinder really delivers during archery season. Ranging is lightning fast and extremely accurate. The Kilo 2000 compensates for shot angle and adjusts brightness for low light ranging. It is lightweight and compact. It's also super easy to use and has a durable, waterproof design.
The Kilo 2000 has been on the market for a few years. It actually made the Field & Stream magazine "Best of the Best" list for 2015. However, this model still offers some of the most reliable range finding technology on the market. 
Vortex Ranger 1800
The Vortex Ranger 1000 features a fully multi-coated lens so you get crisp, bright images even in low light. It also features O-ring seals to prevent internal fogging, even on cold mornings. These features ensure you'll get a clear image no matter what kind of weather Mother Nature throws your way. 
It offers accurate ranging from 11 to 1000 yards, so it is perfect for archery or rifle season. It also has a useful scan feature that offers continuous range readings as you track a moving target.
This high-quality rangefinder is built for rugged bowhunting conditions. Durable and lightweight, the Ranger 1000 has a protective rubber coating that resists impact damage. This textured covering also ensures you keep a good grasp on your rangefinder, even when the weather is wet or your hands are covered in camo gloves.
Related: Top Rated Hunting Rangefinders For The Money
Leica Rangemaster
Leica is known for producing high-quality optics, and the Rangemaster is no exception. This rangefinder actually goes well beyond crisp, clear imaging. Delivering some of the fastest ranging on the market, the Rangemaster measures target distance every 0.3 seconds when in scan mode. It also measures distance from 10 to 2800 yards in increments of 1/10 of a yard. Bowhunters will appreciate this level of precision, especially for short-range and moving targets.
The size and weight of the Leica Rangemaster make it incredibly portable. It slips easily inside the front pocket of your hunting shirt, so it stays out of the way but within convenient reach.
The Rangemaster is also simple to use and easy to read. It features an integrated LED display which automatically adjusts to ambient lighting conditions, making it easy to read even in those dim moments surrounding dawn and dusk. 
For hunters who appreciate high-tech gadgets, the Leica Rangemaster connects right to your smartphone via Bluetooth technology. When used in conjunction with the Leica Hunting App, the Rangemaster elevates your hunting experience to a whole new level.
Nikon 8376
Nikon is one of the pioneers in developing not just bow rangefinders, but any kind of rangefinders. They have developed an arsenal of great rangefinders which have made our lives easier.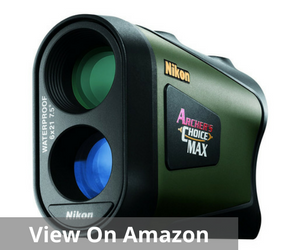 The Nikon 8376 model is no different. It offers everything we always wanted in an archery rangefinder.
It has an active brightness control viewfinder which has the ability to automatically control the brightness of the reticle depending on the brightness of the target. Depending on the brightness, the reticle turns into either orange LED or gray LCD to give you a clear view of the target.
It has a distance accuracy of +/- .1 yard for a maximum of 200 yards. The archery rangefinder is equipped with ID Technology which compensates for the decline and incline of shooting angles.
It is shown that it can compensate up to +/- 89 degrees. Nikon 8376 has two modes – Distance target priority mode and First target priority mode. The former displays the range to the target which is furthest to you.
This is ideal if you are aiming at targets which are covered by trees or bush. The latter is great for aiming at targets which are small. For example, a lone buck or a fence post.
The LCD screen provides uncluttered view and the multicoated optics has the ability to deliver 6 x magnifications. It operates on a single button making it easier to take measurements. Also, it comes with the power saving option of switching off after 8 seconds.
Pros:
ID Technology
Distance target priority and First target priority modes
High-quality optics and LCD screen
Cons:
The automatic backlight makes it difficult to take readings in broad daylight.
Related: Best Halo Rangefinder Reviews
Bushnell is another major player in the rangefinder market. They have come up with a number of rangefinders over the years known for its use of latest technology.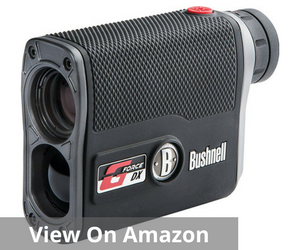 The vertically designed rangefinder boasts a number of features to make it stand out from the rest. The display has a red screen opposed to the usual black screen display.
It has four different brightness levels to be used according to the amount of light. You can adjust the brightness manually to get the ideal brightness for reading the measures.
The rangefinder has the ability to calculate the compensated angle on MAO and MIL.
The rangefinder is equipped with ESP 2 feature (Extreme Speed and Precision) which helps to work out the range and speed with great accuracy. The distance accuracy delivered by the archery rangefinder is .5 yards for 199 yards. The previous version could deliver the same only for a distance of 125 yards.
The bow rangefinder is made with metal casing and the area which is held has a rubber grip. Built strong, the rangefinder can take the blunt impact without any damage. The metal grip also diminishes any chance of slippage. Weighing at 8 ounces, it is lightweight and compact.
The rangefinder is expected to give a range of 1300 yards on reflective targets, 900 yards on trees, and 600 yards on deer sized targets. It is one of the best vertical bow rangefinders when it comes to its range.
It has three modes namely, rifle mode, bow mode, and regular mode. Depending on your requirement, you can switch to the mode you want. It is fully waterproof with even the lens coated with a water-resistant material.
Pros:
The ESP technology is a great addition
An unrealistically great range for a bow rangefinder
Red display with four adjustable brightness
Cons:
The button to change the modes can be confused with that of the screen brightness
Quite an expensive rangefinder
Bushnell 202208 Bone Collector
This item has earned Editors' Choice for its outstanding quality and performance.
Bushnell 202208 Bone is specifically designed for hunters. It does not matter whether you have a rifle or a bow, this archery rangefinder works for both. It is not a piece filled with features but does the job for you.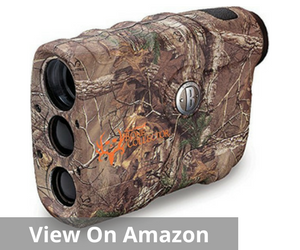 The design is great and it weighs less than 10 ounces.
But do not let the lightness get you off track; it is built like a tank. Though it has a carry case, you can easily slip it into your pant pockets as it is that compact. It comes in a variety of colors.
But the best choice would be not to choose bright colors while taking it to the bushes.
The rangefinder is vertical in its design and operates on a single button. It has the autofocus feature which lets you focus on the targets with ease. The single button operation also lets you use only one hand to operate the gadget.
It is waterproof and can withstand rainy conditions. But it will take damage if fully submerged in water. It uses a 9-volt battery to power which is readily accessible everywhere. The battery will be hard to remove as you may need a screwdriver. But it makes sure that the battery is safe from moisture.
It has an objective lens of 20mm, with 4x magnification, and has a range of 1000 yards with +/- 1 accuracy. The LCD screen illuminates in low light to make it easy for you to read.
It does not have brightness adjusting function though. It has a battery low indicator which comes in handy.
Pros:
Lightweight, compact and easy to carry
Waterproof and durable
Can operate with one hand
4 x magnifications with exceptionally accurate readings
One year limited warranty
Cons:
To switch between yards and meters you have to switch off the rangefinder
Battery not easy to change
It does not measure angles
If you're interested in more rangefinder content, we have an article about the best, cheap rangefinders here if you want to check that out!
Going through this review you must have already realized that Bushnell is a pioneer at manufacturing rangefinder.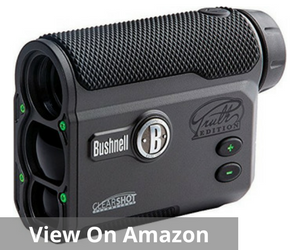 The pocket sized rangefinder is known for its high-quality optics to provide accurate readings. The optics are supported by the HD clarity display.
It has an ergonomic design which is ideal for comfort and the anti slip rubber coating avoids any kind of slippage.
It comes with 4x magnification and the horizontal range of the bow mode is from 7 to 199 yards. It has a range of 850 yards on reflective surfaces and 600 yards if you are targeting trees.
But the most important feature of this rangefinder is the Clear Shot System. It is a bit complicated system, but ones you master it you will be amazed at how you can take shots. To make use of it, you will have to correspond the speed of your bow with the rangefinder. Once it is set up, you have different modes to choose from.
And it can be operated with the single button operation. It also has a button to zoom in and out, placed at the ideal position.
With the Clear Shot System, you get the instantaneous feedback on the shot you have just taken. No, you do not have to worry about hitting obstructions or clipping branches. The LCD display does not come with adjustable brightness. This can be an issue as it becomes difficult to read while the lighting is low.
Pros:
The Clear Shot Technology
Compact and comfortable
Sturdy and waterproof
4x magnifications with a range of 7-199 yards
Cons:
LCD display difficult to read in low lighting
Powered by CR2 battery
Scout 1000 ARC was one of the best rangefinders of its time. It came with some great features and a perfect built to be the companion of many bow hunters for years. But now, Bushnell has come up with a successor.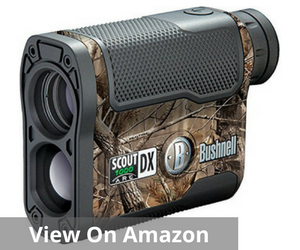 Basing on the true Scout 1000 ARC, they have manufactured Scout DX 1000 ARC.
The DX in the name is to imply to the upgrades in features it has with Scout 1000 ARC.
Designed to be sleek with durable plastic instead of metal housing, it has rubber armoring which provides grip and also the ability to take a fall with grace. It is also completely fog and waterproof, which is always an advantage.
Scout DX 1000 boasts a range from 5 to 1000 yards in ideal conditions. It has 6 x magnifications with +/- one yard of distance accuracy. The range would vary in real world conditions with the range on a reflective or large object to be around 650 yards.
It has built in inclinometer developed based on accelerometer which helps you calculate the angle when shooting uphill or downhill.
You have different modes such as rifle and bow mode, the Bullseye and the Brush mode. The G-force is upgraded with the Extreme Speed and Precision (ESP) technology to give accurate readings.
Some of the other features of the rangefinder include adjustable diopter, tripod mount, 10 ballistic charts, and a two-year limited warranty.
The archery rangefinder is powered by a 3-volt CR2 battery. The Scout DX is absolutely a beast of a rangefinder with great upgrades compared to its predecessor. It is worth every penny you pay.
Pros:
Extra features at the same price
Sleek and durable design
ESP technology
Cons:
The LCD display is not great in low lighting
Horizontal rifle range is not present
Use of CR2 battery
Related: 6 Reasons Why Every Hunter Should Have A Rangefinder
Buying Guide – Things to Look Out For In an Archery Rangefinder
While a quality rangefinder is sure to improve your bowhunting success, even the best rangefinding technology is no substitute for practice.
Once you have ranged the distance between you and your target, you still need to be able to put a broadhead through vitals. Ethical hunting should always be the goal, and practice is essential to ensuring quick, clean, humane kills.
Most rangefinders today are angle compensating rangefinders. Angle compensating rangefinders were once the latest and greatest technology, now, they're a standard option in this piece of equipment.
Rangefinders also have their limitations. Just because you have one in your pocket doesn't mean you shouldn't home your own ranging skills. Sometimes technology fails, and sometimes we accidentally leave it back at camp.
You don't want to get stuck up a tree with no way to range that monster buck waltzing into view. Be sure to keep your own ranging skills sharp. You never know when you might need them.
Define your requirement
You should find out what you are expecting to do with the rangefinder. The features you need and how you are going to use it. It is kind of an elimination process.
Once you know your needs, you can look at the rangefinders which fall under that category. The rest will be eliminated then and there. So define your needs before you go on looking for an archery rangefinder.
Budget
It is one of the most important things which it comes to any kind of purchase. You should know how much money you can allocate for the purchase. It will help you eliminate the ones which are over and under that price range.
You can research on only those rangefinders which are in your budget slab. Also, you would not end up buying a rangefinder which is over your financial ability or which is way below what you can afford. This gets rid of the regret factor too.
Brand
Some of the manufacturers have an advantage over the rest. They might have certain technologies integrated into their rangefinder which distinguishes them from the rest. So looking out for good brands always helps as they deliver mostly the best quality products.
You get the opportunity to experience the best features probably at a bit higher cost. But it is most of the times worth it. It is also a known fact that all the good brands have great customer service. This makes it easier for you to get help in the case of any damage repair or replacement issues.
Range
As the name rangefinder suggests, the main purpose of buying a rangefinder is to calculate the range. The longer and accurate range it provides, the better the rangefinder is. So make sure to check the range of the rangefinder before the purchase.
Bow rangefinders usually have less range in comparison with rifle rangefinders. But an ideal archery rangefinder will be able to deliver up to 800 yards if the target is a reflective surface.
Features
Having more features does not mean the rangefinder is good. An ideal rangefinder would have the ability to measure the range accurately, correct the incline or decline angle, have a good battery backup, readable display and high-quality optics with good magnification.
Also, look out for rangefinders which are made of durable materials. When it comes to the display, there are three things for you to note. The screen of the rangefinder should be large enough for you to view comfortably.
The optics should not be too bright or too dull. And it should bear all the information you need in the right color and clarity.
Magnification
We might have a notion that the greater the magnification, the better the product. But that does not hold true in the case of a bow rangefinder. It is better to have 4x magnifications in comparison to 6x magnification for an archery rangefinder.
The 4x magnification will be able to deliver more field of view. This is better because there are chances of your view being blocked by trees and bushes.
Bowhunting Rangefinder FAQs
These are some frequently asked questions when it comes to getting a new rangefinder for bowhunting.
Do you need a rangefinder for bowhunting? 
While the use of a rangefinder is not necessary for success while bowhunting, it's highly recommended. Getting an accurate range of your target ensures a better chance at a clean harvest, something every hunter strives for.
Are rangefinders the same as rangefinder binoculars?
Rangefinders and rangefinder binoculars are the same concept, combined. We wrote about some of our favorite rangefinder binoculars on the market in another post so we won't dive too far into it here.
The bottom line is, people who need less distance sighting and less weight, generally choose a rangefinder for bowhunting. Rangefinder binos generally add weight to a kit that isn't completely necessary.
Conclusion
Investing your money on something on a long-term can be a terrifying experience. The same applies when you are on the lookout of archery rangefinders.
We hope that this article has helped you out!  Good luck in your next hunt.