We're almost half way through the year of 2020 and I finally decided to pull the trigger on a new Mathews bow.  It's the VXR 28 and I fell in love with it the moment I picked it up off the shelf at the archery shop.  This thing is a dang beast.
I'm going to go into a full review on what I think about the new Mathews VXR 28, but I want to show you the specs of the Mathews VXR 28 first.
Mathews VXR 28 specs
Axle to Axle: 28″
Brace height: 6″
IBO Rating: 344 FPS
Draw weight: 60, 65, 70, and 75
Draw lengths: 25.5″ – 30″
Let off: 80 or 85%
Physical weight: 4.4 lbs
Cam: CrossCentric w/ SwitchWeight Technology
Right off the bat, the VXR 28 is definitely a smaller bow.  It's only 28 inches from the top axle to the bottom axle making for a super compact bow.  It isn't extremely heavy weighing 4.4 pounds, but it also isn't super light.  The overall feel of the bow is one that can put in some serious hours in the field, without any issues!
Mathews VXR 28 Review
The positives of the Mathews VXR 28 greatly outweigh the negatives.  It's not even close.  Here's what I loved and didn't love about this bow.
Positives of the 2020 VXR 28
Extremely quiet
Little to none hand vibration
Heavy duty and compact bow
Shoots rockets (fast)
Looks great
Solid grip
Tall riser for stability
Integrated rest option
Negatives of the VXR 28
Little twist in the cams at longer draw lengths
Tough-ish draw cycle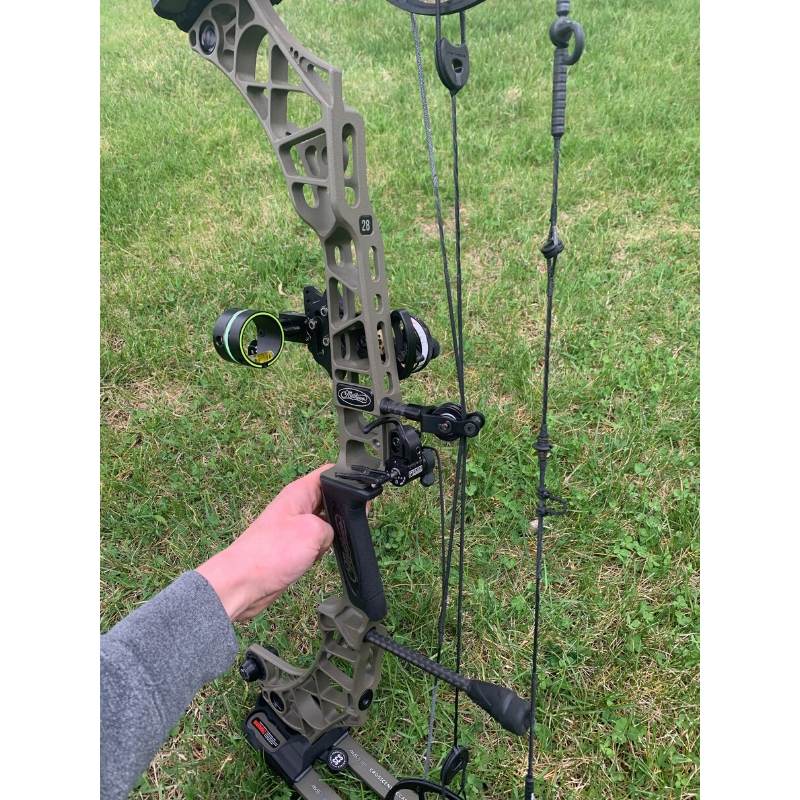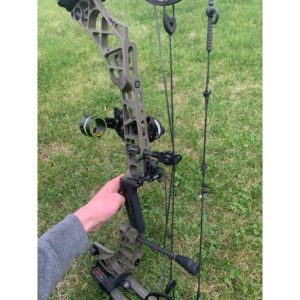 Mathews VXR 28 Positives
Big into positivity over here so we're going to start with the positives of the Mathews VXR 28.  Trust me, there's a lot of them.
Minimal Hand Shock
One of the first features of this bow that I loved instantly was that it had almost none hand shock.  Legit nothing happened after I shot.  My arrow was sticking out of the target, but I hardly felt it leave my bow.  And that's no exaggeration.
I had also been shooting the Bowtech Revolt and the Hoyt Axius Alpha when I was deciding on which bow to go with, and I quickly found out that the Revolt and Axius had quite a bit of hand shock compared the VXR 28.  It wasn't even close.
I was shooting without stabilizer too.  Which, if you shoot without a wrist guard you legit might not need a stabilizer right away.  Obviously a stabilizer is going to help with stability and dampening, but the VXR is already great at dampening the shot.
Related: Top 11 Bowhunting Rangefinders for 2020
Consistency and Accuracy
I quickly found out that the Mathews VXR was extremely consistent.  I was able to drop back from 20 to 50 yards and consistently put my Rip TKO's in fairly tight groups.  As long as I was following the correct form and shot procedure, the bow did the rest of the job great.  There wasn't any factors of shooting this bow that would randomly leave an arrow off to the right or high.  Every shot was exactly where I would place my pin.  Very consistent and accurate indeed.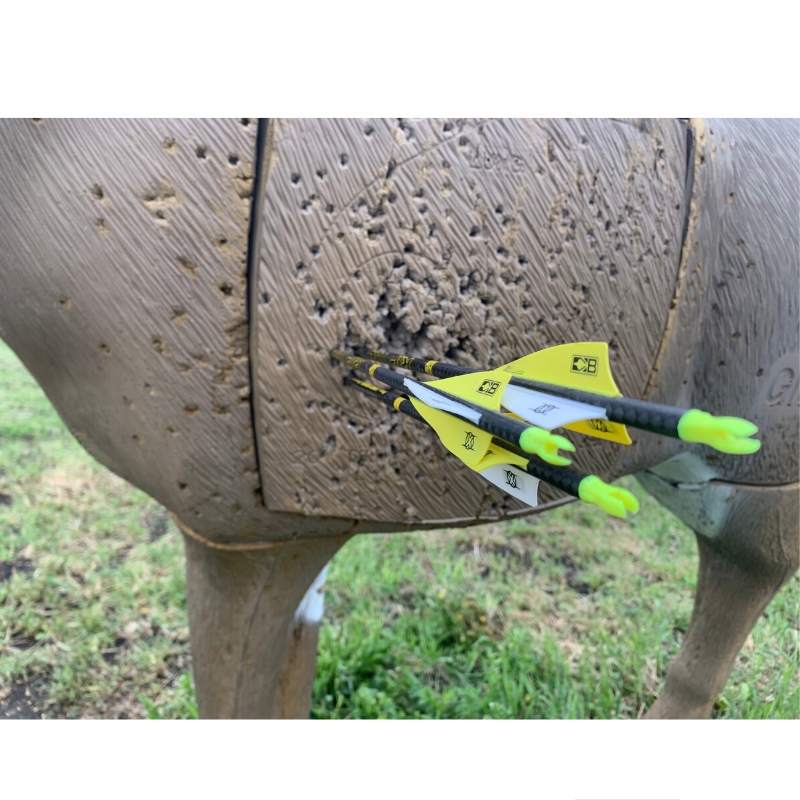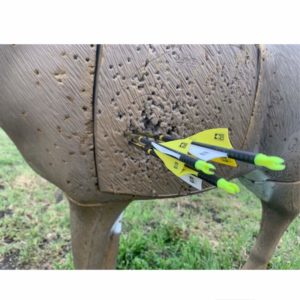 Now, one could argue that any bow can be just as consistent, and you're not wrong.  But what I will say is that I was able to adjust to this bow very quickly, there was no period of time where it felt super weird to shoot.
I've also been shooting for a couple years now too, on a very regular schedule, so it isn't like I got XVR 28 and all of the sudden I had great shots instantly.
But, compared to my previous bow, my consistency and accuracy dramatically improved.  Zero questions asked there.  A couple factors that are definitely a factor as to why my shooting improved was the incredible stability and the minimal kick/ hand shock after the shot.  I am able to pick a point on the target, squeeze the trigger of my release and follow through as though nothing happened.
The VXR 28 is Super Quiet
When I was shooting the VXR in the store it was hard to tell how loud it was, as the sound was ricocheting off the walls and back.  I knew that it was quiet although. BUT, when I started shooting in an open field, I quickly found out that it was waaay quieter than I had originally thought.  A big reason for that is the 3D Dampening system that Mathews puts on the their bows.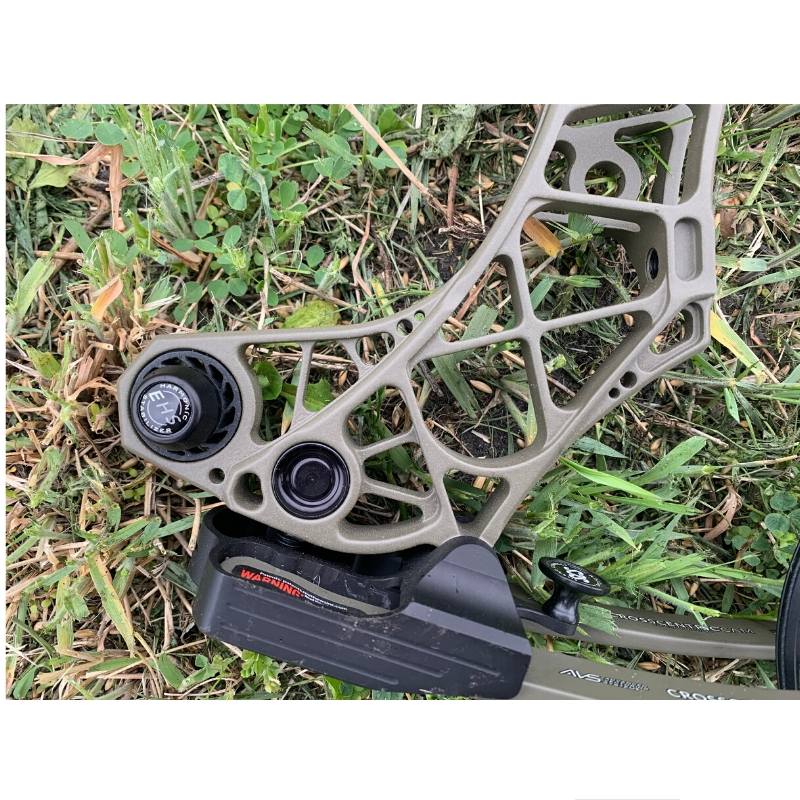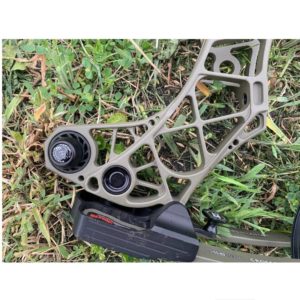 Mathews added 3D Dampening to their bows a couple years ago in the Triax.  It's basically an addition of dampeners to the bottom half of the bow that absorbs the shock of the bow like a champ.
The VXR 28 makes a slight "thwump" and that's it.  It's a low hum.  It's extremely quiet.  When I was comparing the noise to the Hoyt and Bowtech bows in the store, I could tell that it was the quietest. But, as I was inside, it was hard to tell by how much.  I still don't know what the noise is compared to those other two bows outdoors (I didn't buy them), but one thing is for sure – this bow is very quiet.
Speed
The VXR 28 is actually quite fast, for being a short bow.  It has an IBO rating of 344 FPS and that's moving pretty quick.  Now, obviously that would be the speed at its fall draw length and max draw weight, but that is still very quick.
Add some arrows and some tips to the equation, and the speed will decrease even more.  But, that is the same with every bow on the market.  This one is no different.
Looks and Design
I got the Ambush Green paint on my Mathews and I love it.  It looks so good, seriously.  The overall design and shape of the VXR 28 is super cool too.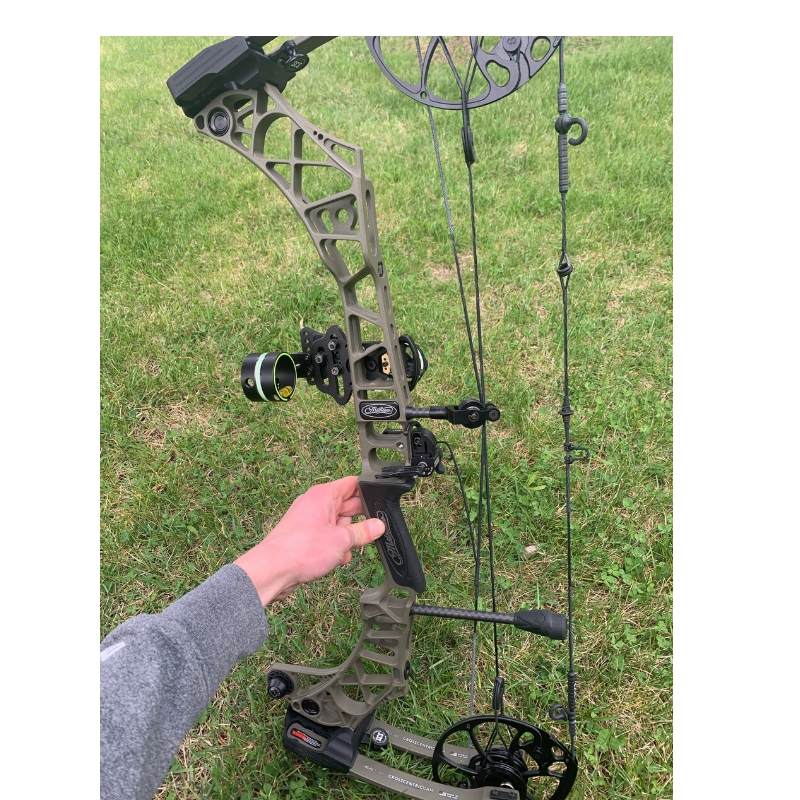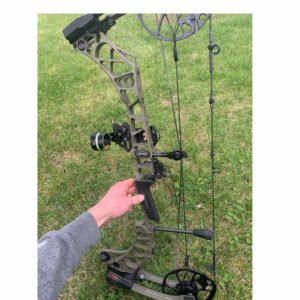 Riser
The riser has a nice look to it while also providing a ton of stability because it's so tall – even though the bow is only 28″ ATA.  The riser creates an extremely balanced feel in the bow while shooting and there is hardly any pin movement before the shot.  This could be because of the tall riser, or because the bow is bottom heavy – I'm not sure.  But it's super balanced and steady.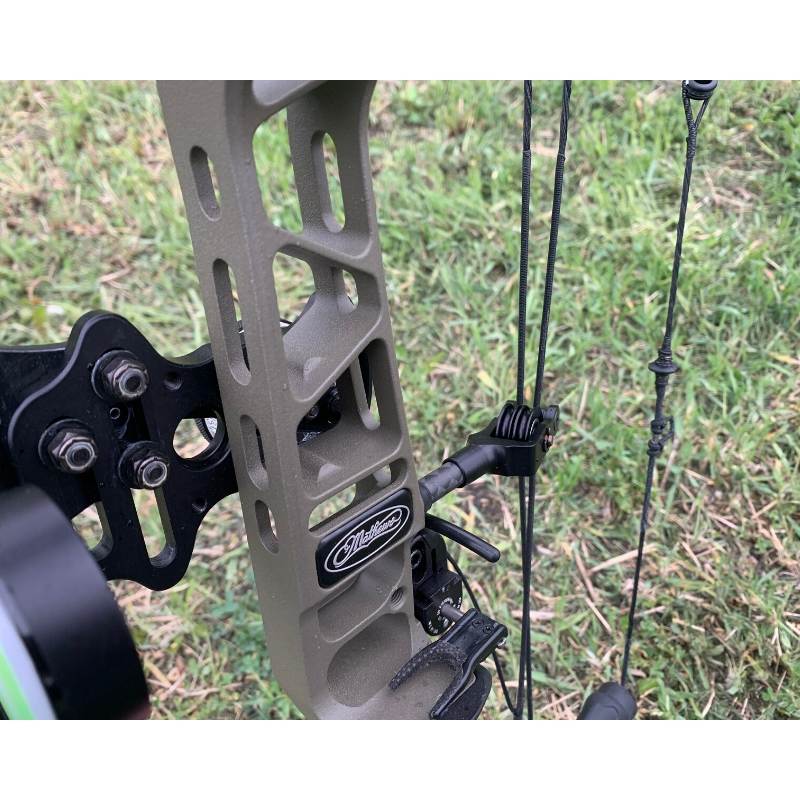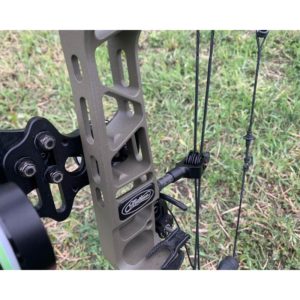 The VXR is Bottom Heavy
Speaking as a whole, the bottom half of the bow is a bit heavier than the top.  This was intentional to help keep the bow super stabile and balanced.  It also reduces the jump of the bow and helps keep the pin on the target better.  I personally am a huge fan of it of the stability of this bow.
Grip
The handle that is on this Mathews bow is the Engage Grip.  I personally thought it was solid, not anything crazy although.  It surely wasn't bad!  But I wouldn't buy this bow only for the grip.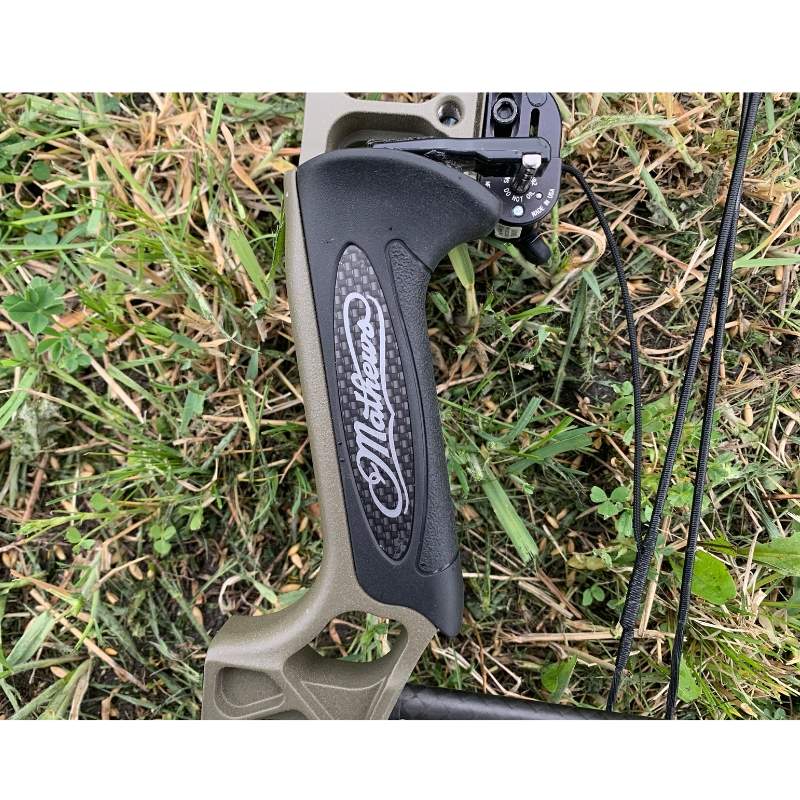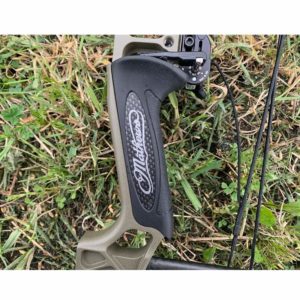 Strings
Taking a look at the strings, so far they seem like they will last a long time.  Only time will be able to let us know how that goes although.  With the Mathews Vertix last year, a lot of hunters had problems with the string over extending after only a couple hundred shots.  I'm hoping that is not the case with the VXR 28.
Cams
The cams are very large, especially for the size of the bow (not super large compared to other premium bows though).  The draw cycle is decently hard to pull back, but the back wall is super steady.  There was zero give at all to it.  I had the draw cycle listed as a negative because it was decently hard to pull back.  It wasn't terrible although.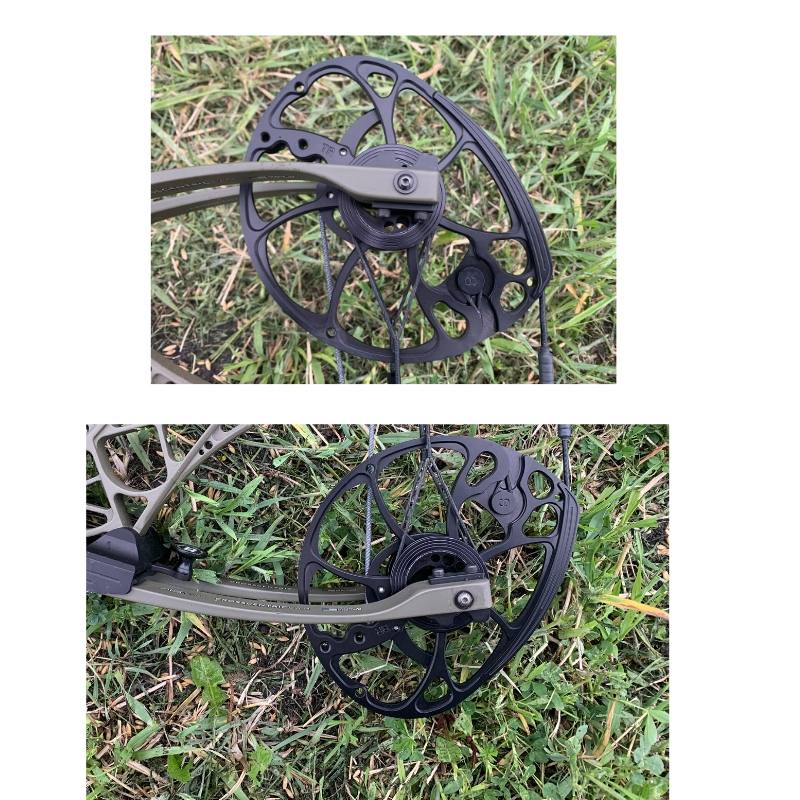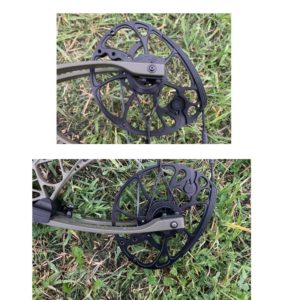 Integrated Rest Option
The new VXR series of bows does feature the option to put an integrated rest on.  I didn't, because I already had a drop away rest that I really like on my previous bow.  But, if you wanted to get an integrated Mathews rest on there, it would reduce the weight of the bow.
Overall Design
This bow is super compact and heavy duty.  It has an awesome feel to it and it just looks really clean.  I am loving it so far… I know I'm pumping the tires a bit hard here, but this bow is fun.  Let's just put it at that.
PS I also did an in depth review of the Hoyt Hyperforce as well (click here if you're interested).
Some negatives of the Mathews VXR 28
When I pulled the VXR 28 back for the first time, I thought that the draw cycle was a bit tough.  Now, I had the 60 pound mods on it, so it wasn't like it was SO hard that I just couldn't do it, but it was definitely tougher than the Bowtech Revolt. (Of which I had also been shooting directly before the Mathews).
However, the Revolt is a much slower bow that is designed for comfort, so it's no surprise that it had a smoother draw cycle than the Mathews.
There was one other problem that I didn't love about this bow.  It's the fact that when I get back to full draw, there's a little bit of a left to right twist in the bow.  It isn't rock solid.  I didn't like that, and actually preferred the Bowtech and Hoyt over this one, in that regards.
Some neutral aspects of the VXR 28
I don't even know if there is such a thing that could be classified as "neutral" on a bow, but these are features that I thought were cool, but not gamebreaking.
Silent Connect System
First off, the silent connect system.  The silent connect system is essentially a set of hooks on the top axle and the bottom axle of the bow.  Basically what you can do with these hooks are, attach a Silent Connect sling for spot and stalk hunts, or a Silent Connect para chord string for pulling your Mathews up into the tree stand easily.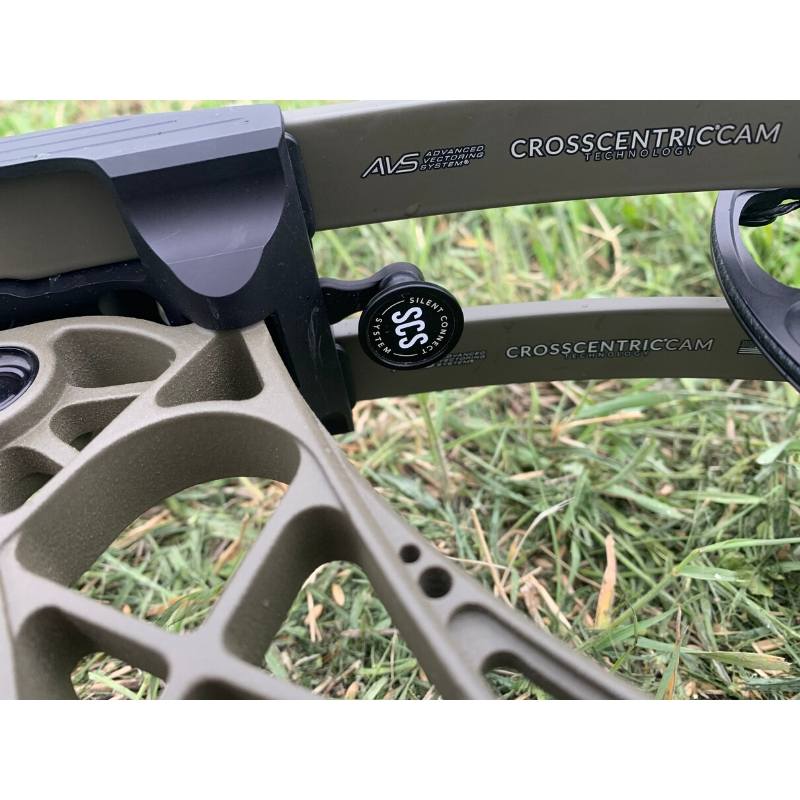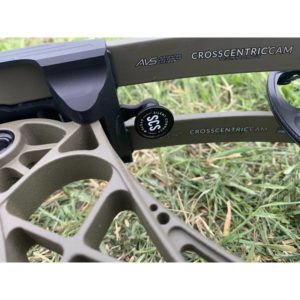 It costs an extra $60-$80 for the silent connect system.  I got it for my bow, but it wasn't super necessary.  I didn't get the sling yet though, I'm interested to see how that will be.  I think that it could actually be pretty handy out on a western spot and stalk hunt.
Draw Weight
To change the weight of your bow, you have to get new mods on the cams.  The mods come in draw weights of 60,65,70, and 75.  I haven't replaced the draw weight mods yet on my bow, but I think I will eventually.  It doesn't appear to be very challenging to make the draw weight more difficult.
Related: Best Compound Bows For Deer Hunting 
My final thoughts on the Mathews VXR 28 Bow
Overall, I love this bow.  It's a heavy duty and compact hunting bow that shoots almost like a target bow.  It's very quiet and has almost zero hand vibration with the Mathews 3D Dampening system.  Not to mention that this bow is super fast and has an IBO rating of 344 FPS.  It looks good, shoots good and just feels like a winner.  In my opinion, this bow is the best bow that you can get for hunting right now.
I hope this article helped you out, best of luck!