Bowhunting is still a couple months out yet, but right now is one of the best times of the year to start searching for a new bow.  It gives you the freedom to learn the ins and outs of your bow long before the hunting season actually starts, so when that giant 10 pointer walks out in front of you, you're ready.  If you're looking for a potential bow candidate, the Hoyt HyperForce is a great option to consider.
The HyperForce has several great features to it such as its versatility, durability, performance and overall design.  This bow is a flagship hunting bow that has produced awesome results for bowhunters across the world and could very easily become your favorite hunting bow.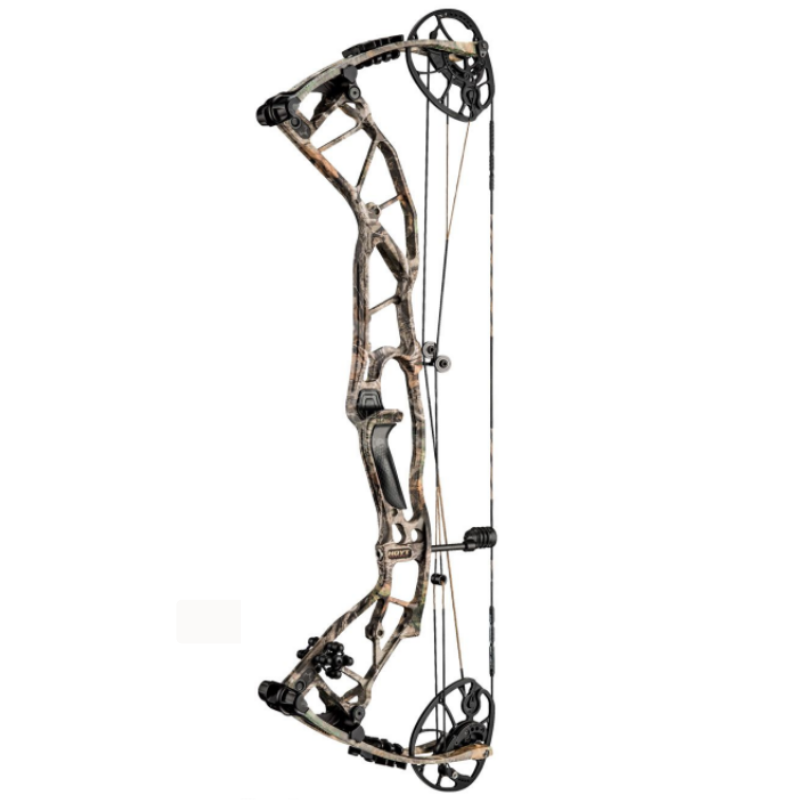 Hoyt HyperForce Specs
Draw length: 24.5″-31″
Draw weight: 30-80 lbs
IBO Rating: 340 FPS
Physical weight: 4.3 lbs
Axle to Axle: 32″
Let Off: 85%
Brace height: 6″
Hoyt HyperForce Positives
High Performance
Versatile
Quiet
Little Hand Shock
Balanced and Steady
Durable
Great Design
Smooth Draw Cycles
Hoyt HyperForce Negatives
Now you might be wondering "why on Earth did he put noise and hand shock as both positives and negatives"?  There's a reason for that, because having shot the best bows in the world and some of the not so best bows in the world, I've felt the differences in hand shock and noise.
I personally think that the HyperForce is about in the middle in terms of both.  It isn't loud, but it isn't insanely quiet either.  It doesn't have a lot of hand shock, but it also isn't completely dead either.  It's in the middle.
Hoyt HyperForce Bow Review
The Hoyt HyperForce is one of the better hunting bows that Hoyt has released in the past several years.  It isn't the latest bow that Hoyt has released, but it still has some of the same features that the new Hoyt bows have.
Performance
The biggest and most important aspect to consider when buying a bow is performance.  How does it shoot?  In my case with shooting the Hoyt HyperForce, it's been very consistent and accurate.  I rarely have a situation when my arrow jumps off to one side or the other, and if I do – it's user error.
I haven't shot any big game with this bow yet, but while practice shooting with it, it's been very consistent and accurate.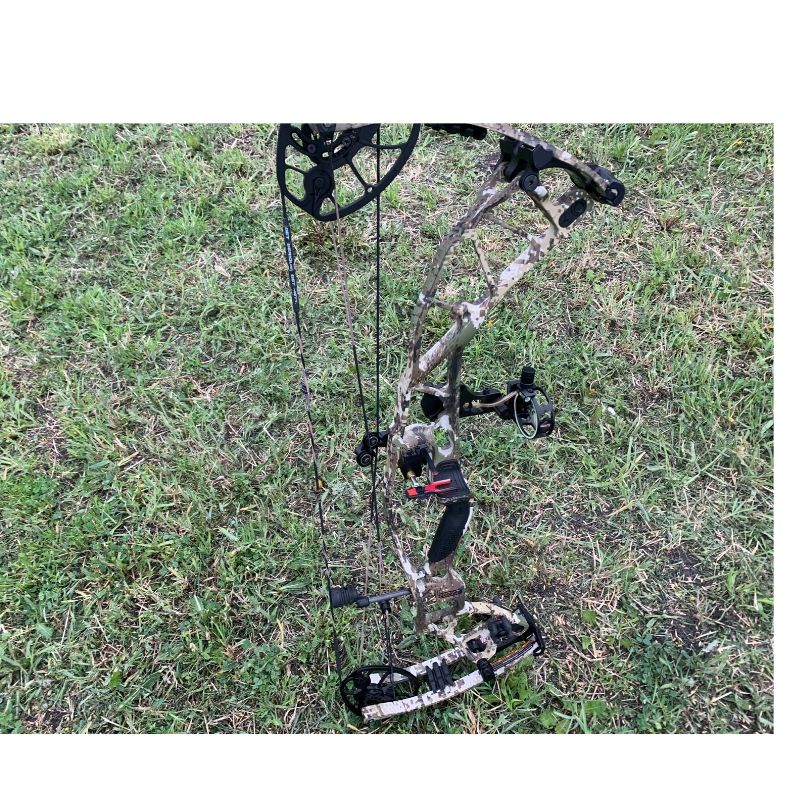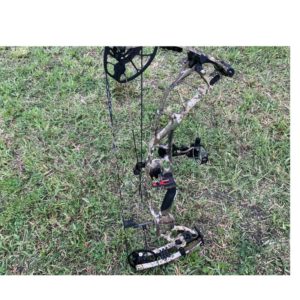 Versatile
The Hoyt HyperForce is an extremely versatile bow that will fit the needs of a wide variety of bowhunters.  It has a draw length adjustability ranging from 24.5″ to 31″ and can be shot at a draw weight from 30 to 80 lbs.  That basically gives you the freedom to hunt Moose one week at an 80 lb draw weight and Turkeys the next week with a 55 lbs draw weight.
Not a lot of bows have the same freedom of versatility that the Hoyt HyperForce offers.
Features
Overall, the HyperForce actually has a lot of the same features that the brand new Hoyts have.  Wide bottom limbs, shock pads, ZT cams (first gen), and the similar shapes are some of the familiarites between the HyperForce and Hoyt's new bows.
Bottom Heavy and Wide Limbs
The HyperForce was the first bow that Hoyt implemented split wide limbs on the bottom (3.1″) with split thin limbs on the top (2.6″).  The actual limbs themselves are the same in width, but there's a larger gap between the bottom limbs compared to the gap between the top limbs.
This dramatically increased the balance of the bow and it provides a much more stabile shot.  With a lot of hunting bows, the top half of the bow wants to tip forward because the top is heavier than the bottom; with this bow, it doesn't have that issue.  With the help of a stabilizer, it's even better.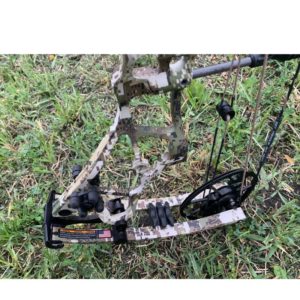 Related: Best Compound Bows for Deer 
ZT Cams
The ZT cams on the Hoyt HyperForce are the first version of the ZT cam lineup.  I found myself really liking them and the draw cycle is extremely smooth.  The back wall holds extremely steady and there was no side to side twist in the cams or strings at full draw.
The speed of these cams are very quick as well.  The bow as whole has an IBO rating of 340 FPS at its max.  Obviously when you start factoring in arrows and other resistance factors the speed will decrease, but for a hunting bow that is very fast.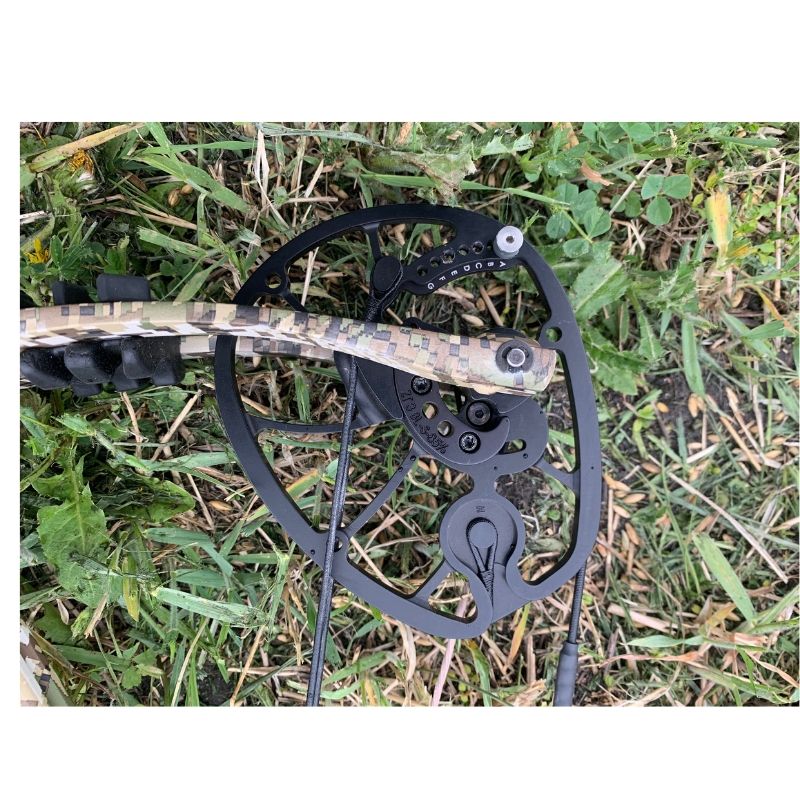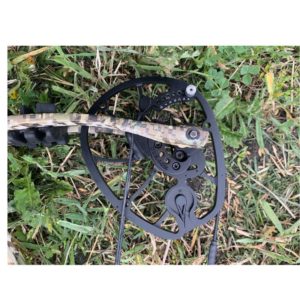 Shock Pods
The Hoyt HyperForce was the first year that Hoyt released the features of Shock Pods.  Shock Pods are vibration dampeners that do exactly what the name sounds, dampen the vibrations from the shot.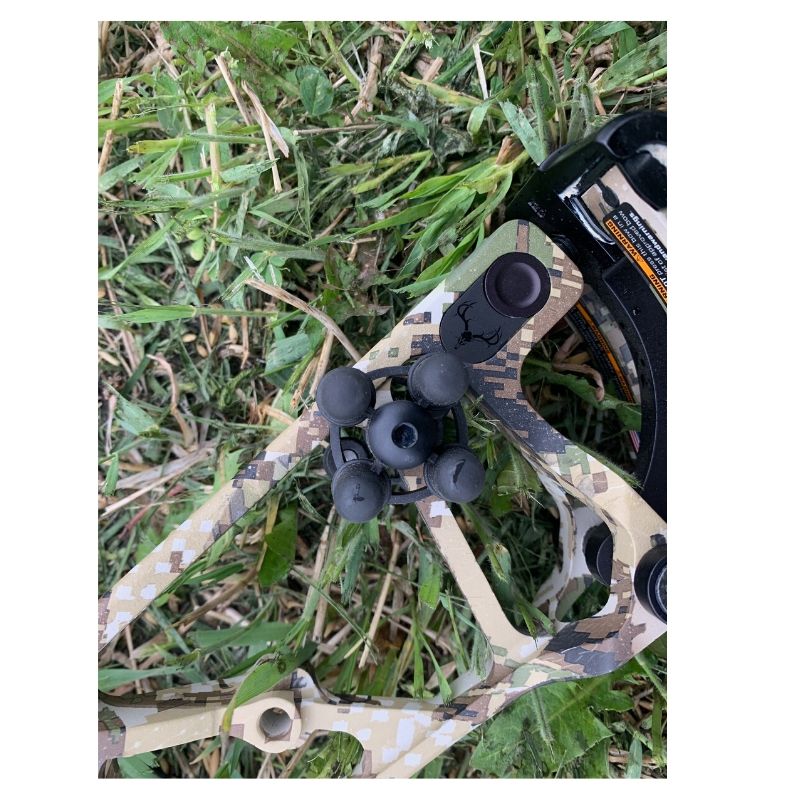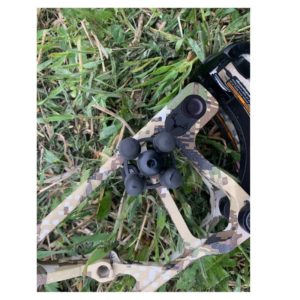 As a whole, the HyperForce doesn't have a ton of hand shock.  There is definitely a little bit of pop, but it isn't too bad.  I would personally say that it's in the middle.  If you are shooting a brand new VXR, it's going to have a bit more shock.  But, comparing it to the Diamond Provider, it's way better in terms of hand shock.
I would say if you have been shooting an inexpensive bow up to this point, this bow will surprise you with how smooth it feels.  At least it did for me.
Durable
The HyperForce is a very durable bow.  It's features an CNC machined aluminum riser and premium grade limbs for long lasting durability.  In my time using this bow it's handled the pressure of a single season of Whitetail Deer hunting.  I definitely wasn't dragging it over the rocks and whatnot, but it has no signs of damage.
Shooting wise, I've seen zero signs of wear and tear.  It's really the same hunting bow that I purchased last year and shoots the same exact now as it did then.
The string is still holding up with zero issues either.  I do use quality bowstring wax consistently, but I haven't had any issues with the string over extending or the peep sight twisting on me.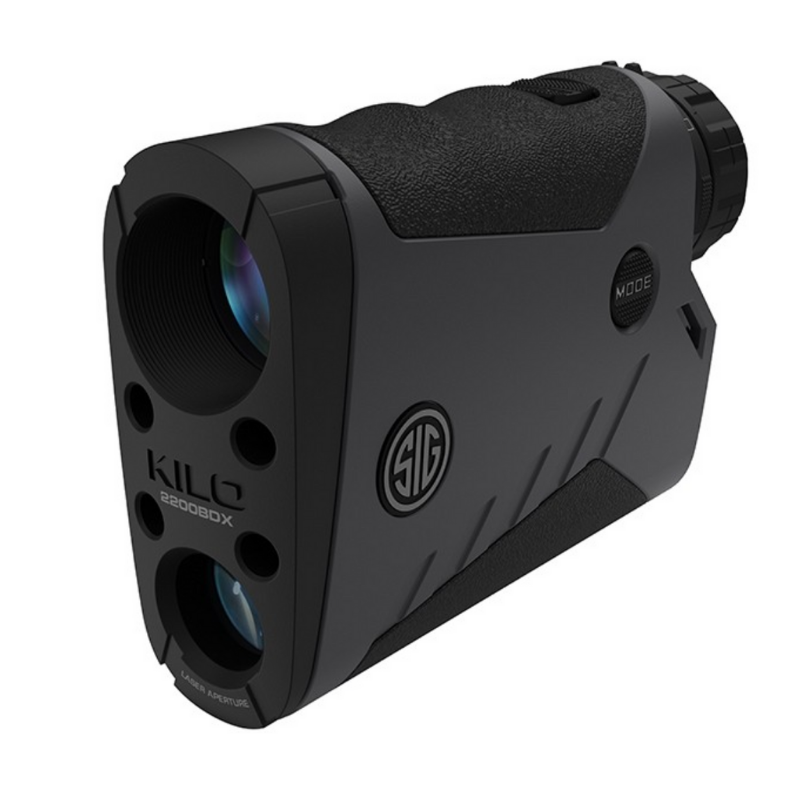 Sig Sauer Kilo 2200BDX Rangefinder
This is our top rated bow hunting rangefinder for 2020. This is one of the most technologically advanced rangefinders that you can get.
Check Price on Amazon
Thank you for the support! We may earn a small commission if you purchase through our links (at no additional cost to you).
Quiet
Because Hoyt put time into making a shock absorbing bow, this one is very quiet.  Now, it does have a slight pop to it, but it's not a lot.  If I were to compare this bow to other, cheaper bows on the market – this one does very well.
After shooting both the Mathews VXR 28 and the Hoyt HyperForce, the VXR is quieter.  It's not by a ton, but it surely makes less noise.  Check out my write up of the Mathews VXR 28 here).
Overall though, this bow does't make a lot of sound.  And you can really only hear the sound when you are shooting it yourself.  If you have a buddy standing off a couple feet, he won't hear a loud "pang" or anything.
CBE Torx Stabilizer
One of our favorite stabilizers.
Check Latest Price
Thank you for the support! We may earn a small commission if you purchase through our links (at no additional cost to you).
Related: Best Hoyt Bows Built 
Overall Conclusion of the Hoyt HyperForce
Being that this bow has a ton of the same features that the new Hoyt's have, there is a huge advantage in buying a bow that isn't brand new for this year.  It's quite a bit cheaper and you still get world class shooting and performance from your bow.  Not only that, it's versatile, durable and a consistent shooter.  I personally would recommend this one as it's an elite level hunting bow for reduced prices.
Thanks for reading and good luck!