Finding the best bow hunting backpack 2019 is more challenging than ever. With advances in technology, advances in price (of course) and more than ever, changes in hunting situation, to find the best bow hunting backpack it takes years of field testing.
How to find the best bow hunting backpack
You woke up this last Sunday morning, went outside, and could feel the slight chill in the air –  a small hint that fall is coming. You know what that means – hunting season is right around the bend. You start rummaging around your hunting bins and laying your gear out over the living room floor. "Shucks! Look at that old pack – It's bloodstained, the shoulder strap has been restitched a few times and several of the zippers have come off track." You think to yourself "well, it's time to buy a new one".   You jump online and begin the search for a suitable replacement.
Trying to decide which hunting pack is best or is the best bargain can be daunting. There are scores of companies out there touting their numerous products. So, what do you do? A simple place to start, before going online,  is to define  the hunting  situations you will be facing this fall and winter.  We'll cover several hunting situations, and I'll give you my personal educated and experienced recommendation for the best pack for the job.
Best Backcountry Hunting Pack
Backcountry and wilderness areas can put you in the most demanding hunting situations, both mentally and physically. 
These hunting areas are remote, and many times occupy rugged and unforgiving terrain. Access to these areas is usually restricted to foot traffic only, but some areas allow mules and horses.
Whether you're hunting elk, deer, moose, bighorn sheep or mountain goats, you're going to be packing a lot more gear in and then packing meat out, sometimes with treks over 10 miles or more.
Backcountry packs, sometimes referred to as "meat packs", are designed to maximize capacity, enabling you carry your gear and your treasured trophy off the mountain. Most meat packs are extremely durable, and are designed to handle weights exceeding 100 pounds (an elk hindquarter, bone on, could weigh as much as 80 pounds).
I've been fielding Badlands backcountry backpacks for nearly 10 years without a single complaint. Their durability, wearability and light weight make them ideal for my type of hunt – 6 miles back, on the continental divide, 12,000 feet up, set-up on my favorite meadow, right in the rutting elk.
Badlands Sacrifice LS Backcountry Pack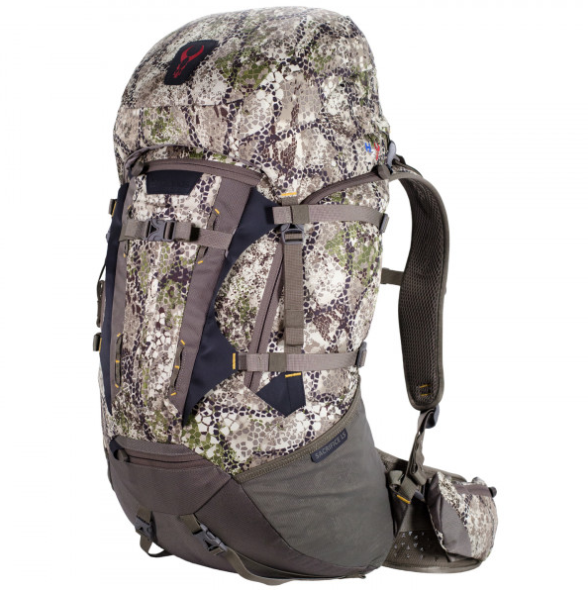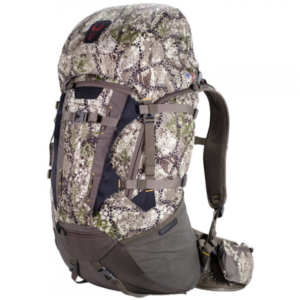 For 2019, Badlands offers a roomy backcountry solution in the Sacrifice LS, a proven, durable and lightweight design that provides enough capacity for you to overnight at spike camp, while leaving you enough room to engulf an elk hindquarter in its spacious main compartment that checks in with over 2100 cubic inches (CI).
It's got plenty pockets for calls, knives, GPS, MREs and all the fun things the modern bow hunter drags to the field, bringing the total pack capacity to 3400 CI – which can easily support all your gear, a hindquarter and even a bag of loose meat on your hike off the mountain.  Empty, the pack weighs in at a respectable   3  lbs, 13 oz.  In the field, and under the most rigorous conditions, the pack is one of the quietest, designed with an internal frame that limits the groaning and clinking  you may experience with external aluminum frame packs.  It's going to set you back 3 Benjamins and some change, but I would not compromise to save a little cash. A cheaper pack may leave you on the mountain with a busted shoulder strap, wondering what to do next.
Badlands Sacrifice LS Backpack Reviews
5 Stars: "Love this pack!! I bought one for my son and he has packed out four elk with it, with no problems at all!! So I bought one for bow season" – Edward
5 Stars: "The best pack ever. It is super light but also big enough to haul a lot of stuff. I have already used it multiple times for hiking. The straps are easy to adjust. Just amazing pack." – Kevin
5 Stars: "Great pack, very versatile, and really comfortable. I enjoy that I can use this as a daypack for scouting, or for a multi day hunt. The material is a bit noisier in the brush than some of their other materials, but the lightweight of this pack makes it worth it. I have used many other packs, but the Sacrifice LS is my go to." – Dennis
Pros:
Improved back mesh frame
Quick release drawstring pocket
Unconditional lifetime warranty (LOVE that)
Built with strength for the backcountry and water resistant
Cons:
Slightly less carrying capacity than previous model
View this post on Instagram
Related Bow Hunting Articles
"Best Elk Hunting Pack"
For bow hunters with little vacation time, planning short one or two day hunts, a deep pocketed meat pack is really not required. Most weekend hunts, especially during the rut, require quick hunts with just the bare essentials in gear, such as bone saw, rain gear, game bags as well as room for snacks and drinks. For day hunts, where you're usually trekking in less than 2 or three miles, a lightweight, durable pack with enough capacity to carry a hind quarter should do the job. Packs with around 2000 CI should get the job done.
There is no need to drop $300 or more for a backcountry elk pack if you're just hunting weekends.  I've hauled hundreds of pounds of elk meat and venison in simple, but rugged day packs by Badlands and other companies. This year,  Badlands offers a mid-range priced, multi-purpose pack that has is built on proven designs and materials and brags thousands of positive reviews in hunting forums. Like previous offerings in the day pack field, the Badlands 2200, is perhaps the best fielded hunting backpack out there. I recently went to the sporting goods store to try it on and I was impressed. I'd would have bought it, but couldn't justify the purchase. Problem is, I've owned my old Badlands for a long time, and it's just as good as the day I brought it home from the store. These pack are made from durable, quiet materials which is critical when you are on spot-and-stalk hunts where scent and noise discipline are critical.  The pack is well designed so that you can secure a hindquarter tightly to the pack using three adjustable straps, so you can enjoy a pain free hike back to camp with your meat. Most of my Rocky Mountain hunting buddies sport some model of a Badlands pack, especially when the hunt takes you through rough, unforgiving boulder fields and dense willow thickets.
"Deer Hunting Pack"
If you're bow hunting deer this year, let's say, on the Colorado plains this winter; you're most likely going to be hunting from a tree stand or blind. Many of these hunts occur on private land, ranches and farms, where you can pull your diesel over on an access road and make a short hike to your stand before the sun peeks over the horizon. This hunting scenario can easily justify a small, lightweight pack for carrying only the essentials. I love these "quickie" hunts for muleys and whitetails, and keeping the pack small and lightweight makes it much more simple – all I really need is a flashlight, bone saw, knife , a coffee thermos and perhaps a sandwich and chips for after the hunt.
I've been hunting, high plains deer for 20 years and have found that the basic hunting fanny pack meets all my needs. Once again Badlands has offered products that I have fielded in the most taxing and demanding environments. If you frequent bow hunting chat rooms, you'll notice that Badlands packs are very popular due to their light weight and durability. I've sported a Badlands fanny pack for 10 years on my late-season, mule deer hunts just north of Kiowa, Colorado. Most hunting is elevated, in Cottonwoods, in and around creek beds. But, some spot-and-stalk, creeping and low crawling takes place. The Badlands pack has performed very well for me in both situations.
This year I will be strapping on the Badlands Ambush Fanny Pack before heading to my favorite spot on Kiowa creek. It's an "organizers" pack with multiple compartments, so I can keep my Tinks #69 deer attractant in a compartment far enough from my ham and cheese sandwich. In typical Badlands fashion, the pack is light, weighing in at 1 pound and eight ounces, while still being roomy enough, at 850 CI. Like its big brothers, this fanny pack is super silent, which comes in handy in those spot-and-stalk scenarios. The pack is not on the top end of the price range of offerings, but it's also not what I would call the "budget" pack. I'm looking forward to seeing how this pack performs, as  I'm a pretty demanding bow hunter and have been known to low crawl several football field lengths to stalk a deer.
"Best Hunting Pack for the Money"
I drive a 1993 Ford F-150, just so I can spend as much money as I want on hunting and hunting gear.  Ninety percent of my hunts fall into the category of demanding, public land, fair chase and wilderness hunts. This type of hunting takes a toll on the hunter and their equipment. I would suggest, although, for beginning bow hunters, that they dial back the urge to go and spend $800 on a pack. Of course there are those that can and will. If you're interested in bow hunting, a simple day pack with enough room to pack out your quarry will suffice. Your first bow hunting experience should be positive – you should be comfortable from head to foot. A ill-fitting and heavy pack will ruin your hunt. I've seen it. One note of warning!  If you are buying a pack on a budget you may be at risk of fielding a product that is just not durable enough to get the job done.
With that being said, for under $100, you can field the ALPS OutdoorZ Pursuit day pack. Lighter than most of comparable packs, weighing in at 4 pounds, it has plenty of room for a scouting trip or a day hunt in your favorite spot.  So far, the industry has some initial reviews and most appear to be positive, however, hunting season is coming up, so the jury will be out until next spring. My biggest questions is how will the pack hold up and ride on my back with 70 to 80 pounds of meat inside. I guess I'll leave that to other hunters to figure out. Thank you for your time. Now get out there, stay downwind and have a good time.
Did this post help you out? 
We'd love it if you left us a 5 star review.