In recent years, Vortex rangefinders have carved their own path into the outdoor industry by crafting exceptionally well-made rangefinders that operate with relative ease and are extremely rugged and durable when compared to their competitors' products. While I personally use the Vortex Ranger 1800, the entire Ranger series is identical and the only major difference between the 1800 and the 1300 is the distance you can range objects.
The Vortex Ranger 1300 Rangefinder is just another great product made by the company and is quickly garnering much attention from users and potential buyers for its wide array of features, high-level craftsmanship, and easy-to-use operation.
Many hunters have selected this particular rangefinder as their top pick for 2021 and few other brands have been able to match all the features and capabilities the Vortex Ranger 1300 Rangefinder offers while still matching the price range of such a product.
While it's not one of my top rangefinders for the field, the Vortex Ranger 1300 certainly has its purpose. It's a great entry-level rangefinder for a young kid looking to spend some time in the deer stand this fall and I highly recommend Vortex as a company, having personally used their products as my go to optics for nearly a decade.
I bought my Vortex Ranger 1300 at Murdocks in Dickinson, North Dakota, however they're always in stock at Cabelas, Amazon, Sportsman's Warehouse, or wherever you buy your hunting gear.
Vortex Ranger 1300 Rangefinder Review
Let's start off with the specs.
Specs:
6x magnification
22mm objective diameter
+/- 3 yards at 1,000 yards accuracy
+/- 60 degrees maximum angle reading
315 feet/1,000 yards linear field of view
3.9" length
3" width
7.7 oz. weight
Range deer out to 900 yards
Range reflective objects out to 1800 yards
Hunters who frequently venture into the American northwest and other parts of the world where hunting can be a long-distance game of cat and mouse know full well the importance of having gear items that can accurately range and produce readings out to considerably-long distances.
Vortex has remained true to its reputation in producing the Vortex Ranger 1300 Rangefinder, which is becoming known as one of the top rangefinders on the market in 2021.
The company sought to create a rangefinder that is not overly complicated to use, which has become a serious issue in recent years among some of the most well-known brands that manufacture rangefinders.
Instead of forcing users to wade through a seemingly endless amount of settings and modifications in order to get a quick and accurate reading, the Vortex Ranger 1300 Rangefinder produces a simple and easy-to-read range data that is a welcome shift in the overly-complicated playing field of rangefinders in recent years.
This model features built-in angle compensation that is ideal for hunters who use treestands, or outdoorsmen and women who commonly stalk the ridgelines of the Rocky mountains and the terrain surrounding the area in an effort to get the drop on elk and other big game species.
Recreational and competitive shooters also appreciate the capability that comes with a built-in angle compensation system as they typically utilize as much data as they can gather in order to pull off long-range shots that require them to determine ballistics and other data before taking the shot.
The Vortex Ranger 1300 Rangefinder is crafted to the same standards that Vortex products have become known for and will serve as an extremely durable gear item that is capable of taking a beating in the field and continuing to provide accurate readings.
Vortex Ranger 1300 Rangefinder Features
The Vortex Ranger 1300 Rangefinder is made with fully multi-coated lenses that are made to increase the amount of light transmission and enhance the user's ability to get a visual on their target in low light conditions at dawn or dusk.
The lenses also utilize anti-reflective coatings to help eliminate problems that commonly arise when using a rangefinder in bright, sunny conditions.
This model offers an HCD (Horizontal Component Distance) feature that offers angle-compensated components that are capable of ranging technology in a more accurate manner which gives bow and rifle shooters a very critical data needed regarding distances to help them make accurate shots when it counts.
Many times, hunters only get one shot and having the right data that allows for hunters to align their aim right the first time can be a major factor in the overall success of a hunt.
The Vortex Ranger 1300 Rangefinder's Line of Sight (LOS) mode is also said to be one of the most popular features in this item.
The LOS mode displays the actual line of sight range on a specific target, which helps shooters make more accurate shots when shooting at extreme angles that might otherwise lead to a rangefinder producing a misleading distance reading.
Users have raved about the Vortex Ranger 1300 Rangefinder's scan mode with helps to provide better readings on moving targets and also to allow hunters to get a reading on multiple points while scanning across a particular landscape. Vortex has crafted this rangefinder model to have an extremely fast processing engine that is capable of providing multiple readings while scanning across an open area.
Like other Vortex products, the Vortex Ranger 1300 Rangefinder offers an incredibly easy-to-use interface and control settings that allow users to have a more intuitive experience instead of having to spend several hours in the field just getting to know the complicated features and settings as you might find to be common with other popular brands.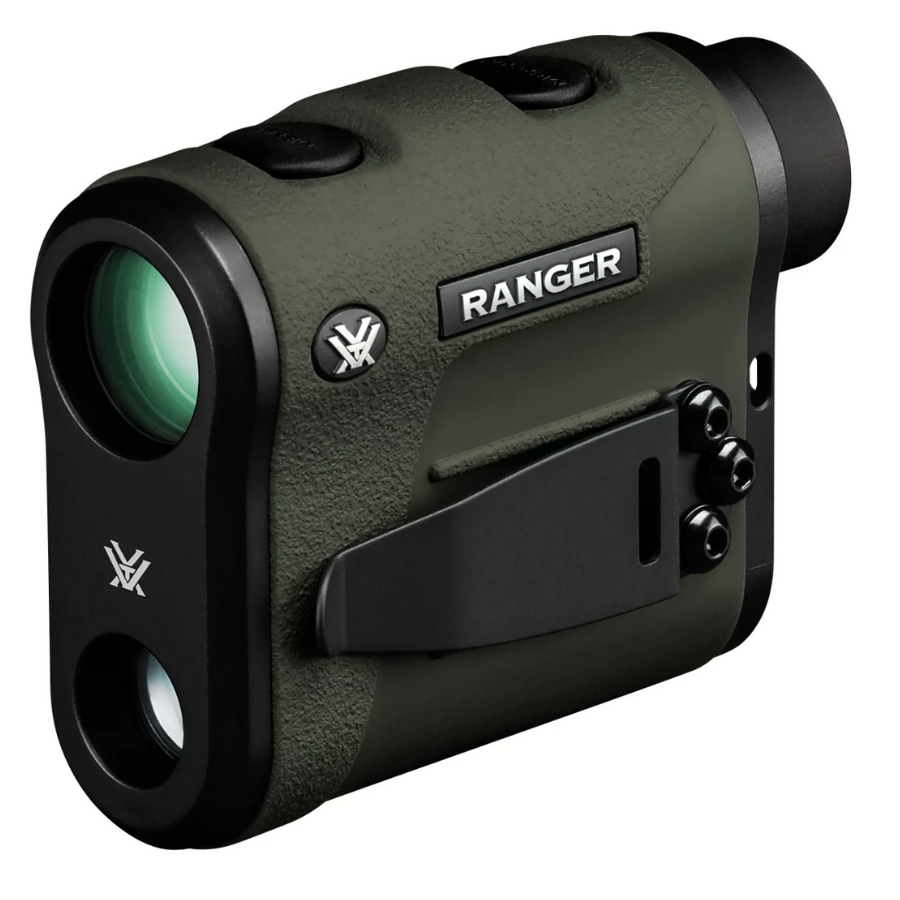 Vortex Ranger Rangefinder 1300 W/ HCD
This is maybe one of the most underrated hunting rangefinders on the market. It's a sturdy and durable rangefinder with ranging capabilities out to 1300 yards.
Check Price on Cabelas
Thank you for the support! We may earn a small commission if you purchase through our links (at no additional cost to you).
Construction
This particular rangefinder is capable of being mounted on a tripod or other stabilization rod, making it ideal for use in competitive shooting, at the target range, or simply to get accurate readings in the field when shooting at significantly-long distances.
The Vortex Ranger 1300 Rangefinder is crafted to the same high standards that Vortex has become known for. This model is made with a nitrogen-sealed O-ring design that helps to prevent moisture, dust and debris from entering the housing and damaging the internal components.
Conclusion
Like most other Vortex products, the Vortex Ranger 1300 Rangefinder comes in with an impressive amount of features and capabilities that are enough to catch the attention of any seasoned outdoorsman or woman who truly knows what to look for in a quality rangefinder.
The fact that this model is typically priced at around $500 is another point of interest and a huge reason why so many hunters are increasingly becoming more loyal to the Vortex brand.