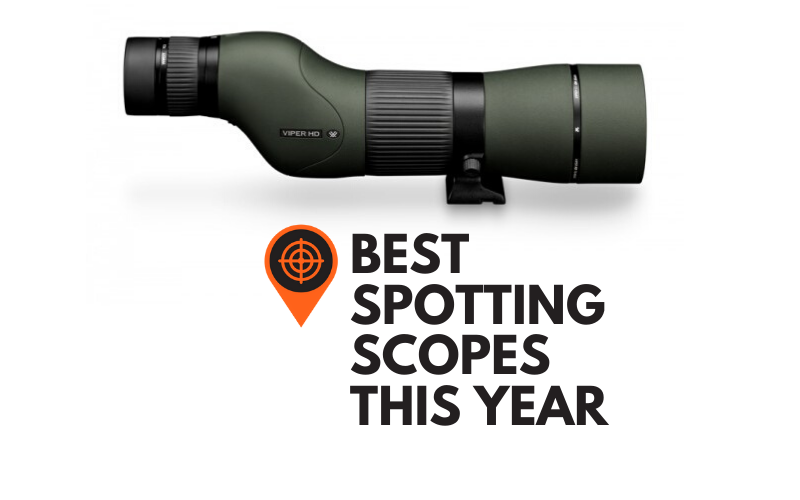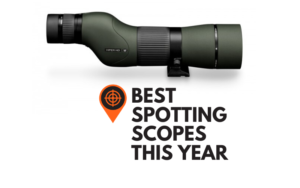 Choosing the best spotting scope for hunting is critical to your success in the field. Not only does a great spotting scope save you a considerable amount of time, it greatly increases your chance of a successful hunt.
Before we jump into this article, let's make a couple things clear. When it comes to spotting scopes, you get what you pay for. Just as important, if you're buying a spotting scope for hunting, it's critical that you buy the largest millimeter lense you can afford.
We'll dive into that, as well as angled vs straight spotting scopes, later on in this article.
Here are the best spotting scopes for hunting 2021.
Since spotting scopes have higher magnification compared to a binocular, it helps people spotting objects that are much far away, surveillance, viewing the landscape, ships, wildlife, etc.
Is a spotting scope necessary for hunting?
A spotting scope is necessary for long range spot and stalk style hunts. For bow hunting white tail deer, not so much. If you're planning on hunting anywhere in the Western Rockies, get a spotting scope. If you're going to be sticking to the Midwest or Eastern US, one of these tools won't be necessary.
To be clear, as I often tell my wife, just because it's "not necessary" doesn't mean you shouldn't own one, however.
7 Best Spotting Scopes 2021
I always laugh when folks ask me for the best of the best in any given year.
Just because you bought the "best hunting spotting scope in 2021", doesn't mean you'll be buying a new one next year because yours is no longer the best. Not the case at all!
In fact, spotting scopes, when purchased from the right manufacturer, will literally last you a lifetime. I talk to retired guides all the time who are still using the same equipment they purchased while guiding hunts. I've got a friend who guides Colorado Elk Hunts every year, who refuses to buy a new spotting scope even though his is more than a decade old!
Of course, the technology does improve, as does the glass used by manufacturers, so it does make sense to upgrade from time to time. With all that said, if you're the average outdoorsman I run with, we aren't all made of money.
I follow these rules of thumb. First off, buy what you can afford when it comes to optics. Second, bigger is better as far as spotting scopes.
Swarovski ATS / STS HD
Editors Choice: The All Around Best Spotting Scope for hunting this year (if money doesn't matter)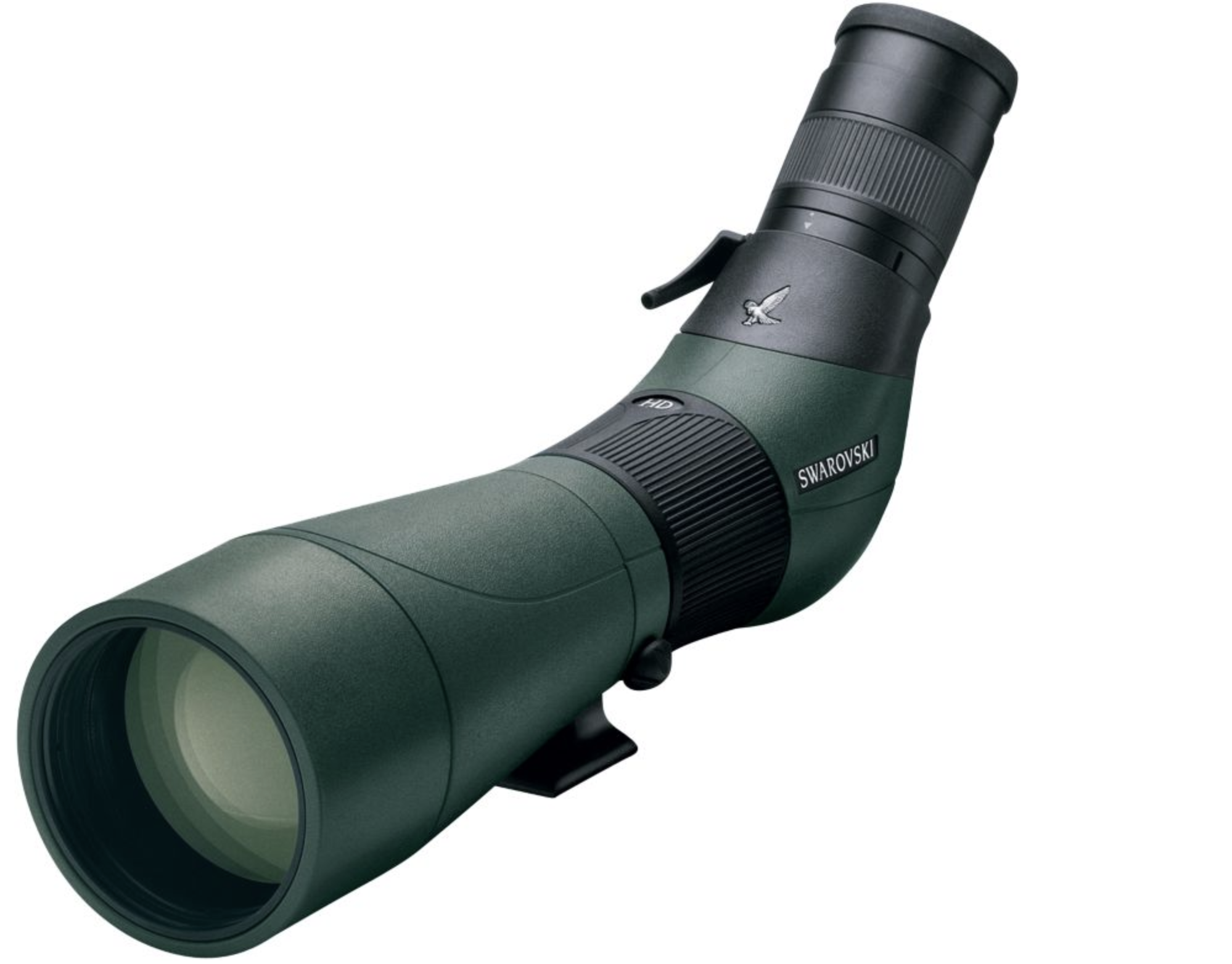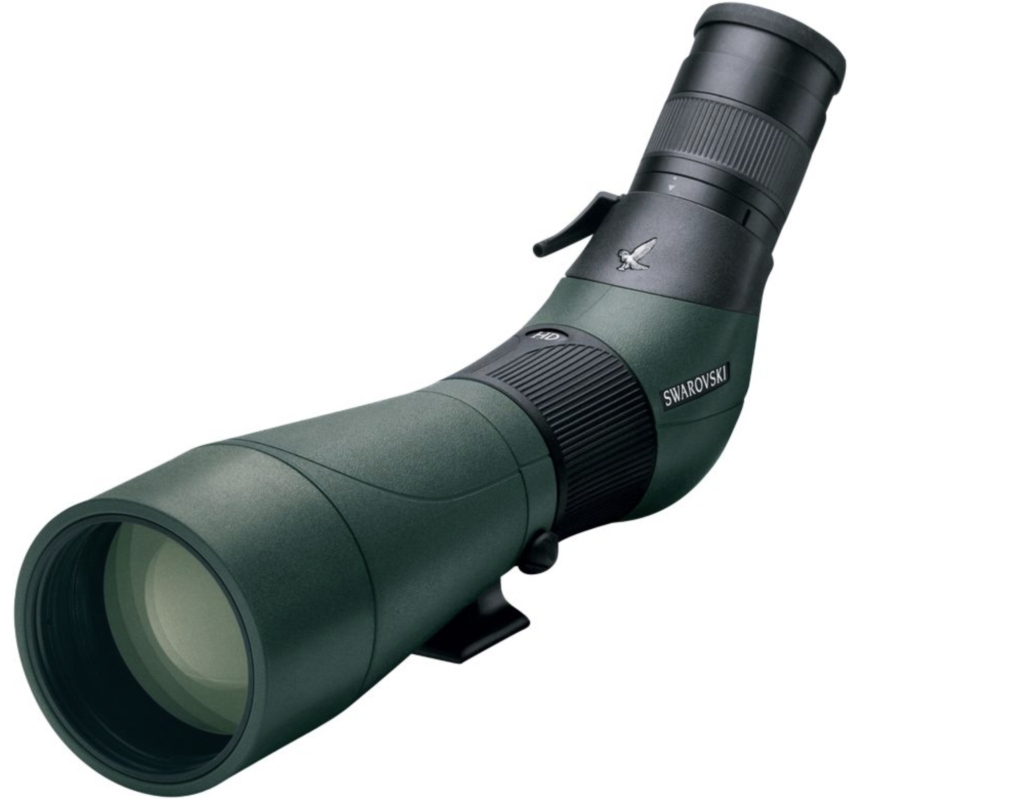 If money truly is no concern, or if you're a guide, go Swarovski and never look back. Though, chances are, if you're a guide you're already using some sort of Swarovski optic system in the field.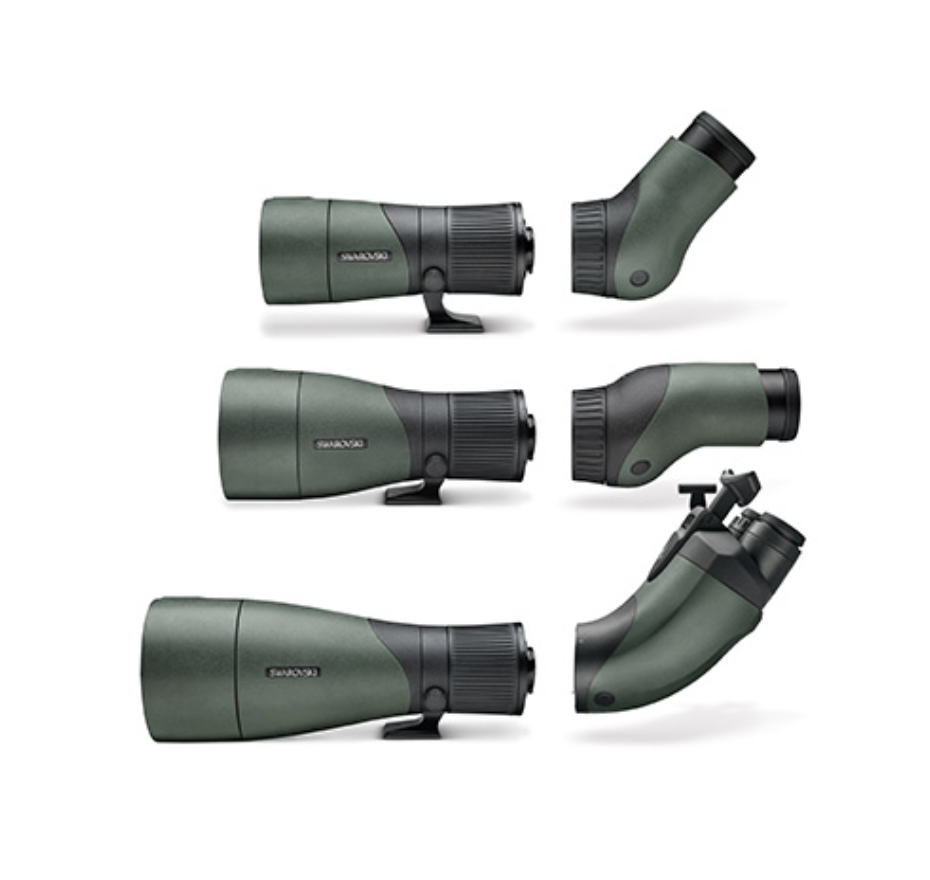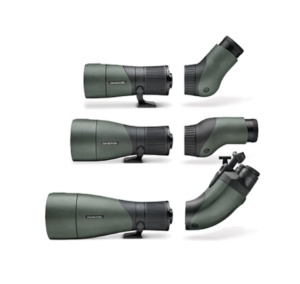 For those that know their optics, you'll know that you need to purchase the Eyepiece Module in addition to the main body that you purchase. For that reason, we recommend going with the ATS / STS kit, it's reasonably priced and will suit any hunter or guides needs just fine.
If you have to have the top of the line model, you can purchase the BTX eyepiece module on Amazon (bottom setup in the attached photo). Their highest end modular objective lens is the ATX / STX in 85mm. The BTX eyepiece is designed for hours upon hours of time behind the lens in the field, ultimately solving eyestrain behind your spotting scope.
Swarovski focuses on producing the highest quality glass, period. One of the things you'll find with competing systems is that with a wider lens diameter, you'll start to sacrifice color quality and clarity. Not with Swarovski. The glass is the best of the best, designed to excel in wider lens diameters.
Tech specs on the ATS / STS Model:
Shortest focusing distance (ft / m): 16.4 / 5
Diopter correction at ∞ (dpt): > 5
Objective filter thread: M 82 x 0.75
Functional temperature: -13 °F to +131 °F (-25 °C to +55 °C)
Storage temperature: -22 °F to +158 °F (-30 °C to +70 °C)
Submersion tightness: 13 ft (4m) water depth (inert gas filling)
#1 Best Overall
Vortex Viper HD 20-60×85
Staff Pick: Most Affordable All Around Best Spotting Scope of 2021
If you're like the rest of us, go for a spotting scope that fits your budget. A scope that offers incredible quality glass and has stood the test of time. For those of you looking for a high end spotter that doesn't force you to take out a second mortgage, we've got two options.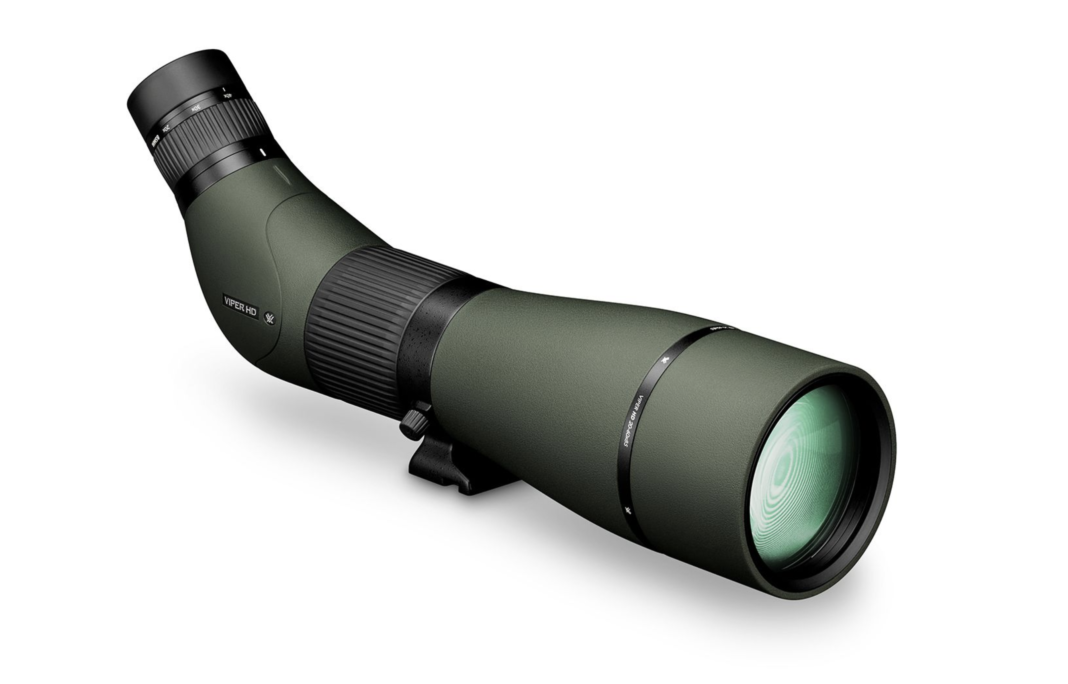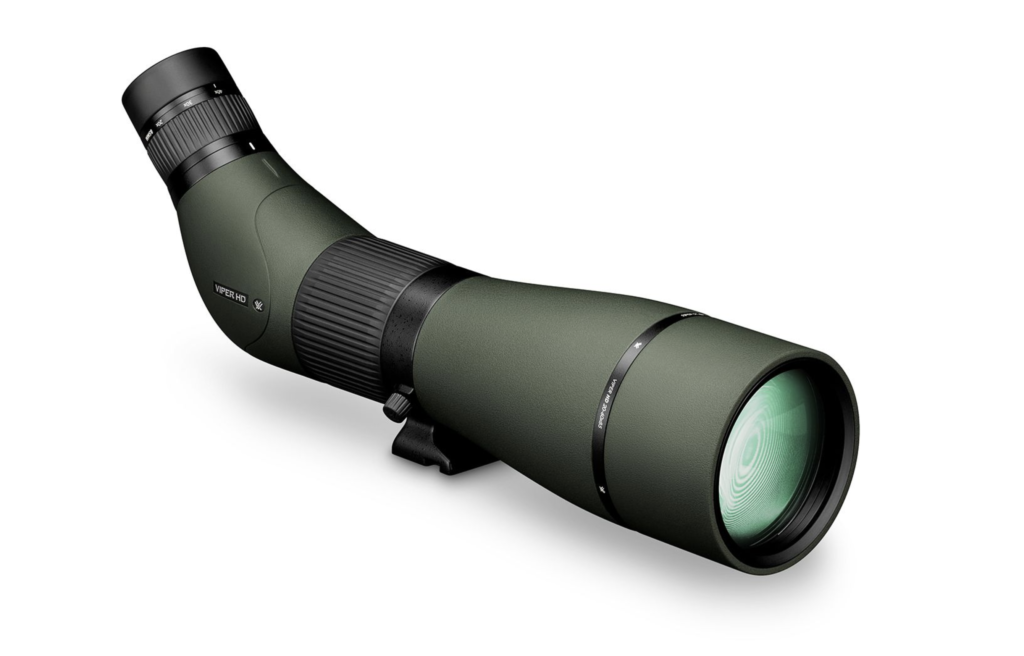 Nestled right between their top offering, the Razor HD series and the true budget choice the Diamondback series, the Vortex Viper HD is a choice you won't soon regret. The scope offers HD Lens Elements for ultimate resolution, it's XR™ Fully Multi-Coated (Vortex proprietary lens coating), and it offers Dielectric Coating for bright and clear images.
We recommend going with the Viper HD 20-60×85 Angled Spotting Scope. A step down from there would be the Viper HD 15-45×65 Angled version. It's largely personal preference, but when deciding between a straight spotting scope and the angled version, I opt for the angled version. Maybe it's easier on the neck, maybe not. I like not having to crane my neck for long periods of times.
Scope tech specs:
Objective Lens Diameter:
85 mm
Linear Field of View:
101-50 ft/1000 yds
Angular Field of View:
1.9-1 degrees
The bottom line: The Vortex warranty is second to none in the industry. Their commitment to innovation and true dedication to hunters everywhere makes it a simple choice for the typical hunter.
Related: Best Vortex Spotting Scopes 
Now that we've covered our staff picks and the popular consensus, let's jump into other options on the market. We've compiled a list of other spotting scopes that will do the trick in the field below.
Amazon product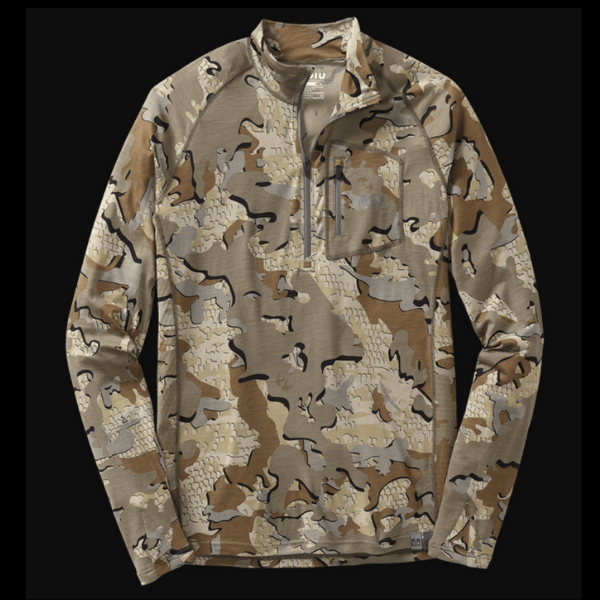 ULTRA MERINO 145 ZIP-T BASE LAYER
If you are looking for premium level base layer, this is it. I wouldn't recommend anything else.
Check Price on Amazon
Thank you for the support! We may earn a small commission if you purchase through our links (at no additional cost to you).
Gosky Porro Prism
This item has earned Editors' Choice for its outstanding quality and performance.
Gosky Porro prism spotting scope come with 20x to 60x magnification range and an 80mm fully multicoated green film objective lens.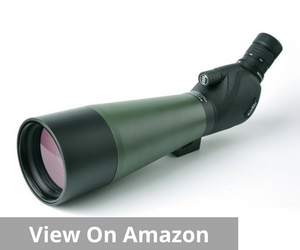 The prism used in the scope is BAK4 which makes your view brighter and clear and gives a sharp image. The shock absorbing rubber armor helps it withstand the toughest conditions. The waterproof sealing ensures it is giving its best even under wet conditions.
It comes with a digiscoping adapter which helps in attaching your mobile phones to the lens helping to get the photo or video recorded with his/her Smartphone placed at the eyepiece. This enables the user to take photos and videos without buying additional gears like a telescopic lens. The scope includes a metallic tripod which helps in a stable view and better experience.
Pros:
As the scope is waterproof and fog resistant with a strong and sturdy body, the user can use the scope in any climatic condition and terrain.
It is handy, portable and very easy to use.
The digiscoping adapter is really useful to record the scenery or objects being viewed from the scope helping to preserve a memory or record an observation.
The price is quite reasonable.
Cons:
The tripod given may not be the quality expected.
Emarth Waterproof
This spotting scope comes with a 45° angled eyepiece which gives a comfortable viewing experience.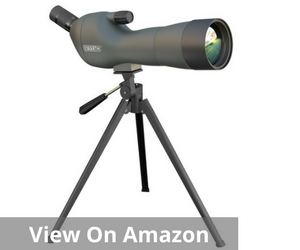 The scope has a powerful magnification range from 20x to 60x which helps in long zoom.
The field of view ranges from 1000 to 40 yards bringing the nature closer to you. The lens provided is fully multi-coated giving high-quality images.
The scope also comes with a BK7 prism providing crisp and clear images with high contrast even in low lighting conditions. A dual focus wheel system helps fast and fine-tuning focus adjustment for long-range vision.
High-quality rubber armor is used to provide durability and external protection along with a non-slip and shockproof grip.
A built-in retractable sunshade is also given to reduce glare. The tripod allows in the rotation of the eyepiece in sideways providing different viewing angles. The scope is waterproof and fog proof and can be used in any climatic condition.
The scope's optics are sealed with an O ring which helps in preventing dust, moister and debris from getting in them. To inhibit internal fogging and completely protecting the scope from all weather condition, the fog proof barrel is filled with argon gas.
Pros:
The magnification range if from 20x to 60x helping in long zoom.
The scope comes with a 45° angled eyepiece for comfortable viewing.
The lens is fully multi-coated.
A BK7 prism is used for crisp images.
High quality rubbed armor used for durability and grip.
Retractable sunshade to reduce glare.
Waterproof and fog proof.
Cons:
The tripod given is short.
Digiscope adapter not included.
ROXANT Blackbird HD
The scope comes with 12x – 36x magnification range and a 45° angled eyepiece for comfortable viewing.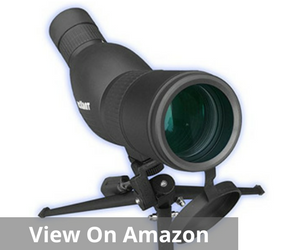 It has a rugged non-slip rubber armor which protects the scope and does not allow it to slip easily, and a smooth glide focus ring is also provided on the main barrel.
An extendable/retractable eyepiece is provided so that the user can use the scope with or without the glasses. To reduce the glare, an extendable sunshade is built into the mail barrel.
A large objective lens is used to get a bright wide view and to allow better light transmission.
The optical glass used is of high definition military grade with a superior BAK4 prism. The lenses are fully multi-coated which provides a crystal clear view and a superior light transmission. The objective lens has a diameter of 50mm, and the field of view is 52-26M/1000M.
The product comes with a firm metal tripod and lifetime support.
Pros:
Has a magnification range of 12x-36x
45° angled eyepiece for comfortable viewing
Rugged rubber armor for better grip
Smooth glide focus ring with a firm grip
Extendable/retractable eyepiece which helps users of both with or without glasses
Lange objective lens of 50mm
Lenses fully multicoated
The optic glass is military grade quality
Uses superior BAK4 prism
Cons:
For some users, the tripod provided may be small.
Our #1 Pick
Sig Sauer Kilo2400 BDX Rangefinder
This is our #1 ranked rangefinder for 2021. It features a lot of great technology and is overall one of the most advanced rangefinders you can get.
Check Price on Amazon
Thank you for the support! We may earn a small commission if you purchase through our links (at no additional cost to you).
OXA Angled Waterproof
This scope is one of the best in its price range. The magnification of the scope ranges from 20x – 60x and make is perfect for outdoor activities.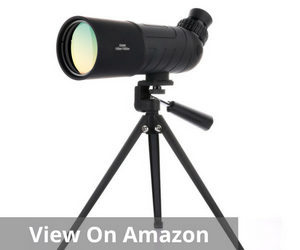 The angled eyepiece helps for easy viewing along with the fully multi-coated optics, which provides better transmission of light resulting in a bright and crisp image.
The sealing of the scope ensures living waterproof and fog proof function. The scope can be used in all weather conditions.
The magnalium framework and the shock absorbing rubber armor make it capable of withstanding and harsh conditions. The objective lens has a diameter of 60mm. The scope is small in size and can be carried easily in a bag. The scope comes with a carrying bag, tripod, and a lens cover.
Pros:
Magnification range of 20x-60x
Angled eyepiece for easy viewing
Fully multi-coated lenses
Magnalium framework with shock-absorbing rubber armor
Waterproof and fog proof
Small and easy to carry
Cons:
Zoom feature not available
You may face issue while magnifying
Bushnell Trophy Xtreme
This scope is a straight viewing scope and comes in two variations.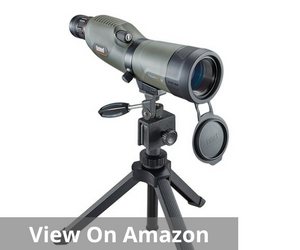 The first variation comes with a magnification range of 16x – 48x and has an objective lens diameter of 50mm.
The second variation comes with a magnification range of 20x – 60x and the diameter of its objective lens is 65mm.
Apart from the magnification range and lens diameter, both the variants have the same features. The optics of the scope is fully multi-coated providing the scope with superior light transfer and clear, crisp image.
BAK4 porro prisms are used to maximize the light and ensure sharpness to the image. It also highly refractive and ensures minimum spherical aberrations for increased edge-to-edge sharpness.
The scope is protected with lightweight rubber armored body which makes it suitable for rough use. Nitrogen is filled to make it waterproof and fog proof making it suitable to use under almost any climatic condition.
A retractable lens shade is provided to keep off the sun or rain from the lens.
Pros:
Magnification range is 20x-60x
The diameter of the objective lens is 65mm
Has a wide field of view
Uses a BAK4 porro prism which helps in a sharper image even in the edges
Rubber armored body
Waterproof and fog proof
Retractable lens shade provided
Easily portable
Cons:
The cost is comparatively high.
It gives a cheaply made feeling questioning its durability.
Buying Guide – Things to look out for in a Spotting Scope
Buying a spotting scope can be an overwhelming task if you are not clear on which one you want to invest in.
As it is a purchase you do very rarely, it is important to get the one which perfectly suits your needs. So, there are some aspects you have to take into account before you go on purchasing a spotting scope. In this section, we will help you understand each of this aspects and how it helps.
What do the numbers on spotting scopes mean?
Most spotting scopes will be having three numbers in their labeling. The first two numbers signify the magnification (the zoom) range while the last number shows the size of the front lens.
For example, a 22-48×65 means that the variable zoom is 22x to 48x. The "65" is the diameter of the objective lens in Millimeters, in this example, 65mm.
The quality of the lens is decided by the coating type namely, "Multi Coated", "Fully Coated" and "Fully Multi-Coated". Premium models have fully multicoated lenses.
🏆 #1 Rangefinder for The Money
What power spotting scope is best for hunting?
I really like what these guys had to say about this. Contrary to what you might already think, when it comes to spotting scopes (and binoculars in general), bigger is not always better.
A huge magnification like 60x decreases your overall field of view, so unless you're hunting massive open spaces you might opt for something a bit smaller.
If you remember just one thing about finding the best spotting scope, let it be this. Buy the best one you can afford and if you cannot afford top of the line glass (Swarovski, et al.), a smaller objective lens at a higher price point is what you should be aiming for.
This is due to the fact that not many spotting scopes have the crystal quality, top of the line glass needed to provide high quality images at a huge magnification.
Spotting scope vs. monocular system?
A spotting scope is a larger version of a monocular. If you're hunting smaller spaces, or want to reduce weight, try looking at the article we linked above. For most hunters, spotting scopes are the way to go for all glassing situations.
Glass Quality
Fluoride coated, HD or ED glasses are used to manufacture top quality spotting scope.
The quality difference in brightness for produces made using these materials and standard materials by the same manufacturer will show significance difference under high power and low lighting conditions. The choice is yours to make depending on the purpose you use the spotting scope for.
Magnification Power
Spotting scopes are usually medium range telescopes. They have a magnification from anywhere between 15X to 60X. Single zoom eyepiece or fixed length interchangeable eyepieces are needed to change the power of magnification.
The best way to scan an area with the use of a spotting scope is to have a low power eyepiece. If that is not an option, you can put the lowest setting on a zoom eyepiece. It can be switched to higher power once you have spotted the target. This would be the best approach while using a spotting scope.
Light-Gathering Capacity
Spotting scopes follow the same principle as binoculars when it comes to light gathering. The size of the objective lens defines the light gathering capacity of a spotting scope.
The value varies between 50mm to 100mm depending on the model of spotting scope you are using. With the increased size of the objective lens, you will get brighter and clearer images. But at the same time, it will make the spotting scope heavier and bulkier.
Zoom Lenses
With a simple adjustment, zoom lenses have the ability to change the magnification from 20X to 60X. These are ideal for bird watching as you get the advantage of changing the magnification to get clearer images of the bird with a single motion.
You can shift from low power to high power in just seconds using zoom lenses. But zoom lenses do not have fixed lenses nor does it gather light. Also, with an increase in magnification, it suffers from vibration, narrower field of view and less light.
Unlike earlier, you get spotting scopes which have high-quality lenses to deliver sharper clearer images. These are as good as low magnification lenses. You get the choice to go for such if it is affordable.
Focusing Mechanism
Focusing is done in two ways – with a focusing collar or a smaller focus knob on top of the eyepiece. In the former, The barrel is rubberized or knurled so that you can focus by twisting the whole barrel and make the images sharper.
In the latter, the time taken to focus would be long, but it will help you focus precisely. Dexterity and hand size can be an issue with this. So, try out this mechanism before buying.
Eye Relief
Eye relief is one feature which should be taken into account especially if you are an eyeglass wearer. If the eye relief is longer, the focal point is stretched behind the eyepiece helping the eyeglass wearer a better field of view.
The general eye relief of spotting scopes is around 12mm to 15mm. This is ideal to accommodate an eyeglass wearer.
Conclusion
Now that you know the aspects which have to be taken into account before purchasing a spotting scope, the only thing you have to take into consideration is the budget. If you can afford a good spotting scope that will always be better.
But there are so many budget spotting scopes for you to choose if you do not have that great a budget.