For years, Vortex optics has been a trusted leader in the hunting optics space.
Personally, I use quite a bit of Vortex optical equipment. One of the main reasons for this is their return and warranty policy. Unless this has recently changed and we're just not aware, it's one of the most bulletproof warranties in the business. In a nutshell, Vortex stands by their product regardless of what goes wrong. For most hunters, that's enough to justify a purpose then and there.
However, a quick backstory. Prior to an Alaskan moose hunt I took a few years back, a cousin of mine told a story about a Vortex spotting scope. Just a few days prior to a backcountry sheep hunt in Alaska, the spotting scope ended up ruined. How, not 100% sure and I'd rather not make up details, but it was ruined. Upon calling Vortex and explaining the situation, they sent a brand new replacement priority shipped so he was able to ensure a successful sheep hunt. It's a condensed story, but a good one. From everything we've ever heard about Vortex optics, they stand by their products through thick and thin.
After writing that, I had to check up on the Vortex VIP Warranty.
Straight from their website, here's what they say.
"You see, it doesn't matter how it happened, whose fault it was or where you purchased it. If you ever have a problem, no matter the cause, we promise to take care of you. You can count on the VIP Warranty for all Vortex Optics riflescopes, prism scopes, red dots, rangefinders, binoculars, spotting scopes, tripods and monoculars.
UNLIMITED LIFETIME WARRANTY
FULLY TRANSFERABLE
NO RECEIPT NEEDED
The VIP Warranty does not cover loss, theft, deliberate damage or cosmetic damage that does not hinder the performance of the product."
Some of the photos of products they've warrantied are incredible. Check out how one of their spotting scopes fared in a house fire below. And yes, they warrantied it.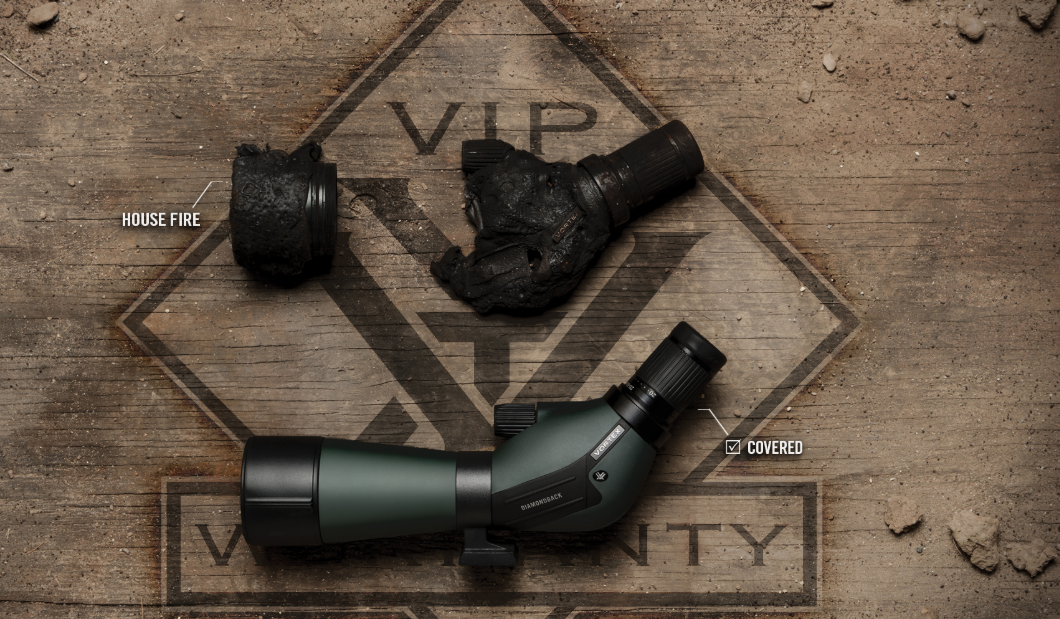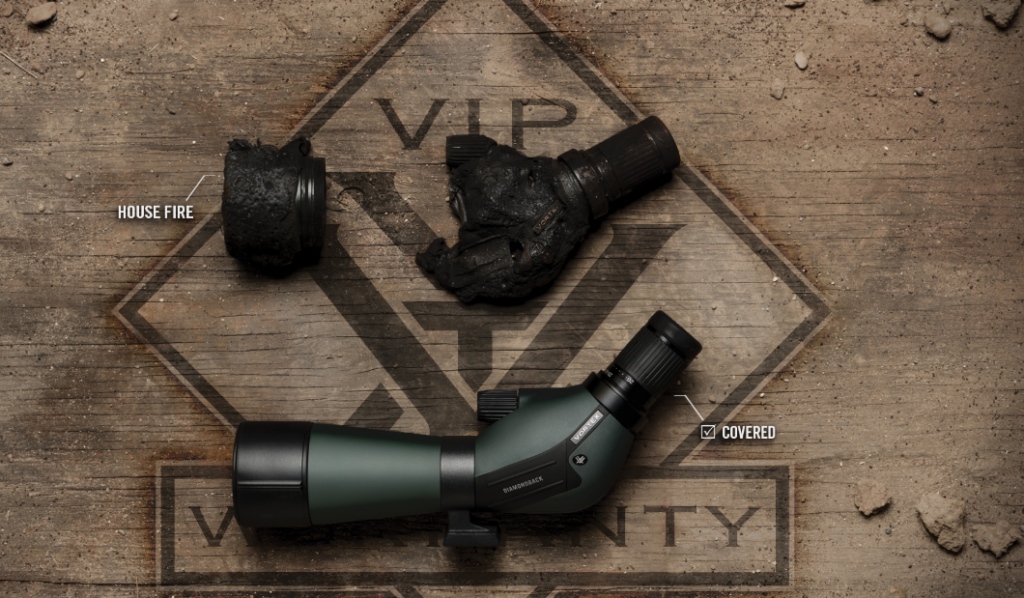 The bottom line is, if you're considering purchasing a new spotting scope, we highly recommend Vortex. Let's get into our favorite models offered by the company.
The Best Vortex Spotting Scopes, Graded
First, it's important to understand that Vortex is very clear about what there top of the line spotting scopes are and what isn't. Unlike other brands with confusing names, they market their spotting scopes in three different lines.
First, we're going to start with their Razor HD spotting scopes. 
Vortex Razor HD