Mention the 6.5 Creedmoor at any deer camp or gun range and you're likely to get a variety of different responses. Some hunters swear by the cartridge while others will give you a laundry list of excuses why the Creedmore is inferior to others. 
The 6.5 Creedmoor is a rifle cartridge that was first introduced in 2007 by Hornady and has become one of the most popular ammunition sizes for big game hunting. The 6.5mm bullet was originally designed for target shooting, but it has since ascended to the top of the hunting ammunition game and is lauded by a number of hunters for its versatility and long-range capabilities. 
These are the 5 top 6.5 Creedmoor Scopes.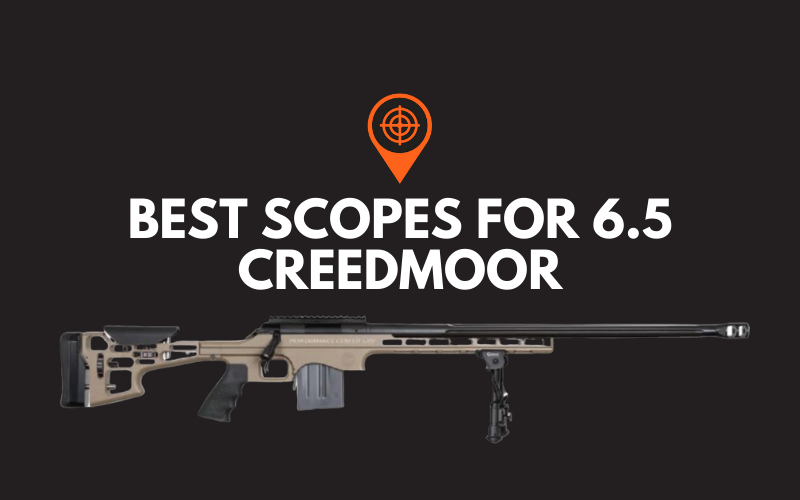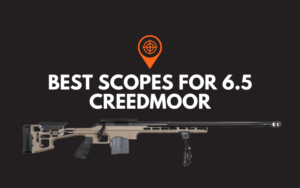 What makes it so special? Well, for starters, it can accurately hit a target 250 yards away with less than a 1" bullet drop from a standard 24" barrel. While most other big game hunting calibers would consider a 300 yard shot to be long range, the 6.5 Creedmoor eats 300 yard shots for breakfast. It can actually be reliable for shots over 700 yards away. 
Competitive long range shooters are well-aware of the 6.5 Creedmoor's ability to hit the mark at long distances, but the arguments surrounding this particular ammunition size are mostly related to its effectiveness as a hunting round. It is able to replicate the muzzle velocity and trajectory of the .300 Winchester Magnum, a staple among big game hunters that often take long-distance shots. However, the 6.5 Creedmoor is able to achieve these numbers while having significantly less recoil, making it more suitable for rapid fire than other, similar sized cartridges. 
The 5 Best Scopes for 6.5 Creedmoor 2021
The best aspects of the 6.5 Creedmoor are that it offers supreme accuracy, resists wind deflection and the lighter recoil is better on your shoulders. Let's take a look at some of the best scopes to use with the 6.5 Creedmoor. 
Vortex Optics Viper HS-T 6-24×50mm SFP Scope
For anyone seeking the absolute best long-range rifle scope—especially for shooting a 6.5 Creedmoor cartridge—the Vortex Optics Viper HS-T is hands-down the best of the best. 
Vortex has made quite a name for itself in the outdoor industry for making some of the best hunting optics on the market. Vortex created this scope with its famed VMR Reticle for supreme accuracy at long ranges. It is designed to have maximum long range capability, as well as wind deflection ability. The Viper HS-T features a parallax that works on one lithium battery. 
What makes this scope so much better than its competitors for long-range shooting is the Customizable Rotational Stop (CRS). The CRS lets the shooter quickly and easily return to an original point of zero, which helps tremendously when trying to correct for bullet drop in long-range target shooting. 
For anyone who needs a scope for extreme long-range shooting with a 6.5 Creedmoor, this is the one you'll want. 
Nikon Black X1000 6-24x50mm SFP IL X-MOA
Nikon has long been among the top brands when it comes to outdoor optics. The Nikon Black X1000 is one that would be ideal for anyone shooting a 6.5 Creedmoor because of its high levels of magnification and the ability to boost light transmission. 
The Nikon Black X1000—like the 6.5 Creedmoor—is specifically designed for long range shooting. According to the specs, this scope is considered to be most accurate at 18x. The X1000 utilizes a 50mm reticle that provides superior visibility and it won't change size when being adjusted anywhere from 6x to 24x magnification. 
While most big game hunters usually don't take shots over 500 to 600 yards, this scope coupled with a 6.5 Creedmoor might just give you the capabilities to hit your target at more than 700 yards. 
The X1000 features a glass-etched and illuminated reticle that is located on the second focal plane. The reticle offers 10 different red intensity settings that allow you to hone in on the best one for low light situations in the early morning or late evening. The scope's windage and elevation turrets can be adjusted to sound off with a 'click' for each ¼ MOA switch. 
This is one of the more rugged scopes on our list as the Nikon Black X1000 is waterproof, fogproof and is also crafted with shockproof material. 
Bushnell Trophy Xtreme X30 6-24×50
Bushnell is another brand that is well-known among outdoorsmen for its high-quality, rugged design and accuracy. The Bushnell Trophy Xtreme X30 6-24×50 is one of the best riflescopes that Bushnell offers and is a go-to scope for many hunters that traverse the western United States in search of Elk, Antelope and other big game that are often harvested at long ranges. 
This scope also offers magnification settings between 6x and 24x and can match most of the technical capabilities of other long-range scopes without the expensive price tag. 
The Bushnell Trophy Extreme X30 features a quick-focus eyepiece that is great for fast target acquisition, especially in low-light situations. 
Similar: Best Shotgun Scopes 
Athlon Optics Argos BTR Riflescope 6-24x50mm
The Athlon Optics Argo BTR offers all the great features and capabilities of a solid long-range riflescope at a more desirable price than other high-end scope brands. One of the features that stands out the most compared to other scopes on this list is the Argo BTR's ability to be easily adjusted for illumination, windage, elevation, parallax and magnification. 
The Athlon Optics Argos BTR is crafted from aircraft-grade aluminum, which makes it extremely durable and stable to guard against the scope becoming moved during a hunt. The Argos BTR offers 3 inches of eye relief and is made with shock resistant material that is ideal for big game hunters that have to tote their rifle many miles into the wilderness for a shot at their prey. 
This scope features a first focal plane (FFP) reticle that allows for magnification of the reticle with the scope's image. The Athlon Optics Argos BTR offers everything you might look for in a long-range rifle scope to be used with a 6.5 Creedmoor cartridge, but for a better price than the high-end brands. 
Vortex Optics Crossfire II 6-18x44mm AO
In recent years, Vortex has beat out the outdoor rifle optic competition and has created some of the best products on the market for a variety of different scope models. The Vortex Optics Crossfire II is no exception. 
This scope offers practically zero parallax and an anti-reflective lens, as well as a Dead-Hold BEC MOA that features a custom-designed hashmark. This means you can eliminate the amount of time it takes for windage corrections or holdover. 
The Crossfire II allows for magnification between 6x and 18x with a 44mm diameter, which is virtually perfect for big game hunters as there is seldom a reason to take a shot at anything more than 750 yards away. The scope is also nitrogen-purged and offers a sealed O-ring for superior fogproofing and waterproofing. 
This one is great to have as an all-purpose scope for use with a 6.5 Creedmoor, but is not the best choice if you plan to take a shot at more than 500 yards. 
Related: Best Scopes for .300 Win Mag
Conclusion: Best Scopes For 6.5 Creedmoor
In our eyes, those are the top scopes you will find on the market for your 6.5 Creedmoor.  We had a mix of elite end scopes to lower end budget scopes that will work swell for those who don't have the money for the tip top.  Regardless, we hope this post helped you in your pursuit of a new rifle scope!
Good luck!