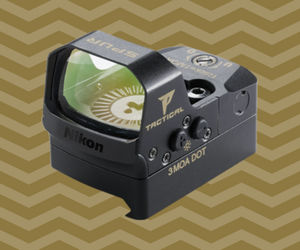 When it comes to the confusion of purchasing any shooting related accessory, nothing can beat the red dot sight as it is one of the most overlooked accessories in the kit.
People usually shell out all their money into the rifle that the accessories are mostly overlooked, and the red dot sight is mostly neglected.
But when you look at it from a different perspective, it is one of the most important accessories which will help you get proper accuracy while aiming.
So, we would like to bring to your attention that you should give closer attention whenever you purchase a red dot sight.
A quality red dot sight is a valuable asset for many shooters. These highly functional firearm accessories decrease the amount of time it takes to get on target, strengthen and refine your aim, and increase accuracy.
Red dot sights were originally developed for the battlefield and are ideal for close to medium range shooting.
They are relatively simple optics with relatively simple reticles. However, they are designed to help you do the not-so-simple job of getting on target quickly (and staying there).
The earliest red dot models were massive, highly expensive, and impractically delicate. However, the same technological advancements that morphed the bulky mobile phones of the 1980s into the iPhone in your pocket, have also worked their magic on red dot optics.
Modern red dot sights are compact, solid, and lightweight. You can even purchase a quality red dot sight for significantly less than the cost of the latest iPhone.
Because technology has made red dots practical and affordable, there are a ton of options available to the modern shooter. Fortunately, this means they are available across budget ranges and in various sizes, shapes, and styles.
11 Best Red Dot Sights this year
Best Red Dot Sight 2021
If you are in the market for a red dot optic, there are a few that really rise above the rest. Here is a list of what we consider the cream of the crop when it comes to the best red dot sights of 2021.
Aimpoint M4 
Aimpoint produced the very first red dot optic way back in 1975. They have been refining and perfecting red dot technology ever since. The Aimpoint model M4 is the current red dot optic used by the United States Army. For civilian shooters and law enforcement personnel, Aimport developed the Aimpoint Pro, which sits firmly at the top of our list.  
The Aimpoint PRO sits at the top of our list because it excels at everything from recreational plinking to full-blown combat. However, although this thing will help you easily pop cans off fence posts, it was really designed for war. It is bombproof, waterproof (up to 150 feet), and has an operating range of -49 to 160 degrees Fehrenheit. 
Basically, the Aimpoint PRO will stand up to anything you can dish out. Drop it from a building, smash it with a hammer, it doesn't matter. If your shooting takes you to the North Pole or Death Valley, this thing will still perform. It's also guaranteed to handle more recoil than you can.
The Aimpoint PRO also comes with a three-volt lithium battery that provides 30,000 hours of continuous use. That means you can leave it on and you'll still only need to change the batteries about every 3 ½ years!
Bushnell TRS 25
Not every shooter can afford to fork out several hundred dollars for a red dot sight. Don't worry, Bushnell has you covered. This compact, affordable red dot optic generally sells for around $50. (If you find something cheaper, think twice before you buy it.) 
Although economically priced, the Bushnell TRS 25 offers some surprising features, including amber coated lenses for easy low light shooting. It's also fogproof, waterproof, and shockproof. We honestly don't know how Bushnell is making any profit on this quality optic.
Vortex Venom 6 MOA
The smallest and lightest red dot on our list is the Vortex Venom. This open red dot sight can easily pull double duty, working equally well on either your pistol or rifle. 
We're excited about this quality red dot for plenty of reasons. It comes in two dot sizes – 3 MOA and 6 MOA, has an auto brightness feature and ten manual brightness settings.
Also, the Venom automatically shuts down after 14 hours to conserve battery power, just in case you forget to turn it off. However, when the battery does run out, it is easy to access from the top of the sight.
There's no need to remove the Venom for a routine battery change, so you won't have to re-zero before you head back out to the range.
EOTech EXPS-2
Although technically a "holographic" sight, we've included the EOTech EXPS-2 because it serves the same general purpose as a red dot optic.
It just utilizes different technology to get the job done. (It also makes our list because it is seriously cool!)
The EOTech name is largely identified with holographic sights. The company actually pioneered the common holographic reticle design which features a large 68 MOA circle with a smaller 1 MOA center.
This combination helps balance quick target acquisition with precision shooting. It's like getting the best of both worlds.
Holographic sights are notorious for draining batteries. Be prepared to change them more often than a standard red dot. However, the EXPS-2 should give you about 600 hours before you'll need to switch out the batteries.
Sig Sauer SOR43031 Romeo4T Black
Sig Sauer is a respected name in the shooting industry and is known for producing quality, high-performance weapons and accessories.
The quality of the Romeo 5 red dot sight goes without saying. (Actually, the quality is implied when you say the company's name). 
Perhaps the coolest feature of the Romeo 5 is the Motion Activated Illumination (MOTAC) feature. The optic actually switches on automatically when it senses motion. It also automatically turns itself off if left alone.
When left on, the optic enters a sort of sleep mode, where the red dot is shut off but will instantly turn back on when motion is detected. That's a pretty handy feature for those of us who often forget to turn things off when we finish with them.
Trijicon RMR Type 2
This micro red dot is a tad on the pricey side, but absolutely perfect for pistol shooters. It is precise enough for competition shooting, yet rugged enough to mount on your EDC. The Trijicon RMR Type 2 is compact, lightweight, waterproof, and night vision compatible. It also has a four-year battery life, so you can just turn it on, forget it, and it will always be ready to go.
Amazon product
This item has earned Editors' Choice for its outstanding quality and performance.
This would not be the last time Vortex will be featured on this list. Known for their amazing collection of accessories, Vortex is one of the best red dot sight manufacturing company you will ever come across.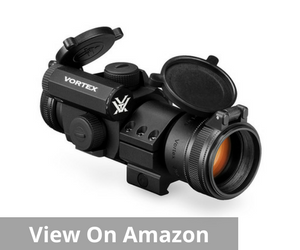 The Vortex Strikeforce second generation was developed with the same thing in mind as its predecessors – high quality but for an affordable price. There was a time when high-quality optics meant an expensive piece of accessory and cheap once were of pathetic quality. So, Vortex is attributed to be the brand of red dot sights to bring more affordable but high-quality material.
Though it lacks the extra features which come with the expensive ones, it has an amazing brilliance to it which is undeniable. With a 1X magnification lens and a 30mm objective lens, the optics deliver to you two options – the red and green reticle or the single red dot to make the design simple. You get to choose the option you want, and both are compatible with night vision even at the lowest settings. It weighs 7.2 ounces and has a length of over 5.5 inches, adding little bulk to the weapon. It has a 2X doubler which can be attached to the optics and comes with a solid black finish which is scratch resistant.
It is very easy to install, and you will have no trouble using it. The fully multi-coated optics give the features of being fog resistant. But the light transmission might not be optimum with Strikeforce II. The optics, on the other hand, is bright and very easy to adjust. You can change the brightness by fiddling with two buttons.
You can also turn the reticle into night vision mode with just a click of a button. The Strikeforce II has only minor flaws which are related to the lenses, but it proves to be an excellent optics which will not let you down when you go for your next hunting trip. Vortex Optics Strikefire II.
Pros:
High quality but affordable
Compact and lightweight
Night vision compatible
Fully multi-coated optics
Cons:
Lens has minor flaws
Light transmission is not optimum
Related:
As said, Vortex did not take much time to be featured on this list for the second time. Due to their quality and versatility, we could not help but feature it here again.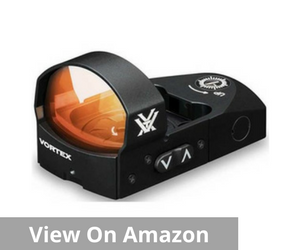 Compared to the Strikeforce II, this is an equally great quality red dot sight which will help you find your target with ease at an affordable price. It can be used with pistols, handgun, and rifles, a versatile product for all.
It allows you to acquire target rapidly and keep you ready to take a shot by never missing an opportunity. It is fully multi-coated which allows the MOA to deliver high-quality images to you. It has a wider field of view due to its design.
The exterior is made using aluminum chassis which enhances durability and ruggedness of the device. The ease to use is outstanding due to the positioning of the power controls and its intensity. You can get great aim with this device even from a distance of 100 meters. It also offers great compactness which gives the ability to fit it into the sides of various firearms. The field of view is amazing in comparison with its small size.
The shockproof exterior can withstand the recoil of the rifle with ease. The lightweight property of the device can be attributed to the single-piece chassis. The device is waterproof because of the use of O-seal rings and does not let dust or even moisture to enter the device. It has a low-glare, hard, and anodized mantle-finish, which improves the durability.
The unlimited eye relief feature, when combined with rapid target acquisition, is amazing and improves the convenience of using this device. It also features auto shut down to help improve the battery life. This allows the device to run up to 30,000 hours at battery settings which are the lowest. Click here to see the best price.
Pros:
Lightweight and compact
Single-piece chassis
Water and dust proof
Auto shut down feature for better battery life
Cons:
The sight might have issues to adjust to the elevation
The on/off button can be hard to use
Bushnell is another brand which is known for producing some of the best accessories when it comes to hunting and shooting equipment.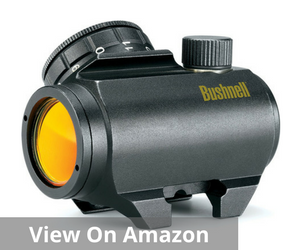 Bushnell has a history of being one of the best manufacturers for many years that they are known to be the ones which keep up to date with the latest technology and incorporating it into their products.
It holds true when it comes to Bushnell Trophy TRS-25 red dot sight. A versatile product which can be used with rifles, pistols, handgun, and also a shotgun. Most of the time you either have to put all your money on the table or settle something that is sub-standard. But in this case, you get a great product at an affordable price.
At about 2.5 inches in length and weighing 3.9 ounces, the red dot sight is a very compact and lightweight device. It has an LED mounted dot which has 11 intensity for lighting adjustment and has 3 MOA. The device produces excellent images with high quality which can be compared with the expensive red dot sights you find in the market. The elevation and windage can only be adjusted using a screwdriver or a coin to turn, which can be difficult. With each click, the adjustment will be equal to 0.5 MOA. It is waterproof and can be submerged up to 10 meters. It has a CR2032 battery which has great durability.
TRS-25 can withstand the recoil with ease and also withstands fog. It is coated very well to help it protect itself from rust. It is excellent in low light conditions and most people would never end up using the brightest condition. It can easily hit a target which is at a distance of 100 yards. It would feel like you are using a cheat code in a video game. It is a great beginner red dot sight which is durable and has some great features to make your life easier. Click here to see the best price.
Pros:
3 MOA for crips and clear images
Can handle heavy recoil
Battery life can be extended by turning off the red dot
Lightweight and compact
Cons:
The dot may be off target after a distance of 100 yards
The red dot might turn off after each shot
A red dot sight which is designed to be extremely rugged, this is the one you should go for if you are looking for something which says durable at first glance.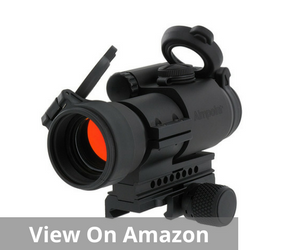 Used by military, law enforcement, and armed citizen this is a scope which has been tested to its core and has come out with flying colors. At its price, you will not get a better durable material on the market. With 2 MOA, it has a bright and precise aim which can never go wrong. With a 30mm objective lens, the tube style scope has a removable spacer, 2L76 battery, and the required bolts and hex wrenches.
It has a big knob which can get in between the receiving style left-hand charging handle. But the mount can be flipped, and the knob can be used the same way keeping it on the right side too. The dot is pretty clear even under full sunlight and delivers crystal-clear images. The setting 10 will be ideal if you are using the red dot sight under full sunlight. You are sure to receive great aim with excellent visibility. The dot might fuzz up at this point, but still, it delivers great aim. The turrets are covered with a captured cap which is a great feature and the turrets can be adjusted with ease. The lenses are placed well inside the aluminum housing to give extra protection.
It shows battery change date and in-service date reminders to make it easy for you to keep track of things. The red dot is always on and can remain on for about three years with just a single battery. Purchasing a good quality battery, in this case, can do a whole lot of good. Click here to see the best price.
Pros:
Durability at its best
Lightweight and compact
Excellent, crisp and clear images
Red dot always on
Cons:
The left-hand knob is big
The red can become fuzzy after 100 yards
The optics play a really important role in your hunting stint. If you want to get some good shot, it is necessary that you invest in a red dot sight which delivers excellent performance.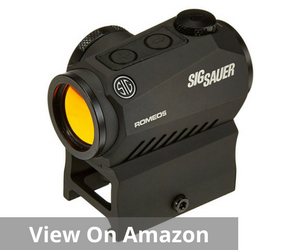 And when it comes to performance, Sig Sauer Romeo5 is one of the best in the market. The lightweight and compact device has an enclosed design which will provide extra protection from external factors. Manufactured using aircraft grade aluminum, this device can withstand the test of time because of its durability. It is also water, shock and fog proof. It has Motion-Activated Illumination (MOTAC) feature which shuts off the device when it is not in use. This is ideal because it enhances battery life. And it switches on automatically at the slightest of movement.
The reticle illuminates even at the lowest of light settings making it a great scope for low light conditions. The red dot size is appropriate as you will be able to see it on your target with ease. The range of the red dot sight is said to be 100 yards which are pretty amazing considering the size and weight of the device. It can also hold zero very well without much trouble. It is fully multi-coated to deliver crisp and clear images. This also prevents it from having any issues with fog.
This red dot sight comes with 10 settings in total, out of which 8 are for the daylight and 2 for night vision. All in all, it is a product which delivers a lot more than what its price suggests. Click here to see the best price.
Pros:
A larger objective lens would be preferable
MOTAC for battery preservation
Fully multi-coated
Water, dust, shock, and fog proof
Cons:
Could have a larger objective lens
Buying guide – Things to look out for before purchasing a red dot sight
A Red Dot Sight might seem to be a small investment, and we see most people going for the one that is cheap. But in the end, they regret opting for that as it turns out, the red dot sight is an integral part of the accessories needed for hunting. So, to make you aware of the aspects to look out for when you are planning on purchasing a new red dot sight for your gun, we have come up with a comprehensive guide. By the time you finish reading this, you will know the features which a red dot sight should have if you want it to perform well.
Dot Size – The dot size is very important when you are going to purchase a red dot sight. If the dot is too large, you will not be able to aim at targets which are at a closer distance, and if it is too small, you would not be able to see it on targets which are further away. So, find the dot size which would be appropriate for you and make the decision.
Reticle – most of the reticle will illuminate in low light settings. It is not a feature which is important if you are someone who hunts during daylight. But if you do hunt at night, the reticle should support low light settings and have a night vision compatibility would also be of much help. Find out the reticle patterns which suits your needs and maybe try it out before you make a purchase.
Durability and Weight – The weight and durability are two important factors which make or break red dot sights. If you have an amazing scope which delivers great performance but if it is heavy and cracks easy, then there is no point in having it. Make sure to get a red dot sight which is a combination of both – great performance and lasts for long without giving you trouble once it is mounted to your gun.
Power and Battery – Battery life is something which many do not take into consideration while purchasing a red dot sight. Once they have bought it, they figure it does not hold the battery very well. This will have you change the battery in between the hunting trips or having to go back from the trip because you only battery died. So, get a scope which has great battery life.
After all, you are the one who is buying the red dot sight. It should get along with every feature you expect it to deliver. So, make sure you take into account all the factors which would bode well with your requirement and the type of gun you own.
Conclusion: Best Red Dot Sight For 2020
Hope this article helped you out!  Best of luck and thanks for reading!
Like our work? Leave a 5 star rating below, we really appreciate it!
Think there's something we could improve on, or would you like to contribute? Get in touch with us here.