Have the hunt of a lifetime and looking to preserve the memory? We highly recommend getting a mount.
Getting a mount, while at first may seem costly, is an incredible investment in not only keeping the memory of your hunt but also creating a conversation starter perfect for your living room.
Let's face it, there are plenty of shady people out there. When you're making an investment in your harvest, we want nothing more than a successful outcome. It's our hope that this list of some of the best taxidermists Minnesota has to offer brings business back home where it counts and gets you the top of the line mount you're after.
Editors note: we're looking for taxidermists to contribute a few articles around commonly asked questions they get asked. Send us a message if you're interested, we'll do a company bio on each article.
Our list of the top Minnesota Taxidermists
A quick note about compiling this list. When we came up with the idea to put together a list of the best taxidermists in Minnesota, we knew first and foremost that we wouldn't be able to test every taxidermist in MN.
Rather, we wanted to take what others had to say first, emailing a select few taxidermists that would be included in this list.
We took into consideration things like word of mouth, recommendations in Facebook groups, and online reviews. From there, we whittled down our list to what we truly believe are some of the most sought after taxidermists in the state.
First up, Taxidermy Unlimited, Inc.
Taxidermy Unlimited is located in Burnsville, Minnesota. They've been in business for over 61 years and have an incredible portfolio / online ratings. Owners are Marv and Betty Gaston.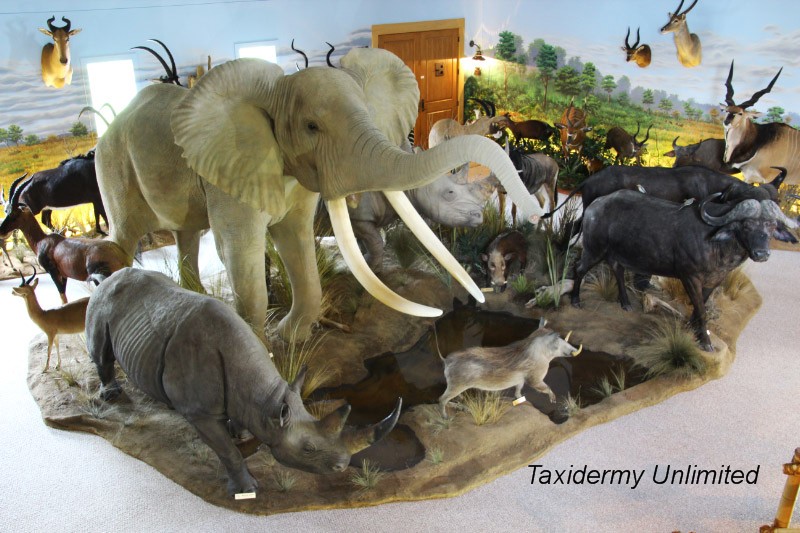 Name: Taxidermy Unlimited, Inc.  "Preserving the Memory"
Years in Business: We have been in business for 61 years
Any specialties? We specialize in everything.  Birds, Fish, Small mammals and Large mammals from all over the world.
Phone #: 952-890-8688
Email: marvbettyg@aol.com
About Taxidermy Unlimited:
For over half a century Marv Gaston and Taxidermy Unlimited has been preserving the memories of our clients. Through the years we've secured our place as one of the world's finest taxidermy studios.
Our creations have been awarded the "Master of Masters Award" and "Best of Show" at world competition; however our greatest rewards are the compliments from our clients. Our team of artists is highly dedicated with over 200 years experience collectively.
Alan Gaston, our lead taxidermist has over 30 years experience and is a world champion taxidermist, with an appreciation for detail needed for true quality, as do all of our staff.
Their creations will rival your most vivid memories, thus "Preserving the Memory" for a lifetime of enjoyment.  Our goal is simply to bring our client's visions to life through passion, knowledge, experience and teamwork.
As one of our clients, old fashioned service is what you can expect from Taxidermy Unlimited.
Information before your hunt/trip related to field care, import/export and shipping is available. We will help you every step of the way.
Taxidermy Unlimited Reviews
You can check out their Google reviews, here.


Was this article helpful? We'd love it if you left us a 5 star review below. 
If not and we could improve somewhere, please contact us!
[ratings]